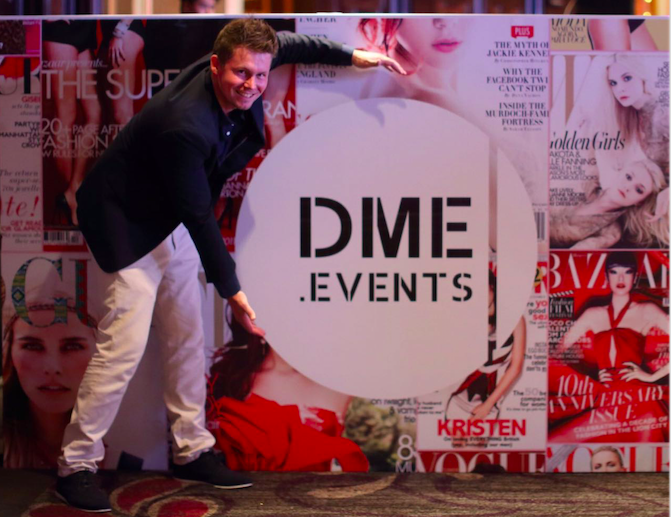 Mike Bruines - DME.events的创始人兼总监 - Founder & Director, DME.events, GZ, HK, SZ & Bali.
DB: 你什么时候成立了DME.events ?为什么?When did you start DME.events and why?
DME.events 在2015年时成立-在意识到华南区需要许多高端专业的活动策划的机遇后。DME.events 想突破现有的活动策划市场的局限,以提供客户更精心优质、美轮美奂的活动派对。
DME.events was established in 2015 – after noticing opportunities for specialised and high-quality events in South China. DME.events wants to push the boundaries of the established event market, by delivering beautiful events for our clients and taking private events to the next level.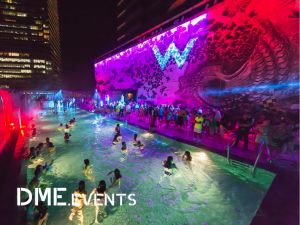 DB: 您的客户群都来自哪里?Where does your customer base come from?
我们的客户主要来自于酒店和饮食业-这也是我们刚起步的地方。目前,这是我们运营的第三个年头,我们已经扩大自己的客户群,如商务和私人业界(房地产、金融、科技等),还有需要举办活动的非盈利非政府组织与领事馆。您也可以通过联系我们(info@dme.events)或通过我们的网站获取更多信息(www.dme.events)!
Our Customers mainly come from the Hospitality and F&B industry – which is where we started. Now in our 3rd year of operations, we grew our customer base to include the corporate and private sector (e.g. real-estate, finance, technology, etc.), as well as non-profit NGO's and consulates that are trusting DME with their event needs. Contact us for our latest credentials (info@dme.events) or visit our website for more information (www.dme.events)!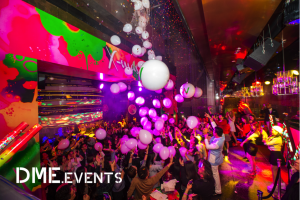 DB: DME.events如何满足不同客户的不同需求?How does DME.events deal with a wide range of demands from your different customers?
DME.events 本质上是一个全方位的活动管理机构,通过内部资深的活动策划团队(创意企划和设计)为客户精心策划,头脑风暴出适合他们的活动方案。然后,我们的现场活动团队会保证活动的完美执行。我们的客户喜欢与我们合作,原因是我们的团队服务品质、人际网和活动执行的资深阅历。即便在最后一分钟的压力下,我们亦能满足客户的需要。
DME.events is essentially a full-service event management agency and take our customers from brainstorm to proposal using our in-house expertise of events (e.g. Creativity & Design). Then, it is our Event Team that takes over and ensures high-quality productions and detailed event execution. Our customers love to work with us because of our team's service orientation, our (local) network and event know-how. Being able to cater to even the last-minute requests is what allows us to truly deliver on our customer's event needs.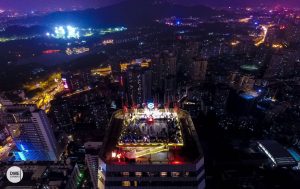 DB: 在准备活动期间,您曾遇到过最大的困难是什么?您是如何解决的?What was the biggest difficulty you have encountered when preparing an event? How did you solve it?
当涉及到活动策划与执行时,你只有唯一一次让客户对你留下深刻印象的机会。
留心品质、注重细节,才是举办活动最重要的。即便如此,基于自己本身举办活动的经验,我们可以告诉你在筹备活动中数不清的困难。在DME,我们相信是一个团队的灵活性,创造性和跳跃思维让活动人员在现场筹备活动时更好地应对问题。但是,你也可以将同样的技能运用在寻找,预防和消除举办活动时可能出现的障碍。这是我们团队能做到的一点。从活动筹备的倒数到电力使用的计算或甚至为签名板预备好金色签字笔-我们都能很好地应对这些在活动筹备中所遇到的问题。
When it comes to events, you only have one shot at impressing your client and guests. It is essential that the event is delivered with precision and eye for detail. That said, based on years of event experience, we could tell you about countless 'difficulties' during event preparations. At DME we believe it is flexibility, creative & out-of-the-box thinking that will assist with fast and effective problem-solving (should the need arise). But you can use the same skills to look for, prepare and eliminate possible difficulties. And we push our team to do exactly that. From preparing minute-to-minute rundowns to calculating the electricity usage maximums, or even something as simple as bringing extra golden marker pens for the signing backdrops – we are trained to deal with the general pressures and any other difficulties of organising events.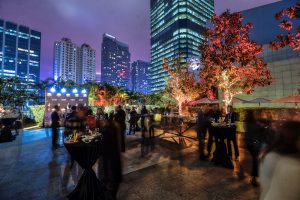 DB: DME.events已经举办过许多不同的活动,哪一场让您最印象深刻?为什么? DME.events has organised a lot of different types of events. Which one is the most impressive to you and why?
在DME.events 的每一天都是缤纷不同的,其源于我们喜欢活动类型与地点的多样性。无论是舞会、公司晚宴、别样的餐饮项目或是私人活动,我们都十分乐意并享受筹划它们-挑战与回报并存。即便如此,DME的本质就是乐于挑战稀有或独特的地点-它们让我们走得更远。无论是地下空间、屋顶、阁楼或是空旷的泳池-这些都是我们活动地点的必挑清单。有两场活动仍让我们印象深刻,一个是在香港W酒店的此时'静默'Disco 派对(在76楼屋顶的泳池里),另一个是广州皇冠假日酒店63楼楼顶的直升机场派对。为什么会挑着两个呢?因为大家都对这两场活动都异常兴奋、好评如潮-当日结束后,我们的客户十分认可这两场活动,因为他们都从来未见过活动可以这么玩,对于他们而言,这是人生中必不可缺的独特经历!
Every day at DME.events is different and we love the diversity in type and location of events. Whether our Team is planning ballroom corporate dinners, unique F&B projects or Private events, we enjoy them all for different reasons – they all have their challenges and rewards. That said, rare or unique locations are a part of the DME 'DNA' – they make us go the extra mile. Underground, Rooftops, Penthouses, or empty Swimming pools – all have a special place on our location lists. Two events that really stood out for us were the W Hotel Hong Kong's Silent Disco Party (76th rooftop in their empty swimming pool), and The Helipad party, on Guangzhou's Crowne Plaza Guangzhou City Centre's 63rd Floor Helipad. Why? The public's response to these two events were so positively overwhelming – and at the end of the day, we didn't organise these events for ourselves… but for our guests/clients – so that they take away, never-seen-before, life-long unique experiences!
DB:我们能从什么渠道了解更多'DME.events'?Where can we get more information about DME.events?
微信公众号 WeChat Account:dmeevents