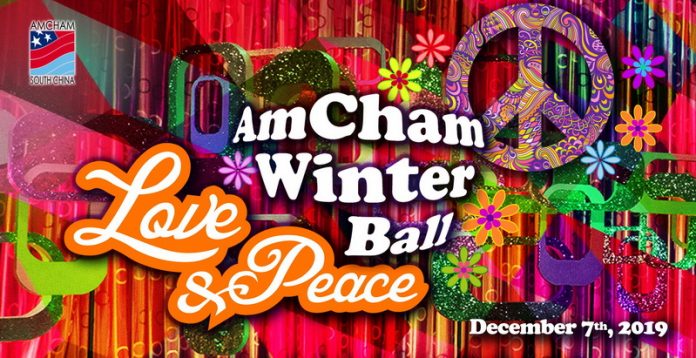 For over 20 years, AmCham Winter Ball has been AmCham South China's most glamorous signature event in the Greater Bay Area that never ceases to put on a blockbuster, attracting more than 500 well-dressed guests in attendance. It is perfectly okay if you can't help feeling astounded when you see on the guest list are all the foreign Consuls General in Guangzhou, Directors General of provincial departments of commerce in South China, and c-suite executives at multinationals. What cannot be missed is, of course, the grand raffle prizes we will be giving out at the Ball –in value of over RMB1,000,000!
With all said, get ready to brace our Winter Ball on December 7 at the fabulous LN Garden Hotel Guangzhou. With the theme Love & Peace this year, you should feel the itty bitty yippie hippie in the air. We will be playing Motown songs throughout the night to take you back in time where everything was cool.
The Love & Peace movement was a groovy thing, but its essence in the 60s was more than just a hippy anthem. The peace signs and smiley face we often use as emoji nowadays represented the American spirit of friendship, happiness and harmony at that time. The soundtrack of the time was an eclectic mix of R&B, rock, psychedelic, surf, and folk music. Fashion was Mod. Women wore go-go boots, shorter hairstyles and mini-skirts, a 60s style which was iconized by the world's first Super Model Twiggy.
Want a seat at the table? Scan away to reserve yourself a spot NOW! Any enquiry, please contact Ms. Wing Xian / Joyce Hu at 020-83351476 ext. 12 / 20 or via wxian@amcham-southchina.org / jhu@amcham-southchina.org.
Please extract the QR code to register: