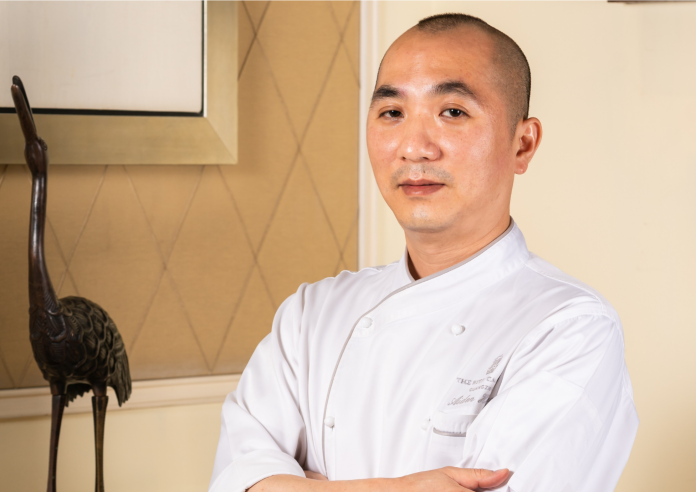 近日,广州富力丽思卡尔顿酒店宣布晋升黄尚烽师傅为中餐行政主厨,主要负责酒店中餐出品与研发,并掌管丽轩中餐厅。
In a recent release, Chef Aiden Huang is appointed Chinese Executive Chef at The Ritz-Carlton, Guangzhou.
黄尚烽师傅成长在羊城广州,因而自幼便对广府菜有着深厚的感情与体会。自2018年加入酒店团队以来,黄师傅始终坚持以粤菜传统技艺及手法为基础,同时为经典菜谱融入诸多巧思,致力于为丽轩食客呈献别具精致雅趣的丰富粤菜佳肴。
Shaped by his experiences of growing up in his hometown of Guangzhou, Chinese Executive Chef Aiden Huang has cultivated a deep passion and excellent understanding of Cantonese cuisine through years of training and exploration. Ever since he joined the hotel in 2018, Chef Huang has always adhered strictly to traditional methods and techniques to retain the essence of Cantonese cuisine in his food, while constantly seeking to incorporate innovative ideas into traditional recipes so as to excite food connoisseurs at Lai Heen with unique gastronomical experiences.
从业20余年,黄尚烽师傅的工作足迹遍及广州、深圳、东莞、北京、武汉等地区,他曾在多家五星级酒店餐厅任职,也曾经营过自己的餐厅。除广府菜,黄师傅同样擅长潮州菜,喜爱钻研的他对东南亚菜式、及中国各地方菜和时尚融合菜均有所涉猎。
With more than 20 years of culinary experience spanning numerous luxury hotels in Guangzhou, Shenzhen, Dongguan, Beijing, Wuhan and many more regions, the multi-talented culinary maestro is also well-versed in the culinary craft of the world renowned Chaoshan and South East Asian cuisine. Chef Aiden is constantly exploring and charting new culinary frontiers to fashion unique dishes which blend the culinary techniques and ingredients from various regional cuisines in China and that of South East Asia.
多元的烹饪环境浸润下,黄师傅逐渐形成了自己独到的烹饪风格,他擅长采用当地时令食材入馔,尊重传统烹饪理念,融汇多种烹饪手法,以突出食材的自然本质。
Inspired by such a rich and diverse culinary background, Chef Huang has gradually honed his own unique brand of culinary style. By using local seasonal ingredients, respecting time-honored culinary traditions, and integrating the culinary essence of other cuisines, Chef Huang has mastered the art of blending them to bring out the natural flavors of the ingredients.
"尊重传统,不为创新而创新,"黄尚烽师傅表示。
"Respect the essence of ingredients and time-honored recipes, instead of blindly innovating for the sake of innovation," Chef Huang shared as he opened up on his secret to culinary excellence.
黄尚烽师傅喜欢四处旅行,每到一处都要仔细感受当地的特色食材及饮食习惯。早年的经历令黄师傅明白学习的意义,工作之余,他养成了广泛阅读的习惯,以此令自己更加充实。
Even in his travels, Chef Huang never fails to embrace and experience the local ingredients and culinary habits of his destinations. A self-professed keen learner and a prolific reader, he is always finding ways to expand his horizons and enrich himself in any way. In his spare time, he enjoys conjuring up traditional old-world Cantonese dishes at his home kitchen for his family to enjoy. In Chef Huang's mind this is to show respect and honor for the grand master Cantonese chefs of the early years that ultimately shaped and defined whom he is today.
 特色菜式 | Featured dishes 
金碧龙皇石榴果
Lobster, Scallop and Mushroom Stuffed Pomegranate, Sea Urchin Sauce
这道菜处处体现黄师傅的精细手工。精选法国蓝龙虾及加拿大带子,与杏鲍菇一同切粒,用姜米及少量黄酒炒香。加入菠菜汁的蛋清摊成薄皮,点入馅料后,在师傅手中短短几秒便成为石榴果的造型。蒸熟摆盘,鲜海胆调成的浓郁黄色汤汁淋上碧绿的石榴果,并以鲟鱼籽酱点缀。明丽的色彩赏心悦目,鲜香的口感回味悠长。
This exquisite Cantonese-style dim sum selection demonstrates Chef Huang's exemplary culinary craftsmanship. Specially selected French blue lobsters, Canadian scallops, and oyster mushrooms are sliced, and then fried with diced ginger with small doses of rice wine. Egg white is blended with spinach juice, before being molded into the shape of a pomegranate. Steamed using a plate, the sauce made from fresh sea urchin is then topped with green pomegranates and garnished with caviar to highlight its beauty and enhance the overall flavors.
柠香黄鱼花胶羹
Lemon Infused Yellow Croaker and Fish Maw Thickened Soup
顺德拆鱼羹是一道传统的粤菜。而在丽轩,黄师傅保留这道菜鱼肉去骨、配料烩羹的传统料理步骤,在选材上更进一步,以东海大黄鱼入菜,搭配花胶瑶柱等,辅以精准的火候把握,令汤羹愈发鲜甜醇香,口感丰富柔顺。最后撒入的柠檬叶丝实为画龙点睛,让汤羹入口时留有别样的清香。
The Shunde braised fish broth is an all-time classic Cantonese recipe. At Lai Heen, Chef Huang retains the essence of the dish by carefully deboning the fish and braising the ingredients, before adding the yellow croaker bones separately. The soup is then heated at just the right temperature to exude its sweetness, tantalizing your taste buds with its rich sensations and smooth texture. The dish is then perfected with a garnish of lemon leaves to provide for a unique and refreshing fragrance upon taste.
---
广州富力丽思卡尔顿酒店
The Ritz-Carlton, Guangzhou
天河区珠江新城兴安路3号
NO.3 Xing An Road, Pearl River New City
Tianhe District, Guangzhou