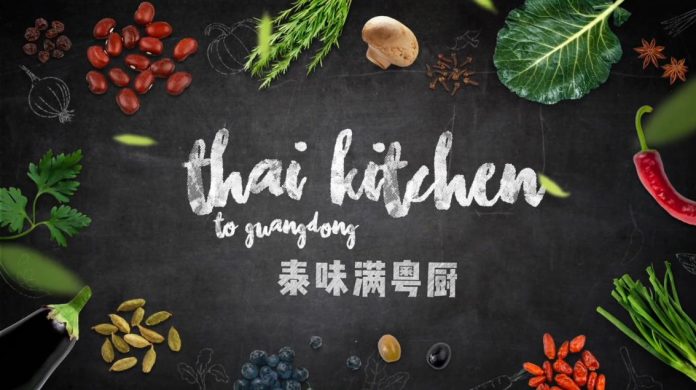 近日,泰王国驻广州总领事馆携"泰味满粤厨"美食秀邀请广东吃货一起在家就能做原汁原味的泰国菜。
Cooking show "Thai Kitchen to Guangdong" is now available online, by the Royal Thai Consulate in Guangzhou, inviting food lovers to cook authentic Thai Cuisine at home.
第一集"柠檬蒸鱼",泰领馆邀请到广州泰爱里餐厅的大厨与积极报名参加活动的两位广州市民展示如何制作一道地道泰式柠檬蒸鱼。
In Ep.1 released on April 12, two guests guided by Chef Kraiyasit demonstrated how to make a classic Thai Style Lemon Steamed Fish.
第二集"冬阴功汤",三角铃与广州芒果树餐厅驻店总厨同台联手,讲解这道泰国国汤的做法,同时体验热情的泰国文化!
In Ep.2, SanJiaoLing works hand in hand with Chef Surachat to make Thailand's national soup "Tom Yum Kung" while learning and experiencing Thai hospitality.
"泰味满粤厨"美食秀将在每周一在泰国驻广州总领事馆的微信公众号、微博和Facebook的官方账号上进行更新。本次美食节目一共10集,分别介绍十种菜式的制作,包括有:(1)柠檬蒸鱼、(2)冬阴功汤、(3)咖喱蟹、(4)绿咖喱鸡、(5)泰式大虾炒粉、(6)红咖喱烧鸭、(7)炸虾饼、(8)芒果糯米饭、(9)柚子沙拉、(10)泰式猪颈肉沙拉。
The "Thai Kitchen to Guangdong" cooking show will update every Monday on the official channels of the Royal Thai Consulate in Guangzhou on WeChat, Weibo and Facebook. A total of 10 episodes will cover 10 classic and traditional Thai dishes: 1) Lemon Steamed Fish, 2) Tom Yum Kung, 3) Thai Curry Crab, 4) Green Curry Chicken, 5) Pad Thai, 6) Thai Red Curry Duck, 7) Shrimp Cake, 8) Mango Sticky Rice, 9) Pomelo Salad, 10) Thai Style Pork Salad