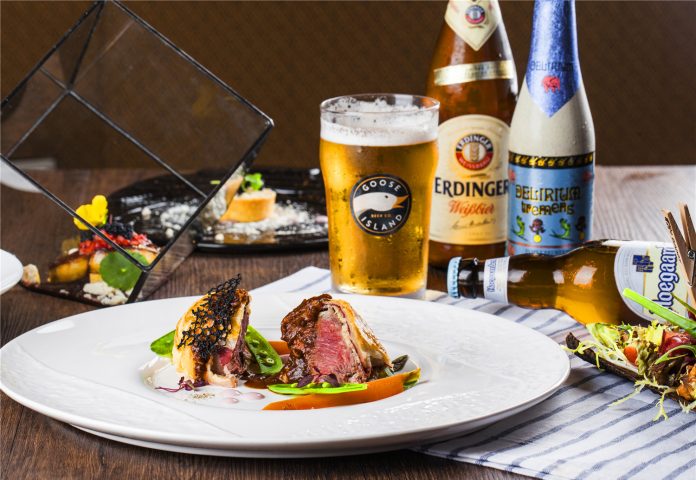 精酿搭配 情迷"意"味
三款甄选浓郁精酿啤酒,搭配西西里主厨特创佳肴,一同品尝流连齿间的意式美味,这个夏天感受酒花与泡沫在口中的绽放,"意"味悠长!
推广时间:2017年7月1日至8月31日 18:00-22:30 周一除外
推广价格:人民币788元/双人套餐
以上价格均需加收10%服务费及政府规定现行税率。
Craft Beer with Italian Cuisine @ blue
Enjoy the delicious Italian cuisine with three kinds of different and well-chosen craft beer at BLUE. Let's make this summer fresh and cool!
Promotion Date: 1 Jul to 31 Aug, 2017 18:00-22:30 Exclude Monday
Promotion Price: RMB788 /couple set
The price above is subject to 10% service charge and prevailing government taxes.
Amouce bouche
前菜
Canape with maschroom and cheese
蘑菇海鲜塔
Appetizer
开胃菜
Bresaola with ricotta cheese and mix salad with nuts
with Goose Island 312 Urban Wheat Ale
风干牛肉配瑞可他芝士混合沙拉和坚果
配鹅岛312城市小麦艾尔
Soup
汤
Pumpink zoupe with parmaham crispy
意大利南瓜汤配香脆帕玛火腿
First Course
第一道菜
Pan Fried Goose Liver with pop corn cream
With Goose Island Honkers Ale
香煎鹅肝配奶油泡泡
配鹅岛熏然艾尔
Second Course
第二道菜
Wellington tenderloin
With Goose Island IPA
惠灵顿牛肉
配鹅岛印度淡色艾尔
Dessert
甜品
Parfait almond
杏仁芭菲