旅行零售商DFS集团主办的威士忌节,通过在樟宜机场3号航站楼推出首家快闪酒吧庆祝第四届活动。威士忌节以威士忌木厢的解构为主题,旨在揭开威士忌酿造的神秘过程。主题的灵感来自木厢的熟成及其对颜色、香气和口感的影响。在新加坡樟宜机场亮相之后,威士忌节随后还将在亚洲、中东、北美和夏威夷的7个 DFS 点亮相。
The Whisky Festival, organized by DFS Group, launches its fourth festival with the first-ever pop-up bar at Changi Airport Terminal 3. Taking on a deconstructed whisky cask theme, this festival aims to demystify the whisky making process with inspiration of cask maturation and its impact on color, aroma and taste. After the launch at Singapore Changi Airport, the festival will then take flight at seven DFS locations across Asia, the Middle East, North America and Hawaii.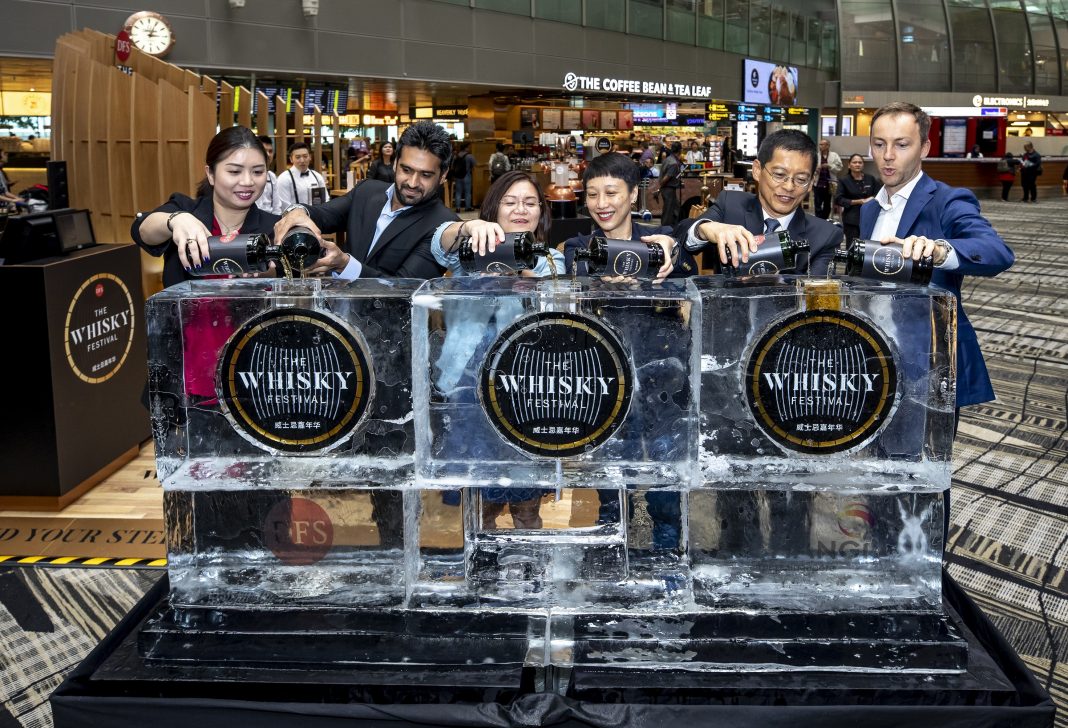 DFS新加坡樟宜机场零售广泛的威士忌制品,包括400多种威士忌和大量的DFS独家商品以及众多全球首款产品,供旅客选择,使其本身成为一个旅行目的地。此次威士忌节值得关注的几款威士忌包括布赫拉迪布鲁克莱迪克 波特 夏洛特 10年、威海指南针无名2号限量版、格兰杰 1399桶号、尊尼获加黑牌三桶版以及皇家礼炮21年。
DFS Singapore Changi Airport offers the largest selection of over 400 whiskies and a myriad of DFS exclusives, and world firsts for travelers to explore, making it a destination in itself. Highlights of The Whisky Festival include Bruichladdich Port Charlotte 10, Compass Box No Name, No.2, Glenmorangie Rare Cask 1399, Johnnie Walker Black Triple Cask Edition and Royal Salute 21 Year Old Lost Blend.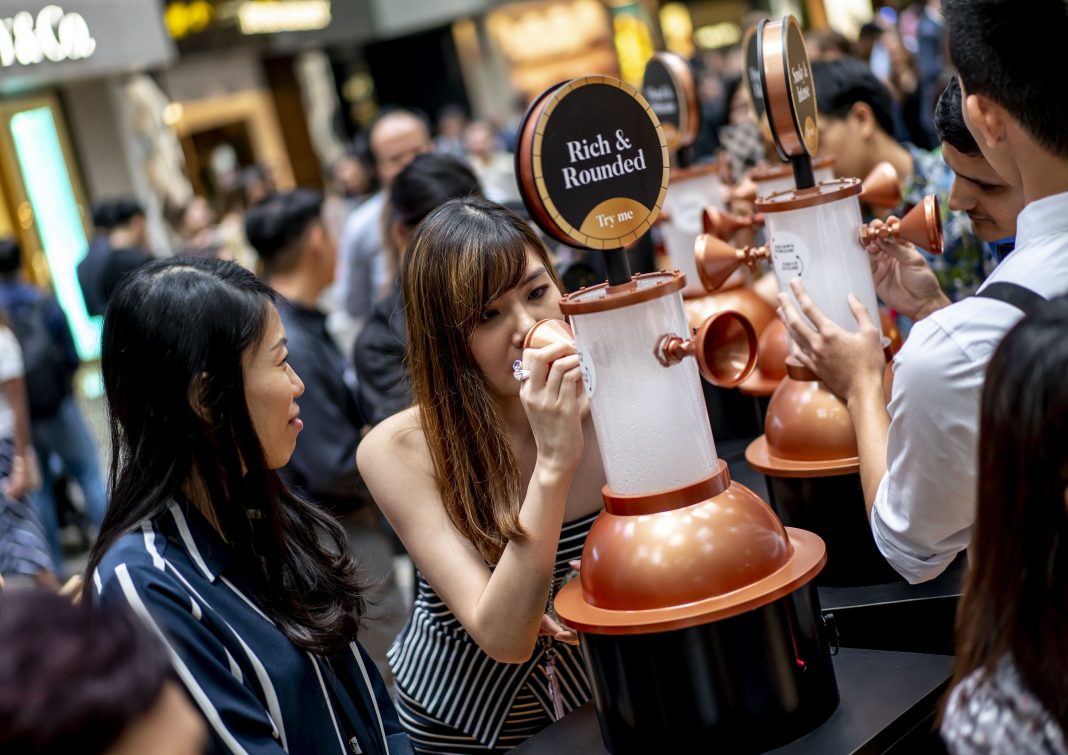 今年,DFS 荣获了《威士忌杂志》 颁发的威士忌行业"年度最佳旅行零售商"大奖。该奖项每年颁发一次,根据业内人士的提名,表彰全球威士忌行业中积极耕耘的从业者。
This year, DFS is also proud to have won the coveted Icons of Whisky award for Travel Retailer of the Year by Whisky Magazine. This award is presented yearly to recognize the dynamic players throughout the world of whisky based on nominations from those in the industry.
今年,旅客可期待在樟宜机场3号航站楼候机时在首家快闪酒吧品尝纯威士忌。这家酒吧的设计包含威士忌木厢的解构元素,酒吧内饰是有别于传统酒吧的奢华风格,有点类似于上个世纪20年代爵士乐时代的地下酒吧。
This year, travelers can look forward to sipping on a whisky served neat at the first-ever pop-up bar while awaiting their flight at Changi Airport Terminal 3. Featuring design elements from deconstructed whisky casks, the bar's interior exudes an unconventional and sumptuous atmosphere reminiscent of the Speakeasy bars of the 1920s Jazz Era.
威士忌不仅仅是一种饮料,还是刺激感官的体验。在酒吧,旅客可以享受交互体验,包括品尝威士忌以及置身于从喷雾器中散发出的花香、烟熏等气味,同时还能欣赏 Carol Gomez、Ywenna Carolin 和 Richard Jackson 等爵士乐歌手的现场爵士乐演奏。快闪酒吧在3号航站楼、出境中转站、古驰和博柏利附近的大厅开放至到6月10日。
Whisky is more than just a beverage; it is an experience that excites the senses. At the bar, travelers can discover interactive experiences with whisky tastings, and vaporizers showcasing scents from floral all the way to smoky and intense. Mark your experience on a high note with live jazz performances by jazz singers such as Carol Gomez, Ywenna Carolin and Richard Jackson. The pop-up bar will be available till June 10 at Terminal 3, Departure Transit, Concourse Space near Gucci and Burberry.
DFS 新加坡樟宜机场2号航站楼的 Mix It Bar、3号航站楼的 Long Bar by Raffles、4号航站楼离境中心的 The Whiskey House 将于5月1日至6月30日期间举办宣传活动。旅客不仅能够品尝一些独特的威士忌,还能从合格的威士忌大使获得见解。
The Whisky Festival will also feature promotions from May 1 to June 30 at The Tasting Bar at DFS Singapore Changi Airport's Terminal 2 Duplex, The Raffles Long Bar Terminal 3 Duplex and The Whiskey House at Terminal 4 Departure Central. Travelers are invited to enjoy complimentary whisky tastings and gain insights from our qualified whisky ambassadors.
店内促销活动期间为5月1日至6月30日。从出境大厅的商店购买任何威士忌的旅客只要花费250新加坡元,便可获得一个格兰凯恩威士忌酒杯。入境处的商店将于5月8日至6月30日推出促销活动,凡消费140新加坡元(含威士忌产品)的旅客均可获赠两张前往巴淡岛的船票及城市游(价值70新加坡元)。
In-store promotions at departure run from 1st May to 30th June. Travelers who spend SGD $250 on any whisky from the Departure Hall store will receive a branded Glencairn whisky glass. Arrival store promotions will commence from 8th May till 30th June and travelers who spend $140 (per passport) including any whisky product(s) will receive a pair of ferry tickets and city tour to Batam (worth S$70).
作为威士忌节和 iShopChangi.com 独家活动的一部分,四名幸运旅客将赢取双人机票以及参观当地酒厂的门票,大奖包括前往苏格兰的全额付费旅行(价值8000新加坡元)。只需在5月1日至6月30日符合资格的时间段在 iShopChangi.com 购买任何威士忌且消费满140新加坡元,便可参加抽奖。购买期限为航班起飞前的30天至12个小时。目的地为:台湾、苏格兰和美国。
As part of The Whisky Festival x iShopChangi.com exclusive promotion, four lucky winners can win a pair of air tickets complemented with distillery tours, including the Grand Prize of an all-expense paid trip to Scotland for two worth S$8,000. To participate in the lucky draw, simply make a minimum purchase of $140 on any whisky at iShopChangi.com during qualifying periods from 1st May to 30th June. The purchases can be made from 12 hours up to 30 days before the flight. The 4 destinations are: Taiwan, Osaka, Scotland or the United States.
---
第四届威士忌节
The Fourth Whisky Festival
新加坡樟宜机场2,3,4号航站楼
Terminal 2, 3 and 4, Singapore Changi Airport
5月1日至6月30日
1st May to 30th June
iShopChangi.com