香港是亚洲国际美食之都,独具魅力的美食之选不胜枚举。其中不乏有美学设计出众,美食出品惊艳的匠心之作,位于香港铜锣湾的"竹"日本料理餐厅就是其中之一。
Hong Kong is Asia's international gastronomic capital. Among thousands of restaurants, some are of outstanding aesthetic designs and amazing culinary experience. Ta-ke Japanese Restaurant at Causeway Bay, Hong Kong is certainly one of the top.
设计大咖联手打造古意日式"宅邸"
A Japanese "Mansion" by Design Masters
"竹"日本料理位于铜锣湾利园二期,门面设计采用了大面积的黑色烧衫木墙面,配以白色鹅卵石铺设的日式庭院元素,食客仿若将被带入一座古意宅邸。
Located in the second phase of Lee Gardens in Causeway Bay, upon arrival at Ta-ke, diners are taken to a Japanese mansion by its unique design. The facade uses a large area of black firewood to decorate its walls and Japanese-style courtyard elements paved with white pebbles.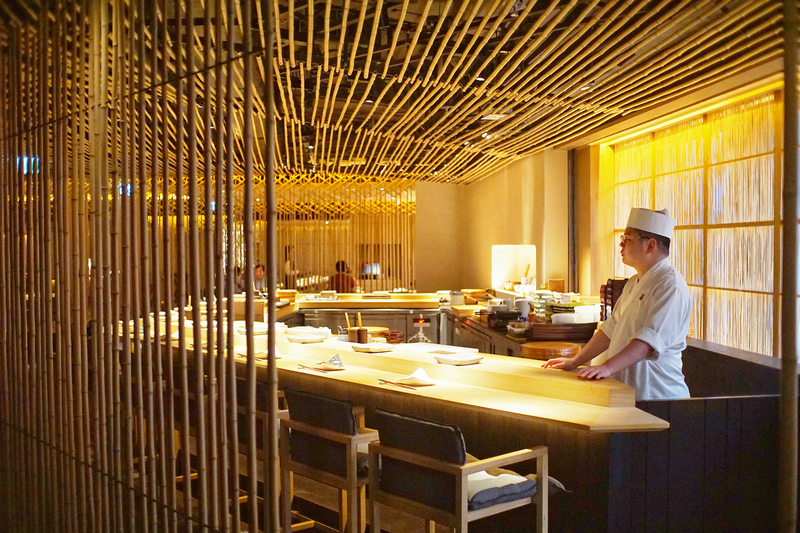 餐厅总体设计以 17 世纪日本江户时代的庭院建筑为灵感,在传统日式庭院的布局上,以现代设计手法配搭竹、木和石等材质,摒弃一切多余装饰,展现出简素、质朴、融于自然之美。
The overall design of the restaurant is inspired by the courtyard architecture of the Edo period in the 17th century. In the layout of the traditional Japanese courtyard, modern design methods are used with bamboo, wood, and stone to discard all unnecessary decorations, showing a simple, rustic, beauty of nature.
这一系列美学的设计,来自几位大师之手:SLX 创始人梁志天、日本建筑师隈研吾,以及著名灯光设计师关永权。
The details you see in all aesthetic designs come from the hands of several masters: Steve Leung, the founder of SLX, Japanese architect Kengo Kuma, and the famous lighting designer Tino Kwan.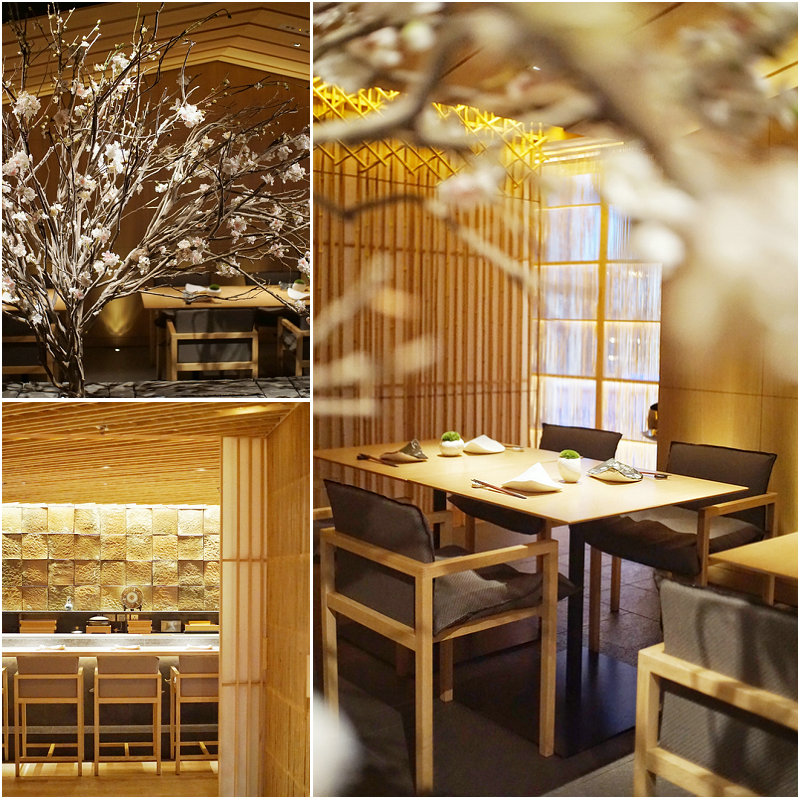 设计大师们充分利用餐厅主元素——竹的独特形态和天然气质,以富有变化的竹元素贯穿整个餐厅。在柔和自然的灯光映衬下,竹影下的一木一石均呈现出其天然本色,更带来富有韵律感的光影效果,让空间显得格外幽静安然。
The design masters make full use of the restaurant's main element, the unique form of bamboo and its natural quality. Against the soft and natural lighting, each piece of wood and stone under the bamboo shadow presents natural colours, which brings a light and shadow effect with a rich sense of rhythm, making the space appear extra quiet and peaceful.
出品上乘的米其林美食
A Quality Michelin Experience
"竹"日本料理主打多种经典日式料理,包括多种寿司及各类刺身,铁板烧更是邀请了米其林星厨坐镇,出品可谓上乘!
Ta-ke specializes in a variety of classic Japanese dishes, including a variety of sushi and sashimi. Teppanyaki is mastered by Michelin star level chefs to produce excellent dishes!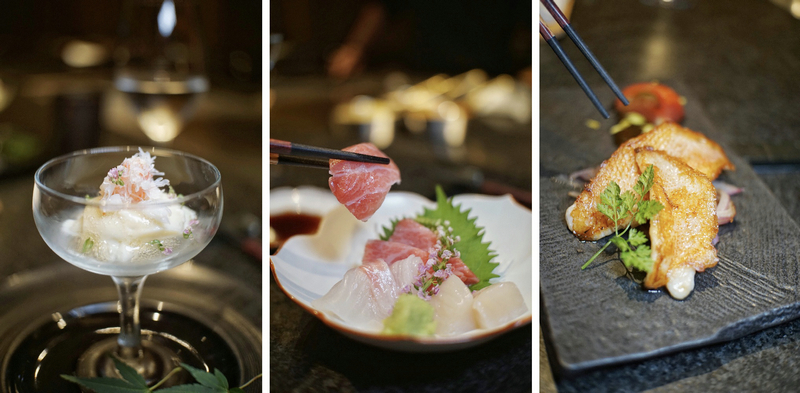 食客若想一次性体验"竹"的美食魅力,首当推荐招牌"竹"套餐,其中囊括:蛋黄酱油拌牡丹虾配鱼子酱、稻草炙烧吞拿鱼腩、鮟鱇鱼肝最中饼、海胆乌鱼子鲍鱼意大利饭、烧牛肉沙律、烟三文鱼牛油果沙律配鱼子酱、汁煮喜知次、杂锦天妇罗拼盘、藏红花酱伴带子、脆煎甘鯛意大利饭、铁板烧近江牛、铁板香煎蓝龙虾、蟹肉紫菜南非鲍和西班牙红虾稻庭乌冬等。
For diners who want to experience the charm of Ta-ke all at one time, they are recommended to try the signature Ta-ke set menu.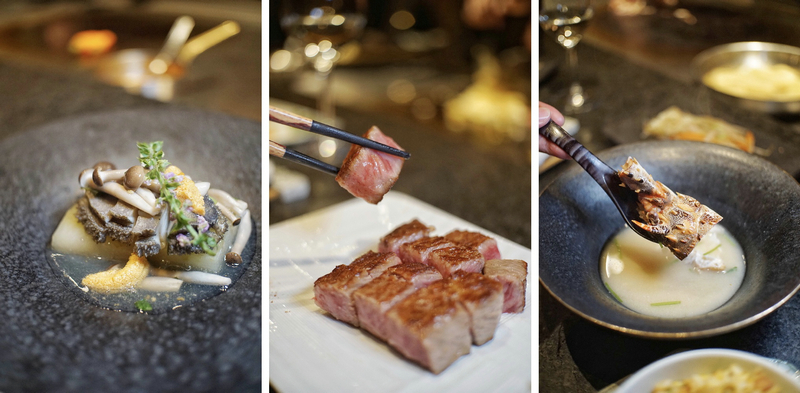 经典香槟清酒无限畅饮
Free Flow on Classic Champagne and Sake
高品质的日式料理少不了经典香槟和清酒的搭配。"竹"日本料理的侍酒师精选BeauJoie 骑士香槟及清酒獭祭三割九分纯米大吟酿,在晚市期间提供两小时的无限畅饮体验。
High-quality Japanese cuisine goes well with classic champagne and sake. The sommelier at Ta-ke selects BeauJoie Champagne and Dassai 39 Junmai Daiginjo Sake, all guests are in treat for a two-hour free flow experience during dinner time.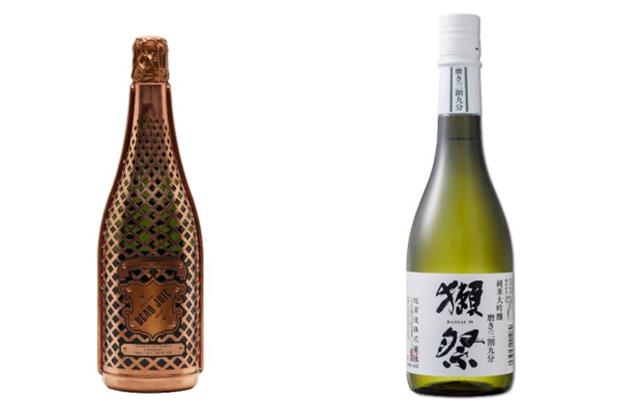 由香槟公司 Bertrand Senecourt 酿造的 Beau Joie 骑士香槟外形独特,每一瓶均由铜制网状外壳包围,灵感源于古时法国士兵的盔甲。60%的黑皮诺 Pinot Noir 及 40%的霞多丽 Chardonnay 并没有添加任何额外糖份,让葡萄本身的果味及酸性得以完美平衡地演绎。
Beau Joie Champagne, made by champagne company Bertrand Senecourt, has a unique shape, each bottle is surrounded by a copper mesh shell, inspired by the armour of French soldiers of ancient times. 60% Pinot Noir and 40% Chardonnay with no extra sugar, so that the fruity and acidity of the grape itself can be perfectly balanced.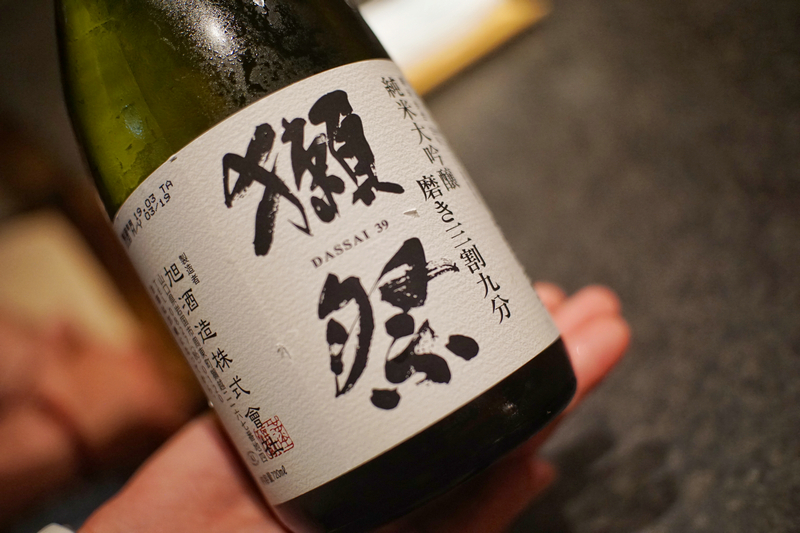 来自日本山口县,充满浓郁的香蕉及梨子味道,獭祭三割九分纯米大吟酿的辛口利落味道非常适合与日本寿司及刺身同时享用,而清酒本身的果香亦能增加食物的复杂性。
From Yamaguchi, Japan, Dassai 39 Junmai Daiginjo Sake is full of rich banana and pear flavours, very suitable for enjoying with Japanese sushi and sashimi.
---
"竹"日本料理
Ta-Ke Japanese Restaurant
香港铜锣湾恩平道28号利园二期G01号铺
G01, Lee Garden Two, 28 Yun Ping Road, Causeway Bay, Hong Kong
Tel: +852 – 2577 0611