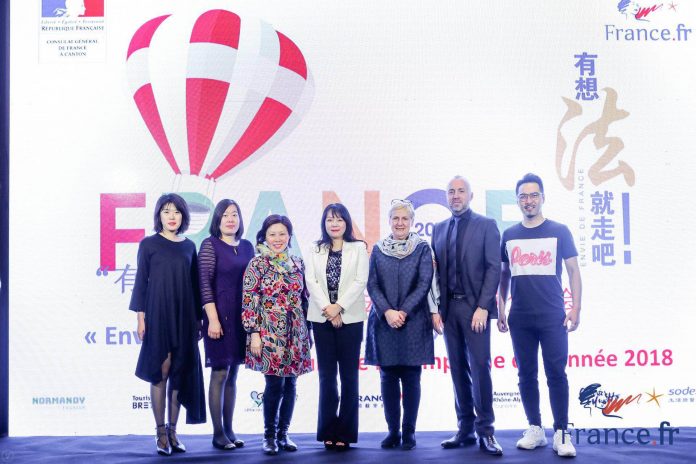 由法国旅游发展署和法国驻广州总领事馆联合主办的2018年度"有想法就走吧"法国旅游主题分享会于12月19日在广州文华东方酒店举行。
On 19th December, a travel experience sharing event themed in "Envie de France je me lance" took place at Mandarin Oriental, Guangzhou. This France tourism promotion event is organised jointly by Atout France (France Tourism Development Agency) and the Consulate General of France in Canton.
主办方与在场媒体及旅行社代表共同回顾了2018年度法国旅游在中国多主题、跨平台的宣传推广活动,并共同畅享2019年的发展新动向。
The organizers, together with the media and travel agency representatives, reviewed the multi-theme and cross-platform promotion activities for France tourism in China in 2018 and shared the new travel trends in 2019.
巴黎老佛爷奥斯曼旗舰店作为法旅合作伙伴代表向与会嘉宾介绍了过去的一年中在中国市场宣传方面取得的成绩与经验。两位媒体代表也分享了各自在中央卢瓦尔河谷、诺曼底、布列塔尼、奥弗涅-罗纳-阿尔卑斯,以及巴黎老佛爷奥斯曼旗舰店、巴黎丽都和巴黎游船上的旅游体验。
As a representative of the France tourism partners, the Galeries Lafayette Paris Haussmann introduced the achievements and experience of the Chinese market in the past year. Two media representatives also shared their travel experience in the Central Loire Valley, Normandy, Brittany, Auvergne-Rhône-Alpes, and the Galeries Lafayette Paris Haussmann, Lido Paris and Paris cruises.
法国长期以来颇受中国游客的青睐。法国接待的中国游客数量在欧洲排名第一。2017 年,法国共接待了210 万的中国游客。2018年全年这个数字预计达到230 万。
France has long been favoured by Chinese tourists. The number of Chinese tourists hosted in France ranks first in Europe. In 2017, France received 2.1 million Chinese tourists. This number is expected to reach 2.3 million in 2018.
法国拥有着难以置信的文化地理多样性。喜欢安逸和刺激的人都可以在法国找到适合自己的旅游目的地。在未来的一年,法国旅游将继续发挥其在文化、法式生活艺术、购物和浪漫情调方面的核心魅力,法国旅游发展署表示将继续携手法国多家旅游业合作伙伴,向中国公众提供更多独特新颖、极富创意、充满活力的旅游路线和产品来满足您个性化旅游需求,包括:户外旅游、家庭亲子旅游、海上及江河游船、自驾游、冬季运动和疗养旅游等。
France has an incredible cultural and geographical diversity. Tourists who like ease and excitement can find a destination that suits them in France. In the coming year, France tourism will continue to play its core charm in culture, French lifestyle art, shopping and romantic sentiment. During the event, Atout France committs to continue to work with many France tourism partners to provide more to Chinese tourists. Unique, innovative, creative and dynamic travel routes and products to meet every individual travel needs, including: outdoor activities, family activities, ocean and river cruises, self-driving tours, winter sports and wellness tours.