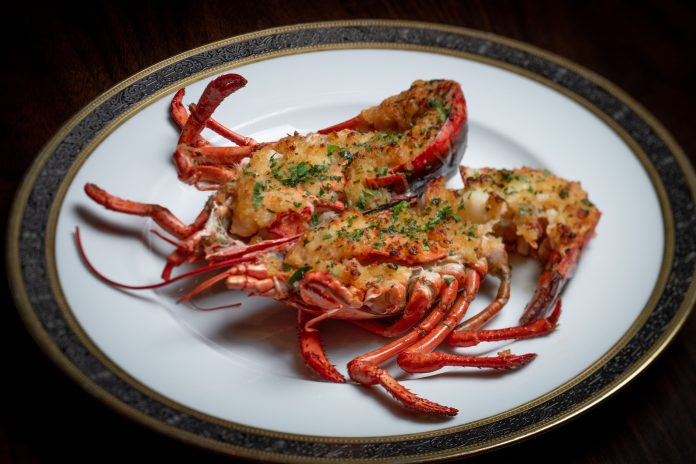 大厨在整个八月每周五晚上为宾客源源不绝炮制新鲜波士顿龙虾。宾客可于新葡京酒店尽情享用从美国及加拿大新鲜捕获并空运来澳的原只龙虾,配以多款即席烹调方式。波士顿龙虾以其鲜美多汁和肉质富有弹性而闻名,在缅因州、新斯科舍省、新不伦瑞克省和纽芬兰岛周围无污染的水域尤为丰富。
Feast on fresh Boston lobsters every Friday night in August at The Kitchen. Guests are welcome to eat as many lobsters as they wish at Grand Lisboa. The lobsters are flown in directly from the clean, cold waters of the U.S. and Canada and cooked any way they like. Renowned for their sweet and succulent flavour and tender meat, Boston lobsters are especially abundant in the pristine salt waters around Maine, Nova Scotia, New Brunswick and Newfoundland.
逢周五晚上举行的"龙虾之夜",由厨师悉心准备琳琅满目的龙虾自助沙律吧,置放了满满的新鲜龙虾及开胃龙虾冷盘,宾客可任意挑选採用时令食材搭配龙虾主题的多款前菜为这次龙虾之夜打响头炮;餐厅的厨师团队共提供三款不同的烹调龙虾方式,因应客人的个人口味即席烹调,烹调方法包括原隻龙虾炙烤、芝士白汁烘焗及蒜蓉香草牛油等等让宾客开怀畅享。在龙虾盛宴开始之前,客人可品尝到美味的龙虾寿司卷,特色的龙虾汤以及即场烤焗的新鲜面包。压轴甜品由新葡京酒店西饼行政主厨村中德仁送上甜蜜惊喜作为"龙虾之夜"的结尾。
龙虾盛宴将于整个八月逢周五晚上六时三十分至十时三十分推出限定专场(八月二日、九、十六、二十三及三十日),五道菜式的"龙虾之夜"晚宴价格为成人每位澳门币 980元,十二岁以下小童每位澳门币490元。
At The Kitchen, the chef team will prepare pre-cooked lobsters as well as raw lobsters for guests to choose from at the salad bar. The chefs are on hand to cook the lobsters three different ways, specifically to the guests' liking. Guests may ask for Grilled Boston Lobster, Boston Lobster Thermidor and Baked Boston Lobster with Garlic Butter. Before guests begin the lobster feast, The Kitchen will treat them to an exceptionally delicious Lobster Sushi Roll, a very special "lobster bisque" and homemade bread that is fresh from the oven. And for dessert, Grand Lisboa's Executive Pastry Chef Norihito Muranaka will prepare a sweet surprise for all guests. Join the feast every Friday evening in August. The five-course "Lobster Night" menu is priced at MOP 980* per adult and MOP 490* per child (12 years old and below).
若想为佳肴配上美酒,餐厅的侍酒师很乐意为您推荐一系列的Magnum佳酿细尝品鉴。
If you wish to pair the dishes with Magnum wines, the wine sommelier would be happy to recommend the best pairings for you.
*以上价目需另加一服务费
*Subject to 10% service charge
有关大厨的预订或查询,请致电 (853) 8803 7777 或浏览https://www.grandlisboahotels.com/zh-hant/dining/the-kitchen
For more information on the reservation, please contact (853) 8803 7777 or visit: https://www.grandlisboahotels.com/zh-hant/dining/the-kitchen