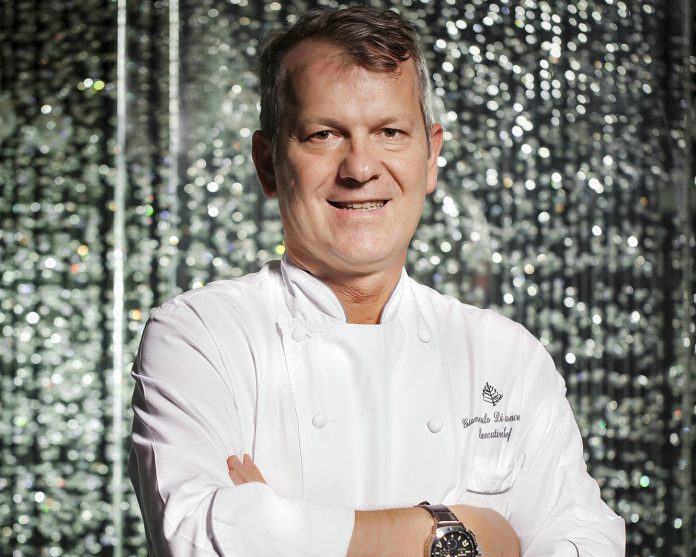 广州四季酒店宣布任命Giancarlo Di Francesco先生为酒店新任行政总厨。Giancarlo先生来自美食国度意大利,他于1992年加入四季集团,在亚洲各国多家知名餐厅积累了丰富的经验,深谙正宗意大利烹饪艺术与亚洲美食文化完美融合的料理之道。
Four Seasons Hotel Guangzhou recently appointed Giancarlo Di Francesco as Executive Chef. Giancarlo was born in Italy and with the abundant Asian culinary experience, Chef Giancarlo knows well in fusion of authentic Italian culinary artistry and Asian cuisine culture.
行政总厨Giancarlo在意大利的一间独立餐厅开始了他的职业生涯,并于1992年获得机会前往东京四季酒店参与餐厅的开业。之后的近十年里,他在亚洲各国多间知名餐厅工作,不断提高自己的亚洲特色烹饪技巧。
Born and raised not far from the Adriatic coast of Italy in a region crowded with vineyards and olive groves, Giancarlo pursued a culinary career because he grew up watching his mother cook and knew he always wanted to travel. He started his career in Italy working for independent restaurants until he had the opportunity to do the opening of the restaurant at Four Seasons Hotel Tokyo in 1992. Then left to pursue other opportunities and hone his Asian cooking skills before returning to the company.
2004年,Giancarlo重归四季集团,加入东京椿山庄四季酒店任行政副总厨。几年后接受挑战,前往印度第一间四季酒店—孟买四季酒店任行政总厨,并参与酒店的开业。2010年,他开始了他的中东探索之旅,任多哈四季酒店行政总厨。2015年,他加入阿布扎比阿玛尔岛四季酒店,参与了这座壮观的酒店的开业。
In 2004, Giancarlo returned to Four Seasons at Tokyo's Chinzan-So as Executive Sous Chef. A few years later he took on the massive task of opening the first Four Seasons Hotel in India-Four Seasons Hotel Mumbai as their Executive Chef. In 2010, he started to explore the Middle East and assumed the role of Executive Chef at Four Seasons Hotel Doha and since 2015 has been in Abu Dhabi where he did the successful opening of that beautiful property in the United Arab Emirates.
"能加入广州四季酒店令我倍感兴奋,"Giancarlo说。"常听说'食在广州',足见美食在广州这座城市的地位。世界瞬息万变,唯有美食经久不衰,这是我一直以来所信奉的。希望我可以为这家卓越的酒店带来更多美味元素,为广州的食客带来惊喜。"作为行政总厨,Giancarlo将负责酒店七家不同风格餐厅和酒吧的厨房管理及出品,以他丰富的经验和对美食文化创意的独具慧眼,为本地饕客和全球游客带来新颖而愉悦的美味享受。
"It is my honour to join Four Seasons Hotel Guangzhou," said Giancarlo. "Guangzhou is famous for its cuisine, and I always believe that the world may be changing but good food is not. I wish that I can bring local gourmets a delightful dining experience."
---
广州四季酒店
Four Seasons Hotel Guangzhou
广州市天河区珠江新城珠江西路5号
5 Zhujiang West Rd., Zhujiang New Town, Tianhe District, Guangzhou
Tel:+8620-8883 3888
www.fourseasons.com/guangzhou