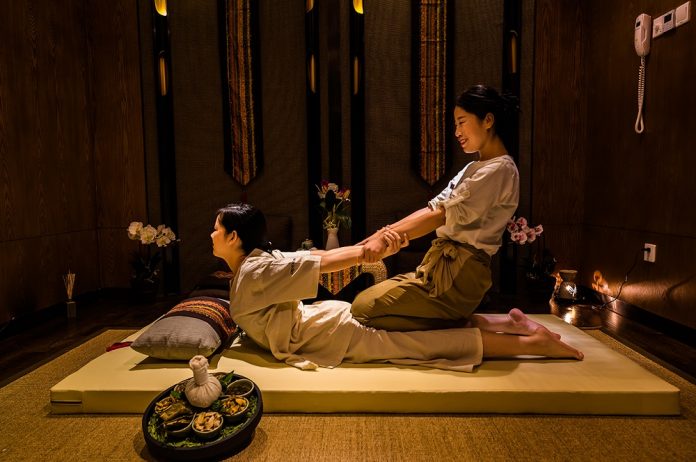 閨蜜泰療,2015年成立,是珠海首家泰式理療。它主要借助泰式天然草藥療法配合古法按摩手法,幫助生活節奏不斷加快的人們,身心仍能和諧統一。
Great Me Thai Therapy is the first Thai Therapy in Zhuhai. Featuring the Thai herbal therapy and Thai traditional message, Great Me Thai Therapy help people to keep healthy both physically and mentally during the fast-paced life.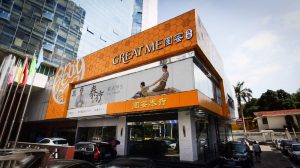 理療師全部學成於泰國專業級老師,因為言傳身教,他們有著泰國傳統的按摩手法,也秉承著和泰國人相同的生活態度。很多人都喜歡泰國,因為泰國是一個微笑的國度,那裡生活的人們把笑當做呼吸一樣自然,是生活的必需品。
All the therapists have learned from professional teachers in Thailand, which thus enable them to possess the traditional Thai massage technique as well as the same positive attitude towards life as Thai people. Many people like Thailand because Thailand is a country of smiles and they take smiling just as the equivalence to breathing.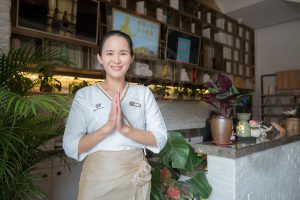 從泰國特意帶回的泰國古董鑼,持鑼錘用心敲3下,據說能為敲者帶來好運和驅散不快。雖說是同一個鑼,但每個人敲鑼的聲音都不一樣風風火火且爽快的人,發出的聲音通常洪亮而快,而有所顧忌或思慮過多的人,發出的聲音往往低沉而慢。字如其人,聞聲也可辯其真性情。
It is said that people who beat the gong, which is an antique gong brought from Thailand
purposely, for three times will get lucky and become happy. Although people all beat the same gong, the voices can vary from person to person. For example, people who are energetic and impatient will cause a voice loud and clear. However, those who are scruples or over-thinking will make a low and deep voice. Just as we can know a person from his writing, we can also find out the characteristic of people form the sounds.
在環境的佈置上,也處處都散發著濃鬱的泰國風情。用藤條和竹子擋住了來自城市的喧囂,潺潺水聲以及舒緩音樂助你忘卻日常瑣事帶來的煩悶,還會有股淡淡的檸檬草香味,輕柔地拂去生活中的浮躁與勞累。在閨蜜泰療,你度過的將是一段慢悠悠的閒適時光。
Look around the layout of Great Me Thai Therapy and you will feel a strong flavor of Thai customs: rattan and bamboo block the noise of the city; floating water and soothing music reduce your annoyance caused by daily trifles; a hint of lemon grass scent gently dispels your impetuousness and tiredness. So just come and enjoy a leisure time in Great Me Thai Therapy.

湯屋根據性別分為淑女湯屋和紳士湯屋。淑女湯屋裡面的梳粧台,準備有卸妝水、爽膚水以及面霜,沖浴房則有4種香味的閨蜜牌洗髮水和沐浴露。在物品上,紳士湯屋會有點區別,增加了男士常用的剃鬚刀。湯屋裡面不會有服務人員,所以你可以享受獨處的歡愉。有需要的話,也可以摁響服務呼喚鈴,工作人員會儘快出現。
There are specific bath rooms for ladies and for gentlemen. Makeup remover, toner and face cream are provided on the dresser of the lady's bath room. In addition, there are also four kinds of fragrance of shampoo and shower gel in Great Me brand. It is a little different in the gentleman's bath room, because a razor is particularly provided for them. There is no service staff in the bath room, so you can enjoy it totally by your own. If necessary, you can also ring the service bell, the staff will appear as soon as possible.

我們還可在湯屋選擇沖浴、溫蒸或泡澡等方式對身體進行清潔。同時因熱氣濕蒸,體驗者身上的毛孔會張開,之後的按摩效果也會更加理想。
Customers can choose their way to clear their body, no matter steaming or steaming or bathing in the bath room. The steam helps to relax the body and thus improve the effects of the massage after that.
溫蒸房裡的溫度將近40度,水霧彌漫,只有面對面站在一起才能看清對面人的五官。並且水蒸發成的霧,攜帶著一股純天然的泰草藥味兒,待在裡面,不僅是身體,心靈上的束縛也會隨之減少。
The temperature in the steaming room reaches nearly 40 degrees, which causes a diffuse mist, so people can only see the face of other people when standing face to face. Besides, the warm steam carries the flavor of the natural Thai herbal medicine. Stay in the room for a while, you can not only reduce your physical pressures but also your mental painfulness.

水力按摩房的水會維持在適合的溫度,無論春夏秋冬。當你按下池邊的按鈕,會產生幾股較高壓的水流,從上至下,或從前到後,讓你在享受泡溫泉的同時,身體一些部位得到水流的按摩,從而讓身體更加放鬆。
Water of Hydrotherapy will be maintained at a suitable temperature, regardless of seasons. When you press the button on the edge of the pool, it will produce several high-pressure water flows, from top to bottom, or from front to back, allowing you to enjoy a comfortable bathing and better relax your body.

在湯屋出來後,已經在門口等候的理療師會帶你進入泰療房。在按摩開始前,有個泡腳環節,可以減少腿部肌肉的疲乏,還會用純正的泰草藥磨砂幫你去除腳部角質,讓皮膚更加光滑。
After the bathing, the therapist who has been waiting outside the bathroom will take you into the Thai therapy room. Before starting the massage, you can enjoy the foot bath first which will reduce the fatigue of the leg. By scrubbing the feet with Thai herb, your skin will finally become smoother.
按摩過程中,理療師會隨著呼吸的節奏,借助兩手、兩臂、兩腳以及全身重量按壓、伸展和拉伸體驗者的身體,因此泰式按摩也被稱為"被動瑜伽"和"雙向瑜伽"。
Thai massage is called "passive yoga" and "two-way yoga", because the therapists will use their hands, arms, feet and body weight, accompanied by the breathing rhythm of the guests, to stretch their body.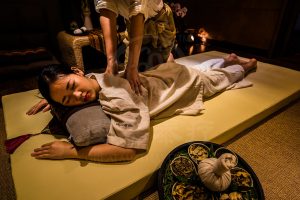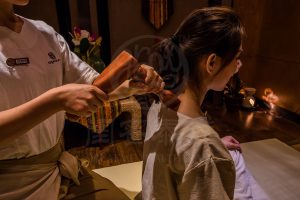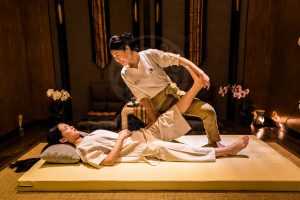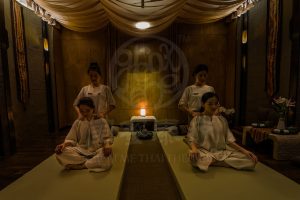 在這場泰療之旅的尾聲,你還可享受美味且多種選擇的泰式輕食自助餐。喝的茶有玫瑰花茶、香茅茶、蝶豆花茶、洛神花茶、甜菊茶和木橘茶。吃的有藍米酥、香米酥、香蕉聖石、班蘭葉包雞和泰式魚餅。
After the massage, you can also enjoy the Delight Spa Cuisine, which provides you with a lots delicious food. For example, you can drink rose tea, lemongrass tea, pea flowers tea, roselle tea, stevia tea, baelfruit tea, etc. And you can also eat blue rice crisp, jasmine rice crisp, banana stone, panda leaf chicken or Thai fish cake etc.

閨蜜泰療,一個珠海小泰國,會讓你分分鐘舒服得想睡覺的地方。如果和朋友約會,不妨這樣說:"閨蜜泰療挺不錯的,我們去那裡吧!"
Great Me Thai Therapy, a special 'Thailand' in Zhuhai, is a place where you just want to sleep as soon as you step in. If you go out with friends, maybe you will say:"Hey, let's go to Great Me Thai Therapy, it is worth to visit."
閨蜜泰療
人均消費:¥198
營業/預約時間:週一至四11:00-23:00,週五至日11:00-24:00
預約電話:0756-3222036/18902878972(微信同號)
地址:珠海市香洲區吉大景山路92號東大商業中心
購買管道:美團、大眾點評、百度糯米以及支付寶口碑,或者直接到店支付
Great Me Thai Therapy
Per capita consumption: ¥198
Business hours: Monday-Thursday 11:00-23:00, Friday-Sunday 11:00-24:00
Contact number: 0756-3222036/18902878972
Address: East Business Center of Jida Jingshan Road, Xiangzhou area, Zhuhai
Purchasing channel: Meituan, DIAN PING, Baidu Nuomi and Alipay,or directly go to Great Me Thai Therapy and pay there.
更多資訊可掃碼關注閨蜜泰療
For more imformation,please go to Great Me Therapy WeChat Or facebook.
微信公眾號
WeChat

FaceBook