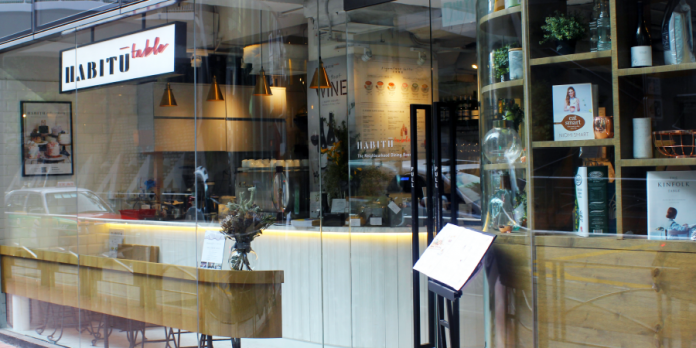 时尚而亲民的精品咖啡品牌HABITŪ,将由 6月25日起陆续于旗下七间HABITŪ Table推出全新美食菜单,力求以一系列美味及有营的佳肴,将品味餐饮提升至更优雅极致层次。全新菜单于湾仔皇后大道东、铜锣湾希慎广场、礼顿中心及太古城诚品生活馆,九龙区的尖沙咀美丽华广场、圆方及西九龙奥海城的分店全日供应。
Chic, boutique neighbourhood dining room chain HABITŪ in Hong Kong is raising coffee-culture dining to a new level with a refined and elegant touch. A new menu of "delicious and nutritious" cuisine is launching at the brand's seven HABITŪ Table from 25 June 2018.
HABITŪ全新的单点菜单由资深的厨艺团队精心设计,致力推动communal dining(分享用膳)的时尚饮食概念。超过五十款的精致菜式集环球美食之精髓,加上揉合绿色饮食风潮,让宾客可于舒适悠闲的氛围下聚餐谈天。
Inspired from Asian, western and fusion to green eating, the new menu is styled with generous portions to enhance the dining experience for communal dining by HABITŪ's culinary team, with expertise in highly-esteemed kitchens from around the globe.
为呈现对美食的热爱及执着,全新的菜单以升级版的经典"全日早餐"为一天展开序幕,配上烤连枝蕃茄、Portobello 大蘑菇、意大利焗豆及烘酸种面包,带来满满的正能量;此外亦有轻怡的炒蛋白以供食客选择。而素食版的"素菜全日早餐"以牛油果取代香肠及烟肉,配上枫糖南瓜、连枝蕃茄、新鲜粟米、草苺希腊奶酪及天然酵母面包,每一口都能吃出厨艺团队的心思。豪华一点的选择包括精心炮制的"龙虾班尼迪蛋"及"牛油果多士"。
With "every plate reflecting the love of cool", the new menu starts with a classical All Day Breakfast, refined with creamy scrambled eggs, English sausages, bacon rashers, roasted vine tomatoes, Portobello, Italian baked beans and toasted sourdough – or an even healthier option of Scrambled Egg White. Go Green Brekkie replaces sausage and bacon with avocado, maple pumpkin, fresh corn, granola and strawberry Greek yogurt. A decadent version of Lobster Benedict; or Mashed Ripe Avocado Toast, with baby gem, radish, lime, chilli flakes, Maldon sea salt and toasted sourdough.
对健康饮食主义者来说,多款全新的沙律定然不能错过,当中包括"抗氧沙律" 、"牛油果烤鸡西泽沙律"及"蜜饯无花果软芝士",是绝佳的夏日美食良伴。
Salads include an Antioxidant-rich Salad of Organic Quinoa, Baby Spinach, Asparagus, Broccolini, Pomegranate, and Pine Nuts, with Roasted Garlic Dressing; Avocado and Grilled Chicken Caesar Salad; or Honey-roasted Fig with Ricotta, Candied Pecan and Pistachio, on Grilled Sourdough.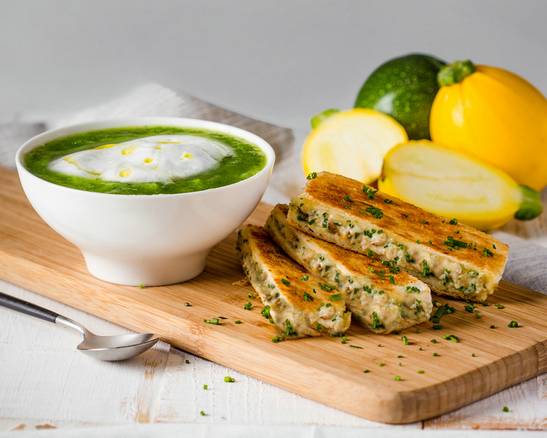 而餐汤方面,为迎合炎炎夏日而设的"夏南瓜冻汤配蟹肉三文治"及"粟米周打",每一口都尽是鲜美。
On the soup menu is Cold Zucchini Cappuccino with Crab Meat Mayo Toasties and Pressure Cooked Fresh Corn Chowder.
一系列适合与亲朋好友共享的菜式包括"蟹饼配地瓜条"、"松露酱双色薯条"、"菠菜鸡肉墨西哥薄饼"、"泰式虾米纸卷"、"慢烤猪肋骨"以及港人最爱的"小小辣焗鸡翼",堪称琳琅满目。
Especially for friends or groups, a 'Joy of Sharing' menu includes Baked Jumbo Lump Blue Crab Meat Cake; Fat Chips & Sweet Potato Fries with Shaved Pecorino and Truffle Tarta; Grilled Chicken and Spinach Quesadilla with Tomato Salsa, Sour Cream and Guacamole; Prawn and Avocado Paper Roll; Pork Baby Back Ribs; and Oven Roasted Spicy Piri Piri Chicken Wings.
全新的菜单中更包括滋味的意大利面及饭,当中"龙虾扁意粉"、"葫芦茄子意粉"、"松露芝士焗通心粉"、HABITŪ的招牌"卡邦尼意粉"及"蕃茄肉肠宽面"。饭类的选择包括有"红菜头意大利饭"及"野菌椰菜花不是饭"——以粒粒椰菜花切成饭粒状,是厨艺团队的精心之作。
Enticing pasta options include the new Lobster Linguine, Teardrop Aubergine Hand-Rolled Strozzapreti Pasta; and Macaroni of Truffle Mixed Mushrooms; and HABITŪ's signature, Spaghetti Carbonara and English Sausage Ragu Pappardelle. Risotto is distinguished by premium "0" rice with Finely Chopped Cauliflower or traditional Italian Arborio Rice with Slow-cooked Beets, Roasted Walnuts, Parmesan and organic quinoa.
意式薄饼选择包括传统口味"辣肉肠薄饼"、"烟肉三菌薄饼"及适合素食者口味的"水牛芝士罗勒薄饼",食客可自由选择合心意的口味和款式。
Pizzas include a traditional choice of Salami with Pepperoni, Pancetta, Tomato, Capsicum, Mozzarella and Chili Flakes, along with Fresh Mixed Mushrooms with Bacon and vegetarian option of Ripped Tomatoes with Lots of Fresh Basil and Buffalo Mozzarella.
主菜方面选择丰富,多款环球美食包括"脆皮鲑鱼扒配青咖哩"、"封煎北海道带子"、以百份百牛肉制成,无添加的"纯牛芝士汉堡"、"慢烤猪助骨"、"烤厚切猪柳扒"以及"焗一焗谷饲鸡"。
Main courses featuring east-meets-west delicacies highlighting Crispy Skin Salmon Steak with Thai Green Curry and Slaw; Seared Hokkaido Scallops with Chicken Wings, Pancetta Rashers on a bed of Fresh Corn Puree; 100% Australian Beef Burger with Sunflower Seed Bun and Fat Chips; thick cut Canadian Pork Rack with Green Apple Fennel Salad and Quarter Corn-fed French Yellow Chicken with Chargrilled Baby Gem, Asparagus, Leeks and Peas.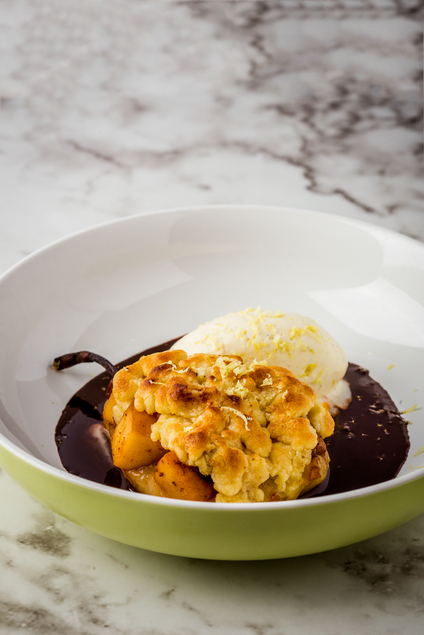 来到餐后当然少不了诱人的甜品,不妨试试"鲜莓奶酪蛋白甜饼"、 "玫瑰法式可丽饼"、 "朱古力心太软"、 "杂莓班戟"及"香橙雪芭咖啡芭菲",为完美的一餐作结。
Luscious desserts from heaven feature Greek Yoghurt Meringue with Chia Seed, Fresh Berries, Granola, Mints and Balsamic Glaze; French Crêpe with Fresh Strawberry, Vanilla Gelato and Rose Strawberry Jam; Lava Chocolate Cake with Salted Caramel Gelato; Fluffy Pancake of Mixed Berries; and Classic Affogato with Orange Gelato, Classico No. 3 Espresso and Coco nips.
全新特调饮品亦是餐牌上的注目焦点,特别推荐多款低卡路里健康饮品包括"哈密瓜桃茶"、"玫瑰、青瓜、生姜、洛神花水果蜜露"、"迷迭香、柠檬、苹果醋"、"红菜头泡沫豆奶"、"抹茶泡沫豆奶"及"姜黄泡沫豆奶"。
Drinks are another new signature with a range of infusions added to the new menu, spotlighting healthy-low calorie options including Decaf Iced Peach Tea, Rose, Cucumber, Ginger and Roselle Detox Water, Rosemary, Apple & Lemon Vinegar, Beetroot Soy Latte, Matcha Soy Latte and Turmeric Soy Latte.
---
全新单点菜式及饮品餐牌,将于以下HABITŪ Table供应:
The new a la carte menu and drinks items will be served at HABITŪ Table, the neighbourhood dining room at the following locations:
HABITŪ Table各分行查询电话 :
皇后大道东分店
Queen's Road East
(Tel: +852-2527-8999)
圆方分店
Elements Mall
(Tel: +852-2196 8466)
美丽华广场分店
Mira Place
(Tel: +852-3572 0846)
希慎广场分店
Hysan Place
(Tel: +852-3543 1313)
礼顿中心分店
Leighton House
(Tel: +852-3579 4050)
太古城诚品生活馆分店
Cityplaza Eslite Spectrum
(Tel: +852-3100 0106)
奥海城分店
Olympian City
(Tel: +852-2320-4688)