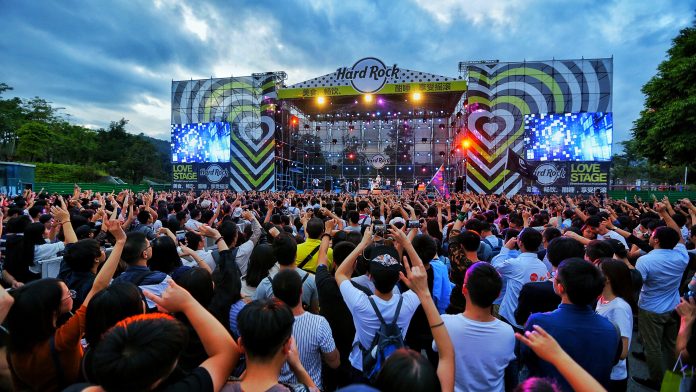 Over the weekend, Mainland China's first Hard Rock Hotel made its debut at Shenzhen Strawberry Music Festival 2016, which took place at the Shenzhen Universiade Center.
Set to open in 2017, the festival featured a Hard Rock branded tent where Hard Rock Hotel Shenzhen's highly anticipated features and design elements were showcased.
Festival-goers participated in fun games for the chance to win original Hard Rock merchandise including sunglasses, commemorative pins, T-shirts and more, adding to the rocking atmosphere at the event.
Additionally, the Hard Rock · Love Stage, a Hard Rock International exclusive, kept the surprises coming with live performances by popular local acts such as folk music star Ma Di and pop duo "Hao MeiMei Band". A number of local rock, folk, electronics and metal artistes also rocked up the stage throughout the event.
Located in the famed Mission Hills Resort, Hard Rock Hotel Shenzhen is the first to arrive in Mainland China. Combining modern Chinese architecture with the brand's signature world-class service, Hard Rock Hotel Shenzhen provides a lavish experience like no other hotel in Guangdong. The property will feature a Body Rock® fitness center, signature restaurants, a lively lobby lounge, a roof top party deck and more. Hotel offers fantastic views of the surrounding area. Stunning views, wall-to-wall luxury, and legendary amenities take your vacation or business trip to the next level with 258 extravagant guestrooms, including 51 suites.