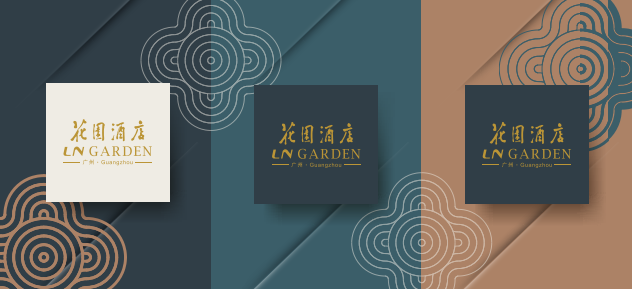 标识颜色 Logo Color
主色 Primary Color
这款深蓝色为VI设计的主色,巧妙的突出了金色的logo,整体给人一种典雅、奢华、商务的感觉。
This dark blue is the main color of this VI design, and offers a smart contrast to the golden logo, giving a combined sense of business, elegance and luxury.
辅助色 Secondary Color
主要图形阐释 Main Graphic Interpretation
历经36年的辉煌与沉淀,花园酒店是广州城中历史悠久的酒店之一,亦是城中第一家五星级酒店。然而这份岁月铸就的"古味"并没有被隐藏起来,而是作为宝贵的遗产不断被传承,通过历久弥新的呈现引领独特的风尚。我们将酒店的精髓与现代设计语言相结合,从而创造一个传统与现代相糅合的风格。花符号不仅呼应了酒店的名字,也象征着酒店所代表的:繁华商业市区中的一个花园绿洲。
At nearly 36 years of age, the LN Garden Hotel is one of Guangzhou's oldest and first 5-star hotels. However, this "old" age is not hidden but put forward as a fashionable retro trend, as a heritage. We capture the hotel essence and place it in a minimalist light, hence creating a feeling of both tradition and modernity. The Flower mark not only echoes the name of the hotel (Huā) but is also symbolic of what the hotel represents: a garden oasis in the middle of a bustling business city.
周边设计 Merchandising Design
三角铃设计团队在新VI的基础上延伸出了贺卡、笔记本、杯盖、茶包、马克杯、汤盒、蛋糕盒、外卖盒、行李牌、口罩、名片、贵宾卡、信封、海报模板、明信片、请柬、包装纸等周边产品。在设计过程中,团队始终注重将花园酒店低调奢华的定位与动感时尚的潮流相结合,使设计成果既完美地彰显了花园酒店的高端定位,又不落俗套、大胆创新。
SJL design team extended the new VI with Greeting Card, Notebooks, Cup Covers, Tea Bags, Mugs, Soup Boxes, Cake Boxes, Takeaway Boxes, Luggage Tag, Masks, Name Cards, VIP Cards, Envelopes, Poster Templates, Postcards, Invitations as well as Wrapping Paper. Presented with LN Garden Hote's characteristics, classic and modest luxury features, and combined with new modern dynamic design style.
Client:
LN Garden
花园酒店
Service:
创意营销
Creative Marketing
Type:
VI & Design Application
VI及设计应用
Date:
2021年10月
October 2021