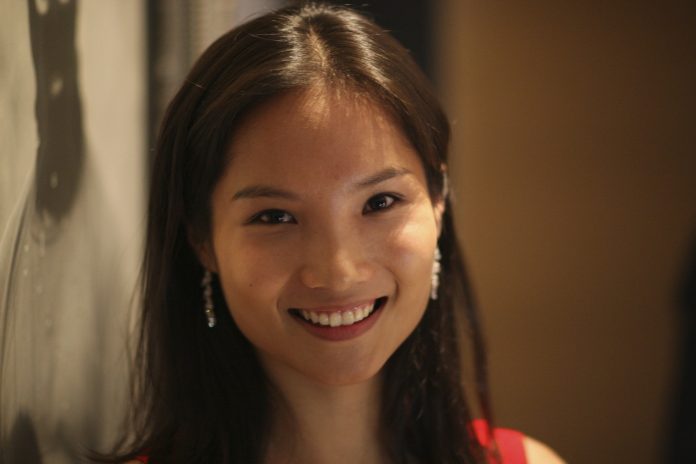 Maggie Artan- 澳门烈日-比利时传统窝夫总监 - Director, Liège, Macau.
DB: 你在'烈日-比利时传统窝夫'工作了多久?How long have you been with Liège?
从' 烈日-比利时传统窝夫' 诞生的第一天,我就全程陪著它成长。
Since day one. Since Liège started to exist on paper until now, I have been involved in all the steps.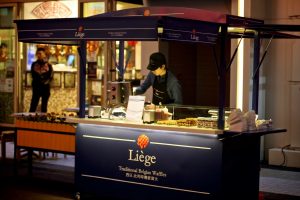 DB: 在从事这份工作时,哪部分让你觉得最棒?What is the best part of doing this job?
卖用心及用上乘材料做的产品让我感到十分自豪的。我们做了很多研究,下了很大功夫才将正宗的比利时华夫饼带到澳门呈现给大家。你会感受到这几乎就是一份艺术工作,我们必须小心翼翼,协调好各方面的因素去完美呈现它。比如,我们採用新鲜酵母在进行发酵过程中澳门室外气温和湿度与比利时的不同,任何微小的细节都会影响最后成品的效果。另外,将比利时的文化带到澳门并分享出去,这也是让我感到很自豪的事。随著澳门不断地将自己发展成一个国际大都市,它亦逐渐地与这个世界趋同,若能在这增添一些比利时的色彩,想必会更绚烂丰富的。
It makes me proud to sell a high-quality product. We worked and researched a lot to be able to produce and make the authentic Belgian waffle available in Macau. You know it is an artisan bakery product, it requires to be meticulous but also to work with all the parameters. Some of them like the outside temperature or the level of humidity are not the same as in Belgium, and those have an impact on the final result. It also makes me proud to bring and to share the Belgian culture in Macau. You know, we live in a place that looks more to the outside world as it grows into an international city. It feels great to be adding a bit of "Belgitude" (Belgian Attitude) into this cultural mix.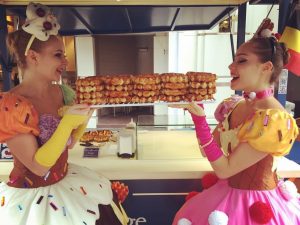 DB: 你能向我们简短介绍一下这个品牌的历史和文化吗?Could you give us a brief history of Liège and its brand culture?
其实很简单。我们爱吃比利时华夫饼,对於我来说它是世界上最好吃的华夫饼。我的比利时先生擅长下厨,并且他的家族曾在比利时开过烘焙店多年。然而在澳门,却没有一个做正宗比利时华夫饼的店,然后我们就想:不如我们试试?如果我们将最好的比利时华夫饼引进澳门,会怎麼样呢?如果我们将比利时华夫饼文化带到澳门,又会怎样呢?又或者我们让比利时华夫饼成為这裡的明星產品?比利时华夫饼不应仅仅是一团烘烤后的面粉以及加上辅料的食物,它可以做的更好。这就是為什麼我们会一直坚持努力,让比利时华夫饼真正成為明星产品。与其品尝满满酱料的华夫饼,不如感受真正的纯比利时华夫饼,给味蕾新的惊喜。我们只做美味的比利时华夫饼,而这亦是我们的文化:品味优质比利时,传递快乐新文化。
Very simple, we love the Belgian waffles, for me they're the best in the world. My husband is excellent in cooking, and his family was in the bakery business in Belgium. There was no such place in Macau, so we said: What if we did it? What if we brought the best waffle to Macau? What if we created a new waffle culture in Macau; one of excellence, of quality. What if we made the waffle the star? Waffles should be more than some random dough to put toppings on; waffles should be good. And that is what we have been working at since day one. Make sure that the waffle is the star. While the toppings complement the taste very well, just order one of our plain waffles and you are in for a treat. They're delicious. We could not sell them if they weren't. So there you go, this is our culture: Spread happiness, joy and culture through an excellent high-quality Belgian product.
DB: '烈日-比利时传统窝夫'卖的最好的产品是哪三个?What are the best-selling products in Liège? Could you name three of them?
人们似乎特别喜爱配上"能多益"巧克力榛子酱的华夫饼,当浓浓的酱与外脆内软的华夫饼融合一起,确实美味无穷,它也顺理成章成為我们其中一个热销產品。另外我们的热巧克力奶也是十分畅销,用加热的鲜奶来融化纯正的比利时巧克力粒,绝对不像市面上用巧克力粉冲出来的味道,香浓巧克力马上融化你心。同时,我们还有"每月限定",我们每个月推出新口味的华夫饼也十分受粉丝们欢迎。比如今年二月份的"珍惜你的情人",我们推出了自家製樱桃果肉酱华夫饼;在即将来临的复活节,我们将推出巧克力款,若想了解更多,加我们IG或脸书和不妨到我们店裡一尝究竟。
It seems that people love to add Nutella on their waffles. It's true that the combination is just great. So that would be one of the best selling items. Our hot chocolate milk is very popular as well as we do it with real melted Belgian chocolate, no powder, just pure chocolate. Then there are the monthly's as well. Every month, we try to bring some new tastes and promotions; those are quite popular too. For example, in February, we had: "Cherish your Valentine…", which was a Belgian waffle with home made cherry topping. For Easter it is going to be all about chocolate, I can't tell you more now but we expect this to be also very popular.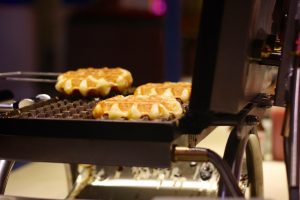 DB: 在众多热销华夫饼中,你最喜欢的是哪一个款?Of all these best-selling waffles, which one is your favorite? And Why?
我全都喜欢,无论是迷你包装还是加奶油加果酱的。我们不仅爱吃,更爱钻研改进它们。之所以它们出现在我们的餐牌上,就是因為它们都是我们努力出来的美味成果。不过我总是回吃原味华夫饼。对我而言,我最爱的一款华夫饼,就是华夫饼本身,因為它就是是我们的明星产品!
I like all the variance, combinations, and toppings we serve. We taste and engineer them all. If they are on the menu, it is because we love them. But at the end of the day we always come back to the basics. And for me, the one item I could not do without, the one that is my favorite is the waffle itself. The waffle is the star!
DB:我们能从什么渠道了解更多'烈日-比利时传统窝夫'? Where can we get more information about Liège?
脸书 Facebook
官网 Website
Instagram:liegewaffles