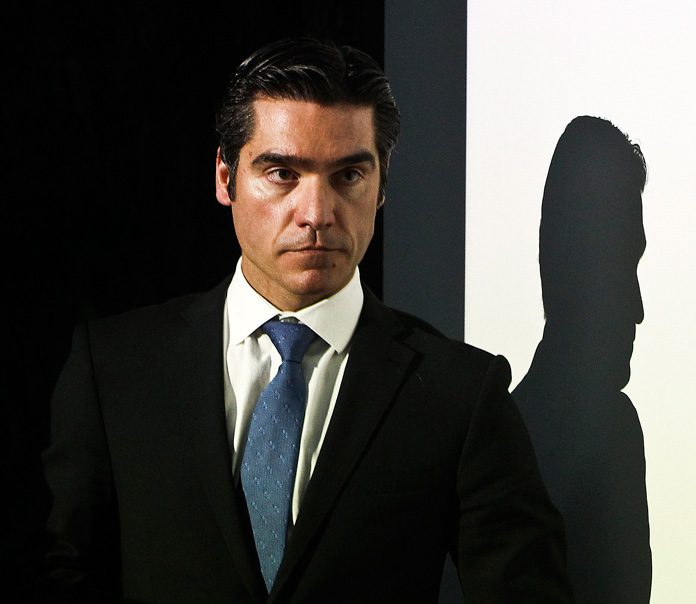 Mr. Vítor Sereno – 葡萄牙驻澳门及香港总领事 – Consul General of Portugal in Macau & Hong Kong.
DB: You earned degrees in law and business communications. How did your education prepare you for a career in diplomacy?
Vitor Sereno: Diplomacy can be defined as the art and practice of conducting foreign relations of a given State.
Our task as diplomats involves matters of foreign trade, social and cultural promotion, coordination with international organizations, and networking with different stakeholders (companies, individuals, associations,). In this framework, my degrees in law and business communication are fundamental tools to cope with all these diverse challenges. On one hand, societies and relationships between states are bounded by laws. Using a metaphor, the law can be a code to help deciphering this multicultural puzzle. On the other hand, communication is a critical element in any society, and all the relationships between individuals, organizations and countries rely on communication, no matter if we are talking about high or low context cultures. New ways of communicating opened new chapters in the development of our societies.
We can say that law and communication are fundamental strategic assets in an integrative perspective of a globalized world. World societies are bounded by laws and by communication. So, to conclude, yes, my education has a major contribution in my diplomatic career.
DB: One of your influencers is Richard Branson. What has been his biggest influence on you?
VS: Sir Richard Branson is an entrepreneur and a fantastic marketer. Some of his ideas/thoughts are very powerful. First of all, the importance of doing: if you don´t try, you´ll never succeed. Motivation and focus are essential in this equation.
Secondly, business should be about improving people's lives (our customers), no matter what type of organization we are talking about.
Thirdly, the importance of people: the best way for an organization to succeed is to listen to its people.
DB: Upon becoming Consul General of Portugal in Macau and Hong Kong, you set three main priorities (consular services, economic promotion, and defense of Portuguese language) for improvement. What success have you had with these?
VS: In all these three areas we have been implementing specific measures.
In terms of the consular services, we do have now a much more user friendly set of services, whether by improving its quality, reducing waiting times, or providing new services. For instance, we've created an online platform for Portuguese citizens to renew their passports and apply for identification documents. Also, since the beginning of this year, we provide free Wi-Fi access to visitors to create a more enjoyable environment and also give them the possibility of accessing to their personal digital files whenever necessary.
Regarding the economic promotion, we are concentrating our efforts in promoting the Portuguese companies (and products) in the market and also the (foreign) investment in Portugal. We participate in trade fairs like MIF and MIECF; we give support the requests of commercial associations and companies, in what concerns information, networking, and logistics; we design and organize specific events to promote the Portuguese offer.
In what concerns the Portuguese language, Portugal is deeply committed in cooperating with the Executive of Macau SAR in promoting Macau as a platform for the training of bilingual experts in different areas and also to strength its role as the regional center for services provided in Portuguese, specially those bringing together People's Republic of China, Macau SAR and the Portuguese-speaking countries.
This cooperation takes place at the highest political and institutional level (as the recently held Bilateral Sub-commission for the Portuguese Language and Education shows), but also at a more operational level, through the activities and training courses that IPOR–Instituto Portugues do Oriente has been providing to services in the public administration area, students of different levels, staff executives of local enterprises. In 2014, more than 4,000 people attended one of the more than 30 language courses IPOR conducted.
DB: You have lived in Macau for over two years. Where is your favorite place in Macau?
VS: Although there are other very nice places in Macau, I would say my favorite is still this beautiful Bela Vista in which I live and from where you can enjoy one of the most pleasant sites of Macau. This is also one of the reasons I so much committed in finding a way to be able to open the lower part to the public as an art gallery. Now, through public events that we periodically venue, people can also enjoy this place, apart from the many guests that, as Consul General, I frequently host at the house.
DB: What does the future hold for cooperation between Portugal, Macau, and China?
VS: The partnership between Portugal, China, and Macau has more than 500 years. Macau is one of the regions where the Portuguese presence in the East has been most effective and extended in time. Macau is a market of major importance to Portugal, furthermore in the logic of penetrating the huge market of mainland China. Our relationship with these markets has been strengthened significantly in recent years. The future presents many challenges and many opportunities for all of us and today we are designing our mutual future.
Nowadays, Macau is the 8th main destination for Portuguese exports to Asia / Far East, ahead of markets such as Thailand, Malaysia and Vietnam. This is remarkable if we compare the population dimension of all these 8 markets. In the first 7 places in the ranking, the second-smallest market in dimension is Singapore, with a population nearly 10 times higher than Macau. In 2014, Portugal exported to the MSAR 23.7 million euros of goods, which meant an increase of 32% comparing to 2013 (INE). To better contextualize, during this period our exports to Asia grew 4%. In terms of main products exported to the MSAR, we are witnessing a growing diversification of our offer to the market, namely through the remarkable growth of machinery and equipment. The number of Portuguese exporters to the market has been growing in a sustained manner, (currently around 350).
Cooperation with MSAR authorities is intense. Portugal collaborates actively with Macau in the consolidation of its role as an economic, commercial and cultural platform between China and Portuguese-speaking Countries, and in the desirable diversification of its economy. Some important projects are being developed, such as the Economic and Trade Cooperation, and Human Resources Portal between China and Portuguese-speaking countries.
DB: What new trends do you see developing?
VS: One of the main trends is related to the digital communications and technologies. The way we interact with one other is changing radically. We are using social media to communicate, to select information, to follow people… Digital cities are being built everywhere… The Consulate sees this trend as a big opportunity for improvement: to do more and better in partnership with our stakeholders.
For instance, did you already "like" our facebook www.facebook.com/cgmohk page yet? Thanks to this page, with 11.000 followers, we are able to divulgate and inform about all the activities, exhibitions, projects, partnerships established. It is indeed a privileged channel.