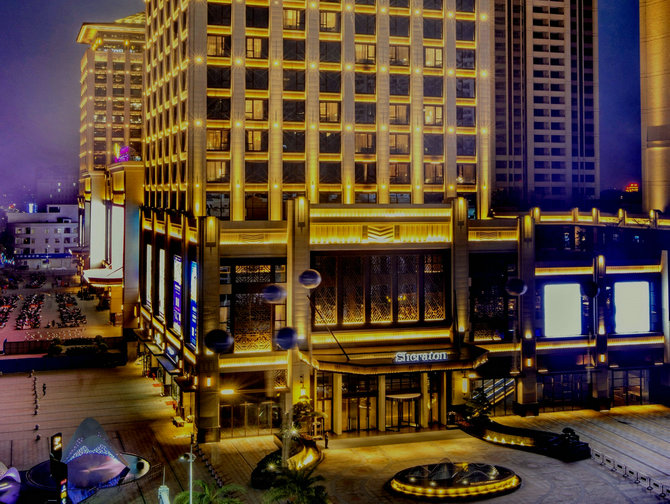 近日,万豪国际集团旗下的喜来登酒店及度假村宣布新兴筠城喜来登酒店盛大启幕。该酒店位于广东省云浮市被誉为"中国禅都"的新兴县,是云浮市第一家国际五星级品牌酒店,标志着中国区喜来登品牌酒店版图的再度扩张。
In a recent release, Sheraton Hotels & Resorts, part of Marriott International, Inc. announces the opening of Sheraton Yunfu Xinxing Hotel in Xinxing County, the famed "China's Town of Zen" in Yunfu City, Guangdong Province, China. Sheraton Yunfu Xinxing Hotel is the first five-star hotel under Marriott International Group in Yunfu, which marks the further development of Sheraton in China.
新兴县的地理位置优越,地处云浮、肇庆、佛山、江门、阳江五城的交界地,是禅宗六祖—惠能大师的故乡,故被称为"禅宗圣地"。酒店坐落于新兴县中央商业区—筠城国际广场,距云浮东高铁站51公里,距广州白云国际机场166公里。酒店秉承喜来登酒店及度假村一贯的理念,用标志性的酒店服务与设施,开启云浮这座历史悠久、文化底蕴与传统气息浓郁的城市现代化酒店业的新篇章。
With its unique geographical location where five cities intersect – Yunfu, Zhaoqing, Foshan, Jiangmen and Yangjiang – Xinxing is known as a famous Zen holy land, being that it is the hometown of Buddhism Master Huineng. Centrally located at Juncheng Plaza, a major commercial complex in the county, Sheraton Yunfu Xinxing Hotel is some 51 kilometres from Yunfu East Express Train Station and 166 kilometres from Guangzhou Baiyun International Airport. Featuring the brand's signature services and amenities, it has opened up a new era of modern hospitality in this city abundant in history, culture, and tradition.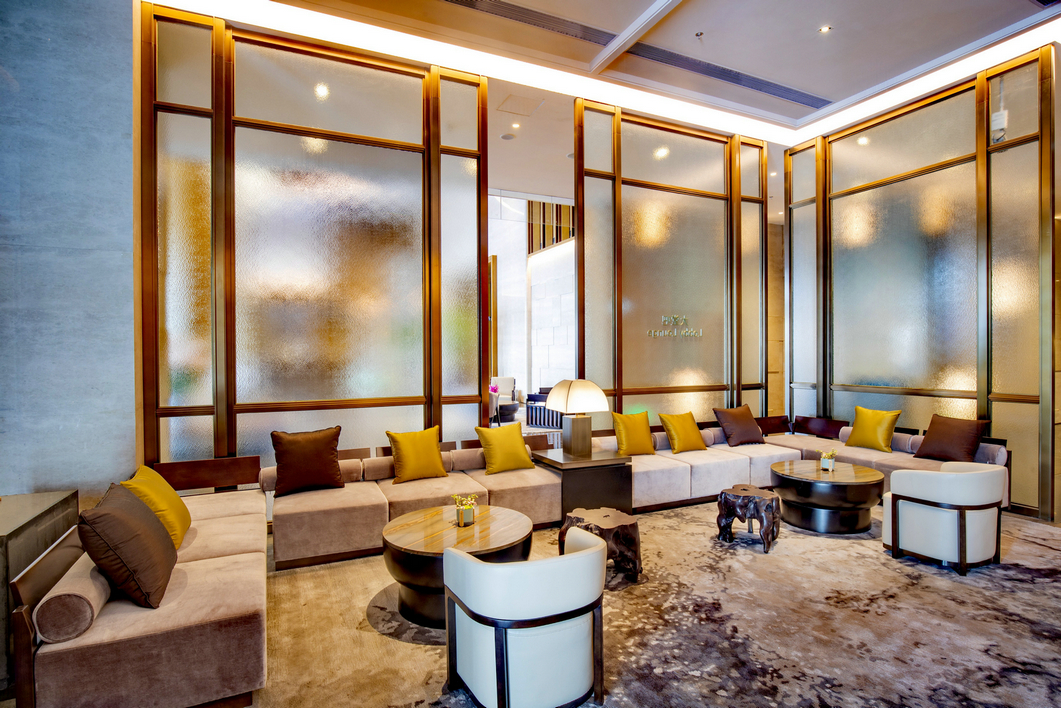 "能够携喜来登酒店来到云浮这座快速发展的城市,我们对此感到非常自豪", 喜来登酒店及度假村大中华区酒店开业区域运营总监宋金圣先生表示,"新兴筠城喜来登酒店作为万豪国际集团旗下酒店新成员之一,展现了本集团在大中华区拓展更多同级别高端酒店项目的承诺。"
"We are proud to introduce the Sheraton brand to the rapidly growing city of Yunfu," said Steven Song, Area Director, Greater China Hotel Openings of Sheraton Hotels & Resorts, "Sheraton Yunfu Xinxing Hotel is one of the new strategic additions to our group's portfolio and showcases our commitment to developing similar premium hotels in Greater China."
"我们与广东温氏食品集团股份有限公司携手,致力于为宾客打造精致的酒店环境。"酒店总经理李硕琪女士表示,"在这里,宾客们可尽享由专业团队带来的喜来登品牌独有的卓越体验和全面细致的服务。"
"Together with the developer, Guangdong Wen's Foodstuffs Group, we are committed to providing sophisticated surroundings where our distinguished guests can enjoy the renowned Sheraton experiences and seamless services offered by our dedicated team." Terry Li, General Manager of the hotel commented.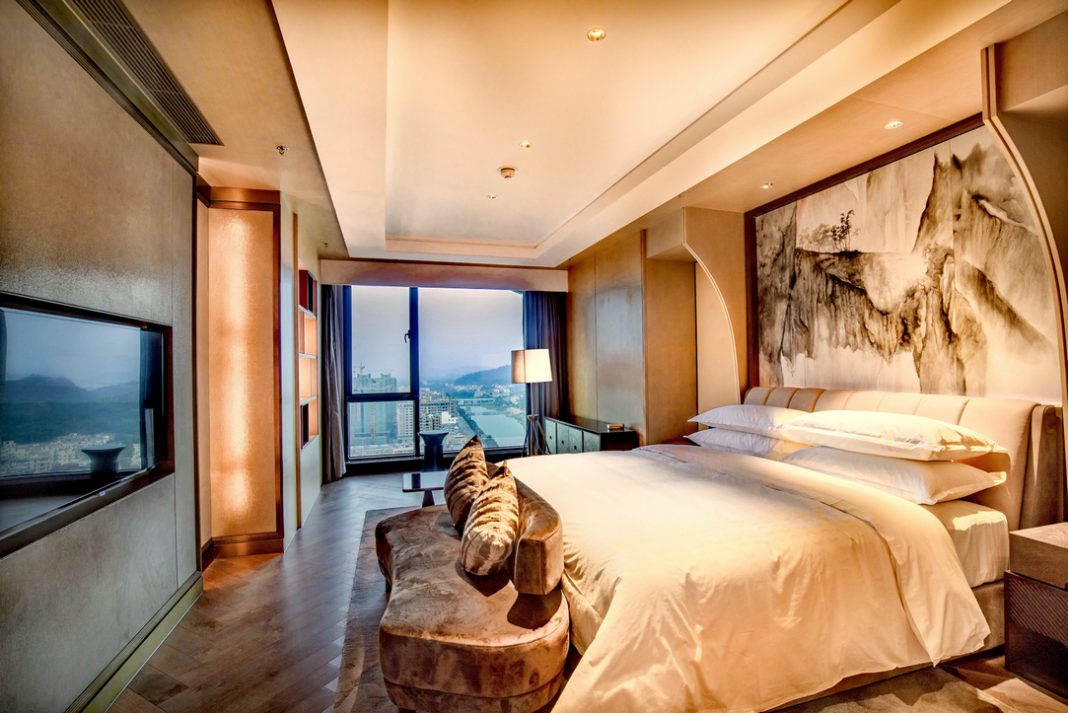 云浮新兴筠城喜来登酒店将新兴县自然文化元素与现代的舒适感和谐地融合。酒店空间清雅静谧,彰显东方韵味,宾客们可在此休闲放松,沉静地与内心的自我对话。宽敞的大堂装饰着颇具艺术气息的地面装置;悬挂着巨型艺术吊灯;墙壁上镶嵌着石质与木质装饰。置身其中,仿佛亲临一池沐浴在暖阳与白云中的清澈水潭。踏入中餐厅,便宛若来到隐逸悠闲的中式庭院—空心砖墙纯白素雅; 手工织毯上花团锦簇; 当形态犹如招展树枝的水晶灯亮起,树影交织的光影即投映于墙面,美仑美奂。每间客房致力打造熙攘城市中的一方宁静天堂,巧妙地搭配了木质、石质、铜质、皮质等各式上乘材质。宾客落坐圆形椅背的扶手椅上,轻抿一杯香茗,抑或享受效仿东方食盒造型的迷你吧柜中准备着的小食与点心。
The hotel's design seamlessly incorporates Xinxing County's natural and cultural elements with modern-day comforts, offering tranquil spaces of oriental aesthetics where guests can relax, indulge and connect with their inner selves. The spacious Lobby Lounge depicts a crystal clear pond in the mountain under sun and clouds with artful ground installation, huge artistic lamps on the ceiling, and stone and wood panels on the walls. The Chinese restaurant imitates a secluded Chinese garden with white hollowed brick walls, handcrafted carpet with beautiful floral patterns, chandeliers taking the shape of tree branches, and shadows projected on wall panels to skillfully mimic silhouettes of trees. Each and every guestroom creates a peaceful haven in the crowded town, masterfully matching different materials of top quality, such as wood, stone, copper, silk, and leather. Guests may sip a cup of tea on the round-baked armchair, or enjoy some snacks in the mini bar where the cabinet takes the shape of an oriental "food box".
云浮新兴筠城喜来登酒店共设有266间客房与套房,内饰风格现代简约,面积从40至210平方米不等,江景房比例高达95%。设计团队以本地山水风景为灵感,致力于为宾客打造舒适、便捷的私人居所。每间客房均配备独立宽敞的办公桌、符合人体工程学的写字椅、免费的无线网络和步入式淋浴间。此外,每间客房还配备标志性的喜来登特色睡眠体验,确保宾客一夜安睡后的奕奕精神。
Sheraton Yunfu Xinxing Hotel boasts 266 stylish and spacious guestrooms and suites, ranging from 40 to 210 square metres. 95% of the accommodations provide breathtaking views over Xining River. Inspired by local landscapes, the guestrooms and suites deliver the comforts and convenience of private residences, each complete with an executive working desk with ergonomic chair, free Wi-Fi, and a spacious bathroom featuring a walk-in shower. All rooms are equipped with Signature Sheraton Sleep Experience, ensuring that guests enjoy a soothing and reinvigorating nights' sleep.
浮新兴筠城喜来登酒店拥有3个各具特色的餐厅与酒吧,为宾客奉上各式美味佳肴。全日制餐厅——盛宴标帜西餐厅装潢精致典雅,设有开放式厨房。餐厅秉承喜来登品牌严谨的餐饮标准,为宾客提供全球多国美食和本地佳肴,以自助餐的形式呈现。开放式厨房让用餐客人能与大厨随时互动,了解餐饮制作的过程。餐厅还设有可容纳10人的包间,供宾客举办庆典和聚会。采悦轩中餐厅以经典的粤式珍馐为主打,云浮本地美味与鲍汁美食滋养挑剔味蕾;除了雅致的大厅,餐厅还设有8间奢华包厢,是家庭聚餐、朋友小聚或商务会餐的绝佳之选。大堂吧是一个舒适所在,开扬的空间,安静的环境,配有各式点心小食及多种美酒、饮料,还有专业调酒师现场调制种类丰富的鸡尾酒,宾客可在此休闲放松,享受与挚友相聚,与美酒相遇。
Sheraton Yunfu Xinxing Hotel invites guests to experience a range of dining options via its four distinctive restaurants and bars which cater to all palates. Delicately and elegantly decorated, the all-day-dining Feast, the Signature Restaurant features an interactive open kitchen, where guests can watch how talented chefs prepare dishes in real time, whilst savoring a variety of international delicacies and a-la-carte dishes. A private dining room with a capacity of 10 people is available for special occasion celebrations and get-togethers. Yue Chinese Restaurant offers authentic Cantonese dishes with influences of Yunfu cuisine, featuring dishes with abalone source. Besides the elegant dining hall, eight luxury private dining rooms are available, perfect for entertaining business clients or treating family and friends. The Lobby Lounge serves tasty snacks and various wines and drinks, including an array of cocktails made by the talented bartenders. This is where guests may relax themselves or gather with friends.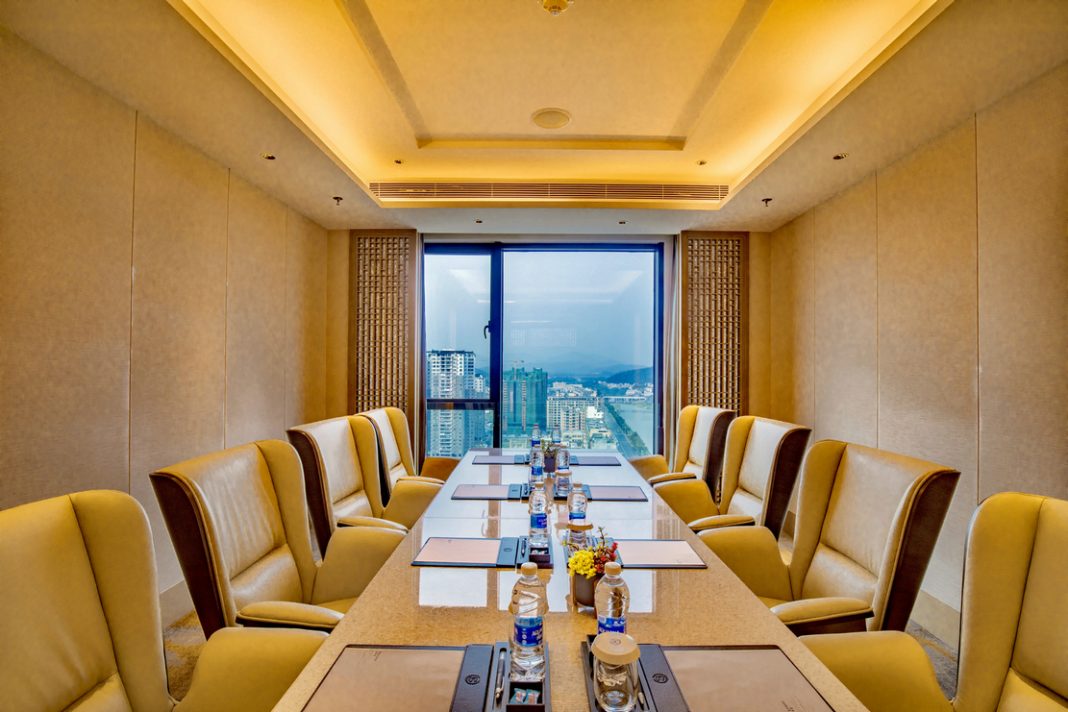 云浮新兴筠城喜来登酒店拥有超过2,100平米的多功能会议空间配备先进会议设施设备,包括可分隔成三个独立的会议厅的大宴会厅、4间设施先进的多功能会议室与1间董事会议室。酒店完备的会议设施使之成为当地市场的新标杆。宾客们可通过自动扶梯从大堂直达会议区域,十分便捷。
With over 2,100 square metres of multi-functional space including a grand ballroom, four well-appointed meeting rooms and a boardroom, Sheraton Yunfu Xinxing Hotel sets a new benchmark for events and celebrations in the local market. An escalator is provided so that guests can arrive to the meeting floor in comfort directly from the lobby.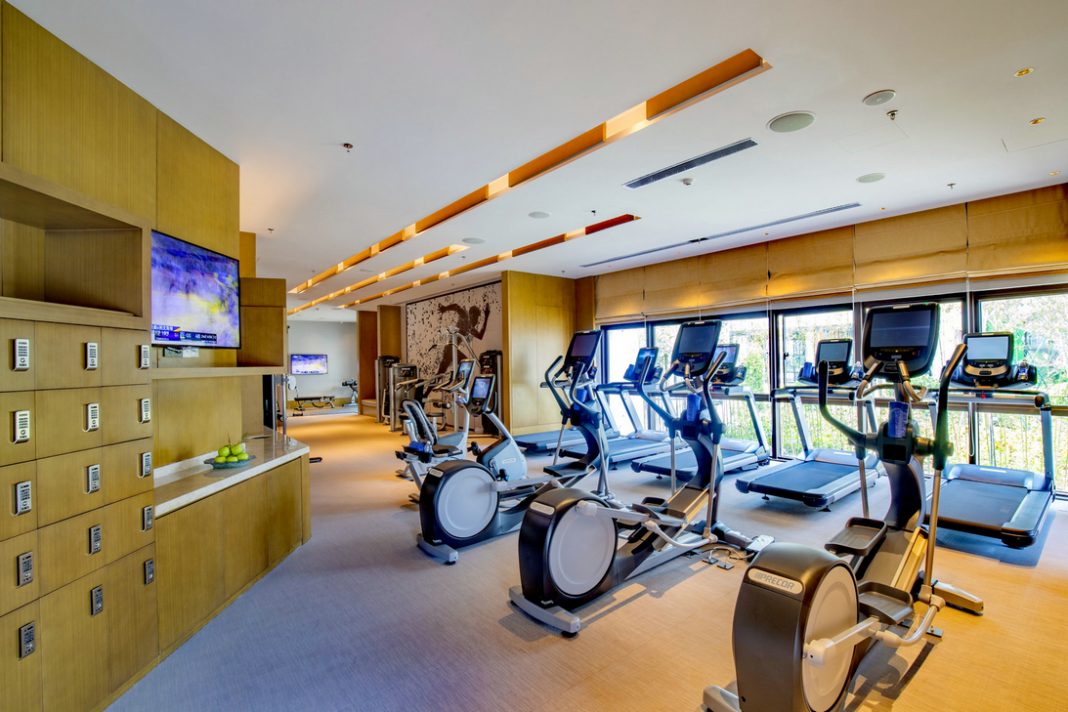 1,160平方米的无柱式大宴会厅层高8米,最多可同时容纳700人,配备70平米LED屏幕,可分隔为3个独立会议厅。该宴会厅以藻井造型为设计理念,致敬东方建筑美学;9盏吊灯寓意吉祥福禄,颇具文化格调,是举办浪漫婚典和大型活动的理想场地。除此之外,酒店还拥有200平方米的户外草坪,可满足户外婚礼和宴会的需求。所有会议场地均配备先进的视听设备,细致入微的服务团队也将确保每个细节尽善尽美,为宾客呈献无忧奢享的体验。
The 1,160-square-metre pillar-free grand ballroom boasts an 8 metre high ceiling with a 70-square-metre LED screen and can accommodate up to 700 guests. It is modular and can be divided into three separate meeting rooms for smaller occasions. The ballroom's features an oriental design element, Caisson Modelling, and showcases traditional Chinese architecture aesthetics; whilst nine large lamps symbolizing fortune and blessings render the grand ballroom the perfect location for romantic weddings and large-scale events. A 200-square-metre lawn is also available for outdoor weddings and banquets. All these venues come complete with the latest audio-visual equipment. A dedicated service team will help ensure that every event becomes a resounding success.
酒店还为宾客们提供了全面的健身、休闲设施,供宾客放松身心、畅享休闲时光。包括24小时开放的健身中心、恒温游泳池、瑜伽室、干湿蒸桑拿房和棋牌室。
Sheraton Yunfu Xinxing Hotel also offers a wide range of recreational facilities for guests to relax and enjoy their leisure time, including a 24 hours fitness center, an indoor heated swimming pool, a yoga room, sauna rooms and chess rooms.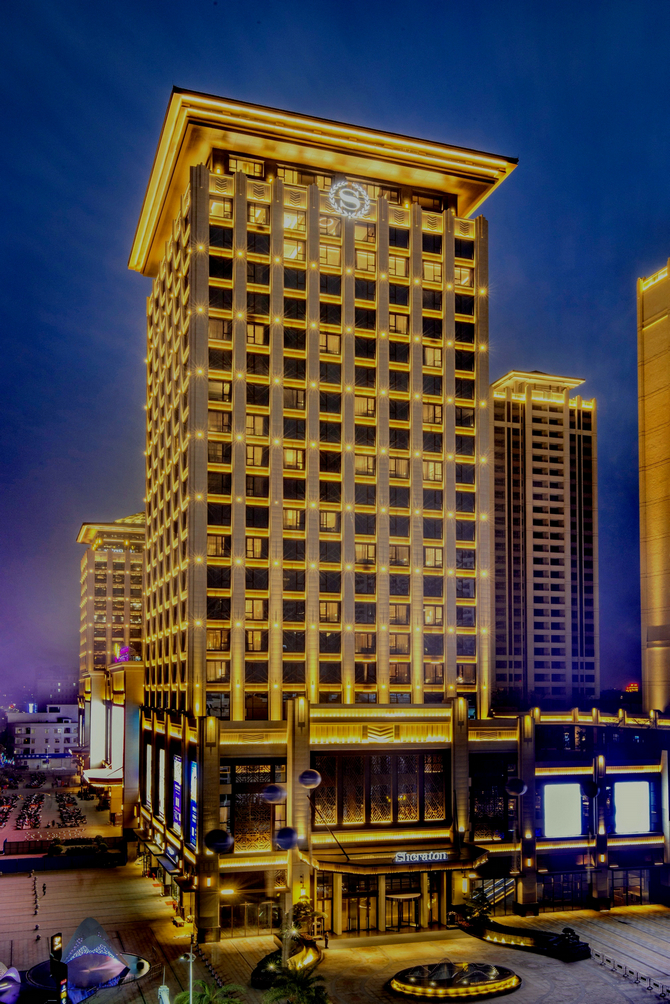 ---
云浮新兴筠城喜来登酒店
Sheraton Yunfu Xinxing Hotel
云浮新兴县新城镇沿江北路66号
No.66, North Yanjiang Road, Xincheng Town, Xinxing County, Yunfu
Tel: +86766-222 8888
www.sheratonyunfu.com