IKA/奥林匹克烹饪比赛是被全球厨师所熟知的国际顶级烹饪赛事。2020年2月14至19日,来自70个国家的厨师们来到德国斯图加特参加了这一场国际级的美食交流角逐盛会。
Chefs from 70 nations gathered together to compete for the coveted IKA Culinary Olympics held in Stuttgart, Germany from 14th until 19th February, 2020.
在刚刚结束的"糕点艺术"单项比赛中,广州四季酒店的西点副厨师长许兵师傅用巧克力雕塑了一个精彩生动的巨型展品,名称为"不要让它们离去",呼吁人们不要猎杀野生动物。作品取得了这个项目的银牌。此巨型甜品是由巧克力融化进行的造型组装,栩栩如生地展示了一个残忍的骄傲猎人,骑在一只大象身上砍掉了它的象牙,周围则环绕着其他被猎杀的动物牺牲品。
Competing in the Individual Pastry Artistic category, Four Seasons Guangzhou Pastry Sous Chef, Mr. Billy Xu carved a spectacular chocolate show piece titled "Don't Let Them Go" hoping to highlight the injustice against hunting wild animals and earning him a silver medal. The lifelike sculpture was hand crafted from pure melted chocolate and skillfully depicts the cruelty of a proud hunter sitting atop an elephant while cutting its tusks, surrounded by a diverse collection of animals including a dinosaur and wolf.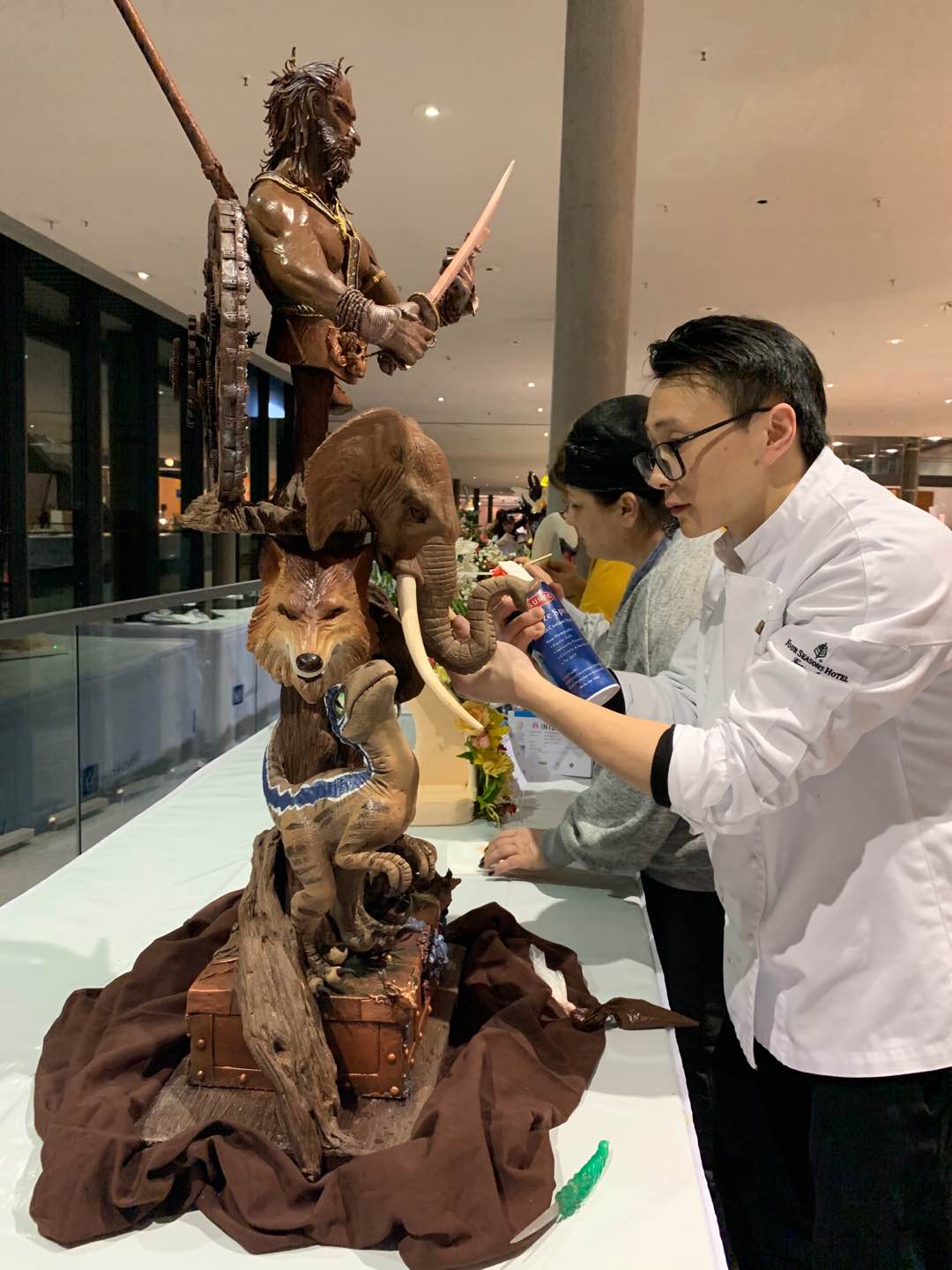 许兵师傅来自江苏省,他于2017年加入广州四季酒店并且此次代表酒店出征。这是他首次参加IKA/奥林匹克烹饪比赛,他表示十分感激且珍惜这个机会并期待再接再励,下次能带金牌回家。
Originally from Jiangsu Province, Chef Billy Xu has been with Four Seasons Hotel Guangzhou since 2017 and was so very proud to represent the Hotel at this prestigious event. His first time competing in the Culinary Olympics, Mr. Xu expressed "his gratitude for this opportunity and hopes to bring home the Gold next time".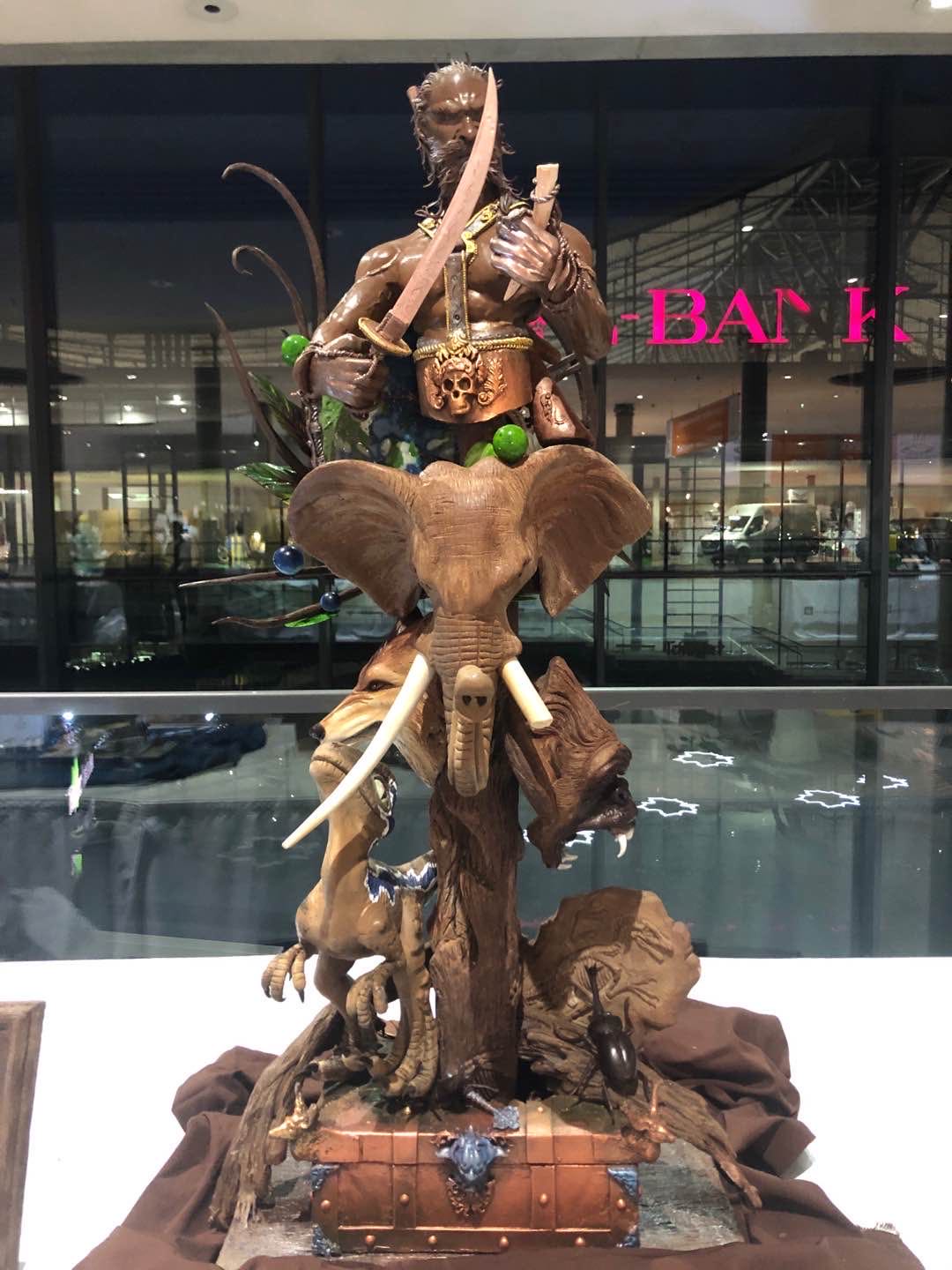 "我相信这是一个展示来自全球各地才华厨师们的优秀舞台。我们也对许兵师傅首次出征即拿回银牌感到非常自豪。"广州四季酒店的行政总厨吉安诺说。"我们全力支持并鼓励我们的才华厨师参加IKA/奥林匹克烹饪比赛,通过角逐行业内高水平的国际赛事从中成长并学习。"
"I believe that this is an excellent platform to showcase talented chefs from around the world and we are very proud of Chef Billy and this outstanding achievement", Four Seasons Guangzhou Executive Chef Giancarlo Di Francesco commented. "IKA Culinary Olympics is a gathering of the world's finest culinary professionals, and we encourage our talented chefs to attend, compete and learn from high-level competitions such as this in the industry."
IKA奥林匹克世界烹饪大赛由前德国厨师协会在法兰克福首次举办,开赛至今经历了百年发展。目前,越来越多的国家和专业厨师选手参与此项比赛并将在比赛中获奖视为从厨生涯的至高荣誉。
Anchored in Germany, this quadrennial chef's competition and exhibition, IKA/Culinary Olympics, is the oldest, largest and most diverse international culinary arts competition in the world.
---
广州四季酒店
Four Seasons Hotel Guangzhou
广州市天河区珠江新城珠江西路5号
5 Zhujiang West Rd., Zhujiang New Town, Tianhe District, Guangzhou
Tel:+8620-8883-3888
www.fourseasons.com/guangzhou