7月24日,巴黎圣日耳曼足球俱乐部(PSG)从巴黎飞抵深圳,秉承俱乐部长期以来的传统,正式开启2019年夏季行。PSG 中国夏季行将在澳门,苏州和深圳座城市举办三场比赛,中国粉丝将获得众多会见足球偶像的机会。据悉,此次 PSG 2019夏季行由 ALL – Accor Live Limitless 雅高心悦界、耐克/乔丹和EA Sports共同赞助。
On 24th July, Paris Saint-Germain arrived in Shenzhen from Paris to ignite its long- established tradition of Summer tours. The Parisians' schedule includes three matches, across three different cities (Macau, Suzhou and Shenzhen) and frequent opportunities for Chinese fans to meet their idols. PSG 2019 China Tour is sponsored by ALL – Accor Live Limitless, Nike/Jordan and EA Sports.
在7月24日至8月3日的夏季中国行期间,红蓝军团将于7月27日在澳门奥林匹克体育中心迎战国际米兰;7月30日球队将辗转苏州奥林匹克体育中心,迎战悉尼足球俱乐部;在8月3日法国超级杯的比赛中,巴黎圣日耳曼将迎来法国球队雷恩足球俱乐部,向新赛季第一个奖杯发起冲击。
During the pre-season tour of China between 24th July and 3rd August, 2019, the Rouge & Bleu will contest matches against Inter Milan in Macau on 27th July and Australian champions Sydney FC on 30th July in Suzhou, before attempting to win their first trophy of the season, the French Trophée des Champions, on 3rd August in Shenzhen against French side Stade Rennais.
---
赛程 | Match Schedule
7月27日,星期六,19:30
巴黎圣日耳曼 V. 国际米兰
澳门奥林匹克中心
19:30, Saturday, 17th July
Paris Saint-Germain V. Inter Milan FC
Macau Olympic Stadium, Taipa, Macau
7月30日,星期二,19:30
巴黎圣日耳曼 V. 悉尼足球俱乐部
苏州奥林匹克体育中心
19:30, Tuesday, 30th July
Paris Saint-Germain V. Sydney FC
Suzhou Olympic Sports Centre, Suzhou
8月3日,星期六, 19:30
巴黎圣日耳曼 V. 雷恩足球俱乐部
深圳世界大学生运动会体育中心
19:30, Saturday, 3rd August
Paris Saint-Germain V. Stade Rennais
Shenzhen University Sports Centre, Shenzhen
---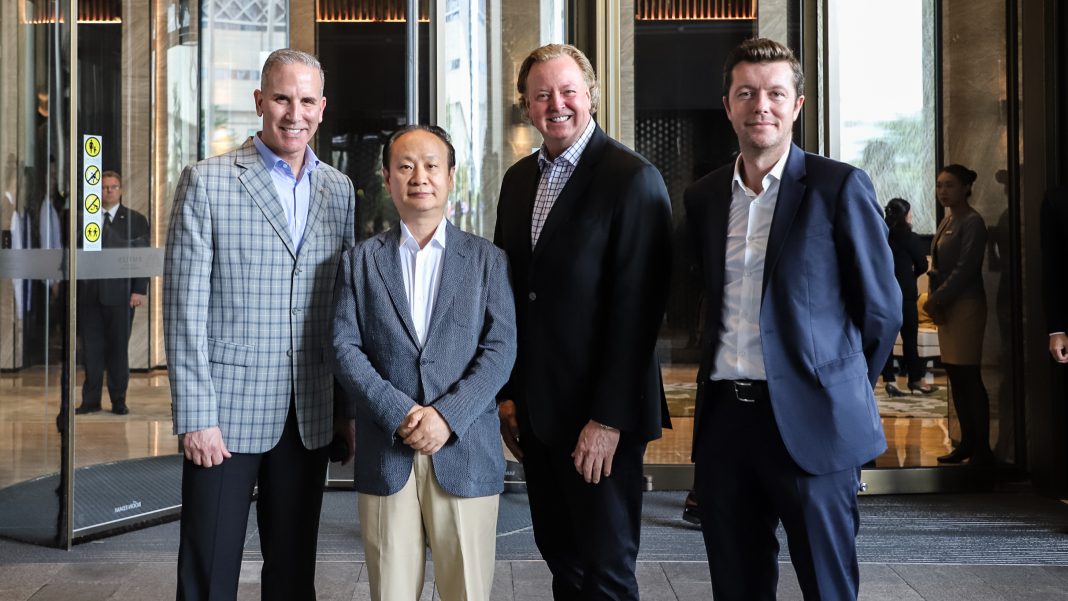 由 ALL – Accor Live Limitless 雅高心悦界呈现的 PSG 2019夏季行是球队在过去六年中的第三次中国行。雅高集团大中华区主席兼首席运营官罗凯睿(Gary Rosen)表示,"通过对于体育的热爱,雅高和巴黎圣日耳曼足球俱乐部连接在一起,共同开启一段前所未有的合作关系。与俱乐部的合作,让我们能够为中国、以及全球带来独创的和精心打造的体验。"
The 2019 China Tour presented by ALL-Accor Live Limitless is the team's third tour to China in the last six years. "The shared passion for sports brought Accor and PSG together which has created a very unique partnership never seen before. The partnership allows Accor to create innovative experiences that are unique to China and around the world. "