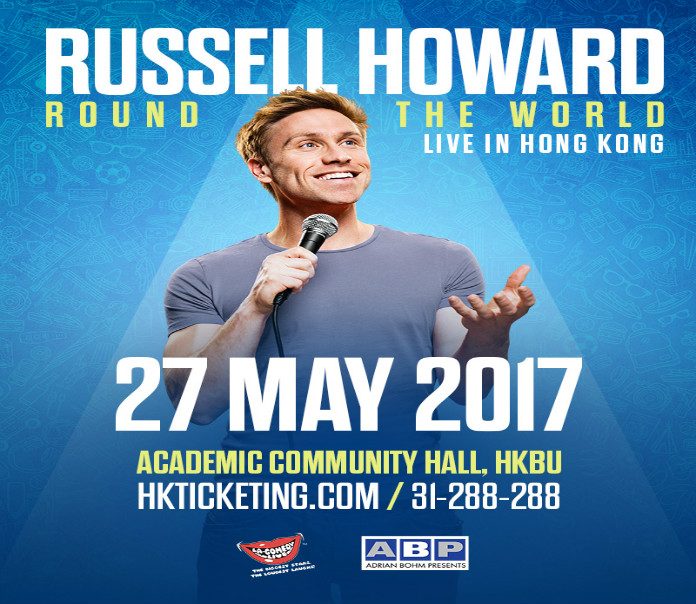 RUSSELL HOWARD is one of the UK's most successful comedians, performing his live shows to over one million people. His last arena tour Wonderbox included a four night sell-out run at the Royal Albert Hall, sold out at the O2 and played to audiences across the USA and Australia. Russell Is currently touring as part of his 2017 Round the World tour, which will have performances spanning 11 countries across 3 continents, with 10 shows at the Royal Albert Hall.
Popularly also known as the writer and star of BBC Three's most popular entertainment show, Russell Howard's Good News, Russell has hosted two series of Russell Howard's Stand up Central on Comedy Central, which achieved viewing figures of 159% above the slot average for its first episode. Russell also fronted a travelogue called Russell Howard & Mum: USA Road trip, which premiered in October last year.
Over the years, Russell has clearly built his fanbase across the world and is the most popular British Comedian on Facebook with over 3 million fans and more than one million followers on Twitter.
ROUND THE WORLD is the biggest ever live tour, with Russell playing 10 consecutive nights at the Royal Albert Hall in London, 12 arenas nationwide and visit a further 29 international cities including: New York, Wellington, Toronto, Gothenburg, Amsterdam, Sydney, Oslo, Washington DC, Chicago, Dublin, Helsinki, Singapore, Vancouver, Reykjavik, Melbourne and San Francisco.
时间 Date & Time:27 May 2017 (Sat) at 8pm
地点 Venue:香港浸会大学 Hong Kong Baptist University, Academic Community Hall
价格 Ticket Pricing:
成人票 Adult: $888 / $788 / $688 / $588 / $488
轮椅票 Wheelchair Space: $688
视线受阻票 Restricted View: $488