媒体关系
Media Relations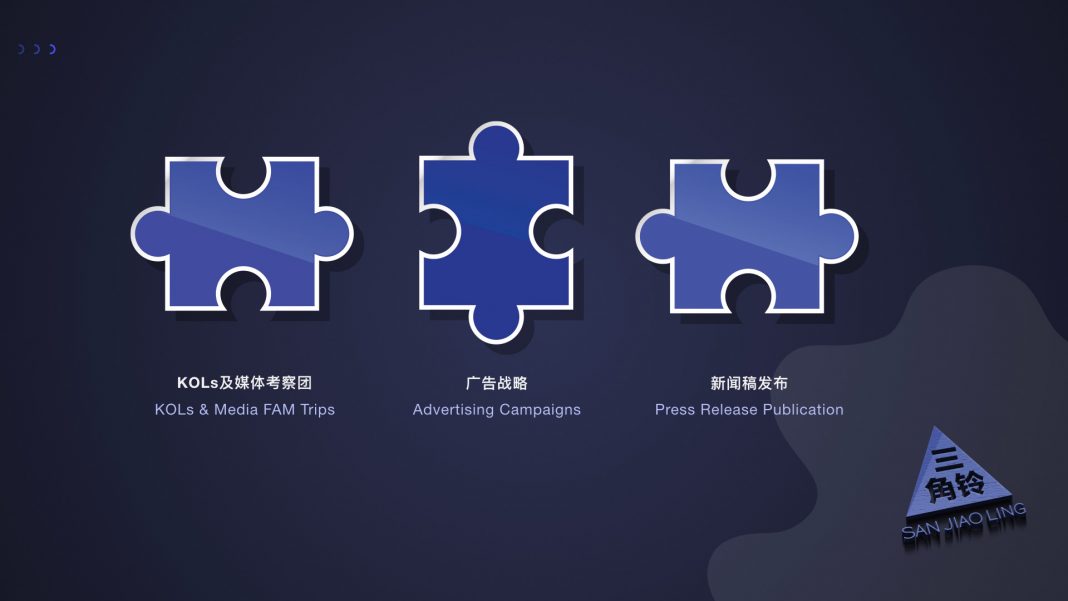 KOLs及媒体考察团 KOLs & Media FAM Trips
根据您的需求以及品牌特点,我们将为您建议营销策略,邀请自媒体与媒体参与体验您的设施。继而,我们会为您提供媒体剪报和媒体价值报告。
Based on your needs and your brand characteristics, we come up with a marketing angle and invite relevant KOLs and media to experience your facilities. We then provide you with press clips and a media value report.
线上营销及广告战略 Online Marketing & AD Campaigns
在14亿的茫茫人海中,我们的媒体团队将协助您精准选择合适的推广平台,使您的推广更具针对性,为您优化成本效益。而且,基于我们与媒体⻓期的良好合作关系,我们会在媒体提供的价格上更有优势。
With a pool of 1.4 billion people, our media team assists you to select the appropriate platforms for your campaign to be targeted and cost-effective. Moreover, because of the good long term relationship we have with them, the media will offer us competitive rates.
新闻稿发布 Press Release Publication
每篇新闻稿将在三角铃提供的建议列表中的数家线上渠道发布。我们为客户提供媒体剪报和媒体价值报告。
Your press release is published on different online channels from a suggested list provided by San Jiao Ling. We provide you with press clips and media value reports.
创意内容
Creative Content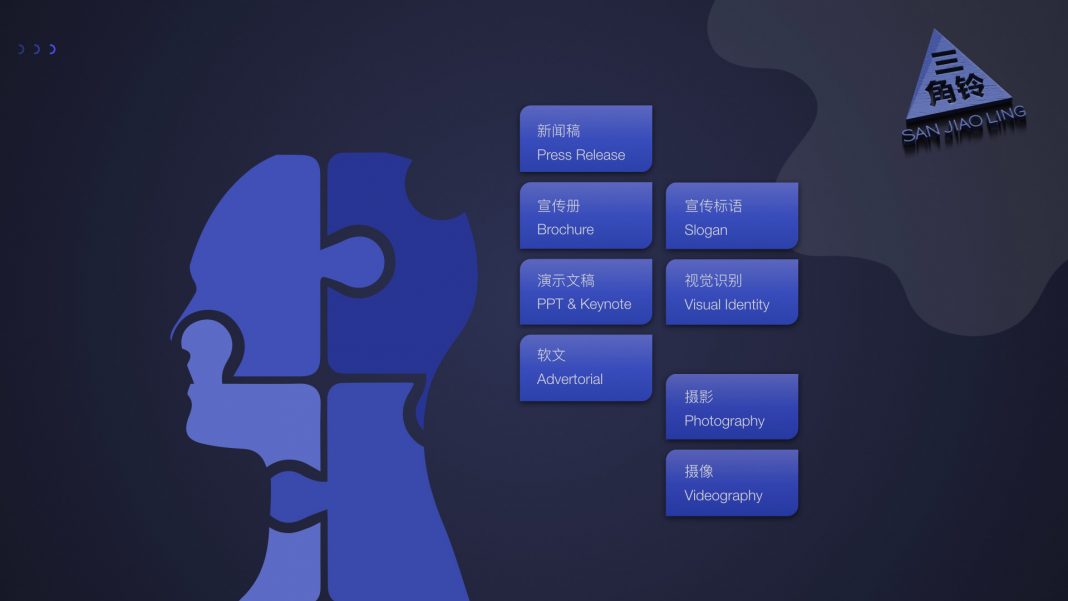 我们的创意团队为您提供即符合国内专注又符合国际标准的高质量市场宣传物料。
Our creative team provides you with quality marketing materials that combine domestic focus and international standards.
品牌策略
Branding Strategy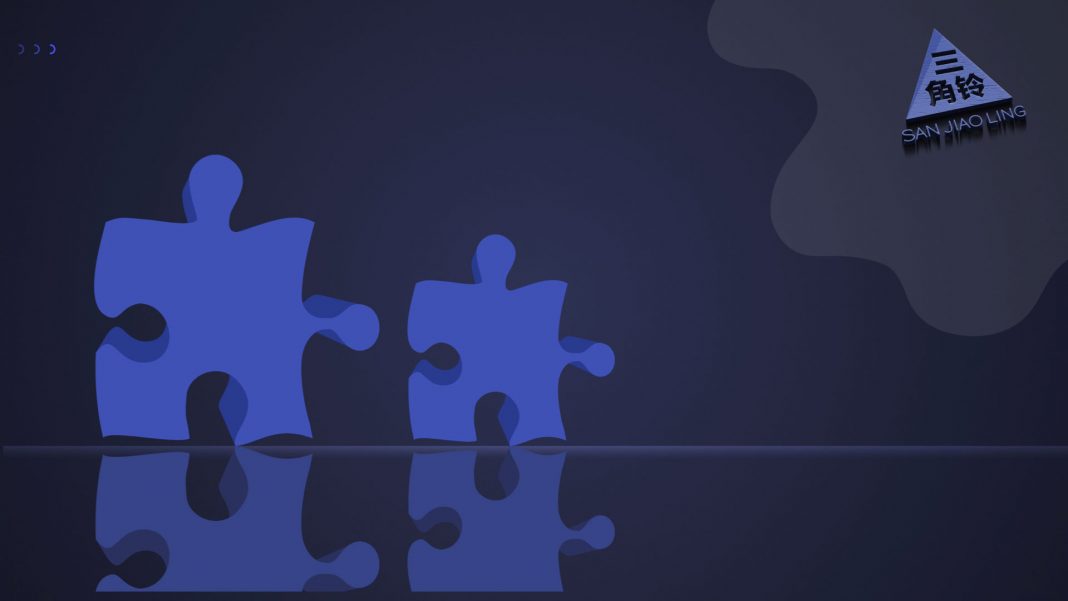 我们经验丰富的团队将与您的团队携手协作,为您的品牌定制明智且具有成本效益的推广策略,以帮助您在目标客户群中提升品牌曝光度。
Our experienced team can work hand in hand with your team to develop smart, cost-effective branding campaigns that help you increase your exposure among your target customers.
我们的服务还包括寻找适当的赞助机会来推广您的品牌,反之亦然,我们的团队也能为您的活动寻找合适的赞助支持。
Our services also include finding the appropriate sponsorship opportunities to promote your brand and vice-versa, our team can assist you to look for the right company to sponsor your events.
活动策划
Event Planning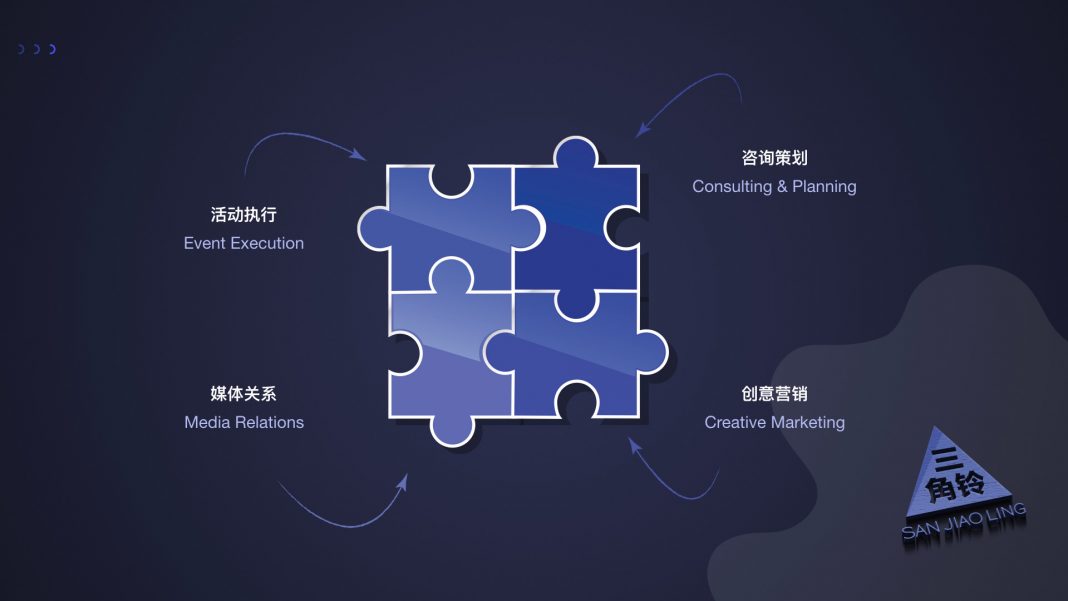 作为一家专业的公关策划公司,我们不仅仅提供活动策划与执行服务,还致力于将媒体关系、创意内容和品牌策略的专业建议带给您。
As a professional PR agency, not only do we plan and execute the event for you, but we usually include the know-how we have in media relations, creative content and branding strategy.