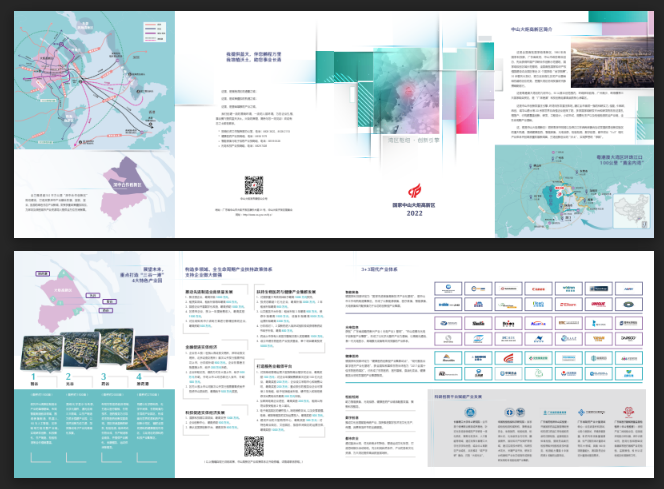 继为中山市商务局、中山市神湾镇政府制作了招商手册后,三角铃2022年首次为国家中山火炬高新区优化宣传折页。
After producing brochures for the Zhongshan Bureau of Commerce and Zhongshan Shenwan Town Government, SJL optimized the investment promotion leaflet of the Zhongshan Torch High-tech Development Zone.
今年三角铃为国家中山火炬高新区设计的全新的招商折页,以颠覆旧版的设计,为国家中山火炬高新区重新塑造了对外招商引资更现代化的形象。
The brand new leaflet overturned the old version with a novel design and a modern touch.

三角铃设计团队为国家中山火炬高新区设计的宣传封面,以不同大小的矩形元素搭建而成,既可以看作是园区的鸟瞰图又可以看作是错落有致的高楼大厦,渐变的颜色彰显着朝气与活力,些许的红调与火炬开发区的Logo相呼应,却不与主色调冲突,与旧版的深蓝色调宣传折页相比整体设计更富有层次感与科技感,也呼应了火炬高新区的科技主题。
The leaflet cover designed by SJL is built with rectangular elements of different sizes, which can be seen as both an aerial view of the park and buildings in a picturesque layout. The gradual colors show vigor and vitality. Some red tones echo the logo of the Torch Development Zone but do not conflict with the primary color. Compared with the old version, the overall design is richer in layers and sense of science and technology but also echoes the theme of the Torch High-tech Development Zone.
在页数上,三角铃设计团队将中山火炬高新区的新版宣传折页由原来的六页减少为四页,更多地使用图片说明,减少了文字的赘述,使得整体内容清晰简洁,凸显重点。折页中还用地图重点突出中山火炬高新区的地理位置:位于粤港澳1小时"黄金内湾",使投资者更直观地了解到中山火炬高新区的优势与魅力,塑造出中山火炬高新区潜力无限的形象。
SJL reduced the number of pages and extended a series of visual symbols, hence reducing the textual repetition. The leaflet also includes a map to highlight the central and advantageous geographical position of the park within the Guangdong-Hong Kong- Macao Greater Bay Area, which will help investors to learn about its advantages and will shape a positive image of the Torch High-tech Development Zone.
三角铃长期与各类型政府机构、国际学校、国际酒店品牌合作,提供大型活动策划执行、宣传手册制作等服务,以稳定的高水准服务,获得了各界客户的一致好评,我们期待着未来不断扩大服务领域,为客户呈现更多高水准的作品。
Over the years, SJL has been cooperating with various types of government agencies, international schools, and international hotel brands. We provide services such as large-scale event planning and execution and brochure production. With stable and high-level services, it has won unanimous praise from customers.
We look forward to expanding our service scope and presenting more high-level works to our customers.