近日,广州四季酒店推出一系列"仲夏乐悠游"在地度假体验,无论是文艺穿越探索,抑或是云端舌尖愉悦,再或是舒畅身心的康健体验,都能创造夏日尊属的美好回忆。
Four Seasons Hotel Guangzhou welcomes the city's hottest season with multiple offerings including a Staycation combined with an art tour, sky-high gastronomy and personal Wellness activities.
---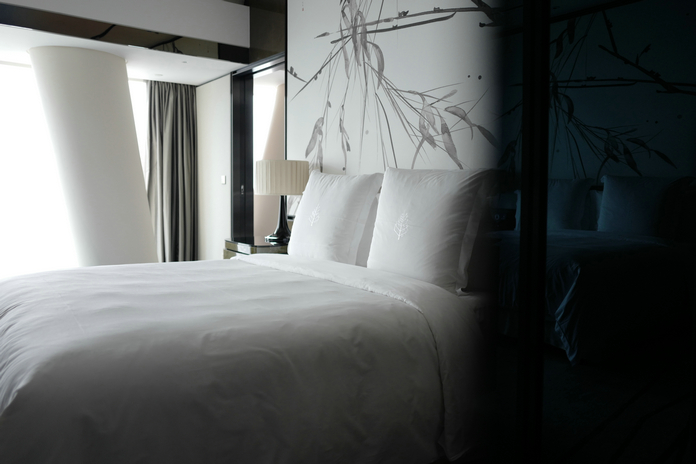 文艺宅度假之旅 Art Staycation
在计划广州的艺术旅程吗?广州四季酒店为热爱文艺之旅的宾客特别订制了特别住宿套餐,一同领略最近备受瞩目的顺德和美术馆带来的世界知名建筑设计师安藤忠雄的展览作品。开启文艺宅居度假旅游时光,徜徉在俯瞰城市天际景色的轩敞云尚客房中,穿梭至顺德潮流热门和美术馆观看安藤忠雄展览,感受城市轻度假的生活模式。
Craving an 'Art Fix'? Four Seasons Guangzhou invites you to a specially curated package which includes an excursion to the recently opened He Art Museum, to enjoy the world-class Tadao Ando designed Museum in Foshan. Package starts from RMB 2,000 for a Tower King room, with the following inclusions:
1. 一晚入住云尚城市景观大床客房,含翌日意珍双人自助早餐
One-night stay in a Tower King Room, with spectacular city views, including two breakfasts at Caffe Mondo.
2. 两张和美术馆展览快速通行门票
Two Tickets with the fast-track pass to the He Art Museum
3. 于和美术馆商店领取一份精美纪念礼品
A complimentary artists memento from the souvenir shop at The Museum
除此之外,喜爱艺术的住客更可足不出户,在酒店内享受由礼宾人员带领的酒店艺术品探索之旅。酒店拥有超过一千余件展览艺术品,均来自于国内外知名的艺术家和设计师且拥有丰富的背景故事。酒店礼宾团队精选极具故事性和名气的艺术品,为宾客提供尊贵的艺术导览服务。
In addition, in-house guests are invited to a personalized 'ART OF LIVING TOUR' featuring highlights of the hotel's art collection. Four Seasons Hotel Guangzhou presents a collection of more than 1,000 pieces of art – from classic to contemporary – throughout the hotel. The Hotel concierge team will share the artists inspiration and background of a selection of the major pieces.
酒店艺术导览
'ART OF LIVING' TOUR
9:30am – 10:30am,每日/Daily
导览将在酒店大堂70层开始
The tour guide will be waiting for guests in the centre of the Hotel Lobby on the 70th floor.
*仅针对酒店住客提供服务。需提前一天预订。
Only Available for In-house Hotel Guests. One day advance reservations are required.
---
米其林星级粤式美馔
Michelin Star Dining Experience Canton style
高踞71层的中餐厅愉粤轩坐拥珠江两岸绝美景观,提供一个让食客尽情沉浸在地道粤式风味美味的用餐环境。麦师傅施展浑身解数,全新升级了点心和零点菜单,其中迷迭香燕麦包和蛋黄开心果仁糕等创意点心备受欢迎,另外更提供一系列招牌广式秘制烧腊和海鲜菜式,让星级飨宴在云端之上臻致呈献。
Yu Yue Heen Michelin starred Chinese restaurant not only features one of the most amazing views of the city's skyline, but also offers among the best Cantonese cuisine in Guangzhou. Enjoy a leisurely Dim Sum lunch curated by Chef Mai – Gourmands cannot miss the new selection of Dim Sum including – Baked Oatmeal Buns with Rosemary, Egg Yolk Cakes with Pistachio Nuts, and a choice of signature Cantonese Barbecued dishes and delectable fresh seafood!
---
星空之上的海陆甄味
Land and Sea in the Sky
在一百层的星空庆祝纪念日或属于你的特别节日,让美馔佳酿点缀无限美好。Chef Jeffrey擅长发掘本地时令食材,融合法式烹饪技巧,呈献海陆甄品夜宴。佰鲜汇臻选新鲜原材料倾情推出丰盛套餐菜单,每款精选菜式等都让食客食指大动。
Framed by views of the city's skyline and Canton Tower Catch Restaurant, which is located on the 100F of the hotel, is the ideal venue for anniversaries, birthdays, marriage proposals or any special celebration. Chef de Cuisine Jeffrey combines French techniques with seasonal meat, game, fish and seafood. Chef Jeffrey has just introduced a new degustation menu featuring seasonal fresh ingredients. Also on offer, a selection of handpicked wines from the world's best regions.
五道式晚餐
非配酒套餐 每位人民币888元
配精选葡萄酒套餐 每位人民币1,288元
RMB888 per person 5 courses and RMB 1,288 per person, with wine pairing.
七道式晚餐
非配酒套餐 每位人民币1,088元
配精选葡萄酒套餐 每位人民币1,588元
RMB1, 088 per person 7 courses and RMB1,588 per person, with wine pairing
每周二到周六
Tuesday to Saturday
18:00 – 22:00
---
天吧醺乐时光
Mixology with Antonio at Tian Bar
首席调酒师安东尼奥邀您一同调酒,现场自行调配尊属于您的鸡尾酒,在斜阳黄昏伴随之下,畅享醺乐时光。与此同时,天吧更与日前荣获亚洲最佳50酒吧中排名第15的庙前冰室合作,创作出以花城为名的花系列2.0鸡尾酒单,从视觉到味觉开启与别不同的赏酒体验。
Guests are invited to experience Mixology with Antonio, the Head Bartender of Tian Bar. You don't have to be a professional to create your own cocktails – be your own mixologist with tips, tricks and techniques from Antonio, while taking in the intoxicating views from Tian Bar. Meanwhile, in collaboration with Hope and Sesame – Number 15 of the Best 50 Asian Bars – Tian Bar has created the flower-centric cocktail menu 2.0, taking guests on a multi-sensory journey of fusion flavors and visual indulgence, which heightens the cocktail experience.
自调鸡尾酒:人民币188*元每位,纵情畅饮指定鸡尾酒
Cocktail Making Session: RMB188, drink to your heart's content, from a bespoke menu.
每周二到周五
Every Tuesday to Friday
17:00 – 19:00
---
颐真慢活时刻
Revival, Health and Wellness
享受花水疗中心的疗愈身心课程,畅游在天际无边泳池之中俯瞰云卷云舒,或在健身中心来一场畅然淋漓的运动,焕发活力与光彩。一系列有益于身心健康疗程或运动课程,都能让人回归自身,更加注重身心灵的健康。花水疗中心邀您一同体验颐真慢活时光,以心灵冥想为基础,搭配一系列抒压身体拉伸,颂钵疗愈,动感拳击课程等,为身心灵舒展排毒,重归平衡,感受慢活时光。
Relax and rejuvenate at the Hotel Spa! Enjoy an afternoon enjoying the panoramic indoor infinite pool and fitness centre and then discover our tailored health and wellness programs. The program ranges from private stretching sessions, stress relief and mindfulness exercises, boxing courses, singing bowl sound therapy, and a series of body shaping fitting training programs.
颐真慢活课程价格为每节人民币1,080元起,包含一份新鲜食材炮制的营养沙拉。
明星教练一对一课程为媒介人民币800元起,需提前48小时预订。
Stress Relief Classes starting from RMB 1,080 per class which includes a fresh salad; Star Trainers One-on-One tailor-made fitness classes from RMB800 per class. 48 hours advanced booking is required.
---
广州四季酒店
Four Seasons Hotel Guangzhou
广州市天河区珠江新城珠江西路5号
NO.5 Zhujiang West Rd., Zhujiang New Town, Tianhe District, Guangzhou
Tel:+8620-8883-3888
www.fourseasons.com/guangzhou