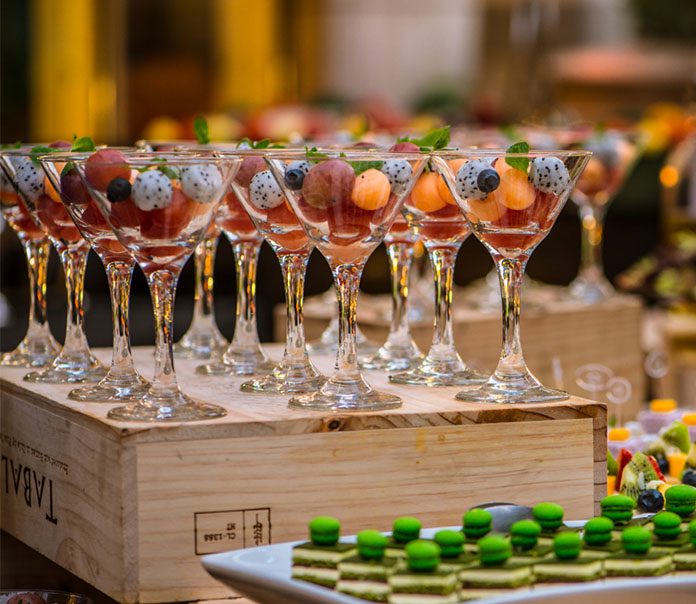 Shenzhen, China, 9 March 2017 – The official designated hotel of the A/W Shenzhen Fashion Week 2017, Futian Shangri-La, Shenzhen showcases "The Mobile Kitchen" outside-catering service concept.
The service provides a reception party for the participating media guests and VIPs. At the same time, the service also offers corporate and private buffets and cocktail parties, themed tea breaks and many other types of events without venue limitation.
The Mobile Kitchen suggests that the kitchen facilities and banquet service can be moved to wherever guests require. The event kitchen includes a range of equipment, such as freezer car, refrigerator, thermal insulation cabinet, electromagnetic oven, tables and dishware; for barbecues, a barbecue grill may be included. The whole set of appliances is conveniently and exclusively delivered to the venue and allows flexibility for changes, freeing event organizers of any hassle. Such is the original concept for The Mobile Kitchen.
1.Cocktail Parties
Cocktail parties are the desired choice for corporate celebrations, company founding anniversaries, intimate birthday parties and other special occasions. Decorations are graceful and dignified, complemented by exquisite delicacies to create a chic, yet fashionable ambience. Cocktail parties by The Mobile Kitchen during Fashion Week are priced starting from only RMB228 per person.
2.Outside-Catering Buffet
The outside-catering buffet service is suitable for both corporate and private occasions, including corporate annual parties, new-product launches, opening ceremonies, press conferences, exhibitions and ground-breaking ceremonies. The hotel's professional banquet team and chef can customise the on-site banquet by drawing on local resources just after guests participate in the event, making it out of the ordinary. The buffet is also an ideal option for Western-style weddings, anniversaries and private parties. Aside from the elegant setup, fresh and delicious international cuisines by the outside-catering specialist and event team, the chef team can also cook on site to guarantee freshness and great taste. Moreover, the hotel ensures food safety through its strict compliance with the Shangri-La Food Safety Management System and ISO 22000. Buffet prices start from RMB388 per person.
Futian Shangri-La, Shenzhen, designated as the only official hotel of the ATP Shenzhen Open for three consecutive years, provided outside catering for the event on the site, offering thousands of players and VIPs a wide selection of healthy, nutritious, yet delicious delicacies. The chef tailor-made the menu to ensure that the world-class players were at the top of their game and fully energised.
3.Themed Tea Breaks
The hotel's varied themed tea breaks offering endless fun are its most distinctive and recommended outside-catering service. A themed tea break is suitable for all kinds of occasions. Cartoon themes are ideal for baby's full-month or birthday party, enabling both adults and children to feel the joy of celebrating the newly born baby. For birthday parties for the elderly in the family, the hotel's traditional Chinese theme is filled with happiness and harmony. For important corporate meetings, the innovative "Mr. Bean" theme adds a bit of fun during recess, easing the pressure and making everybody laugh. Other highly recommended popular themes at special venues include the heated "Fast and Furious" in the parking lot. Guests are free to enjoy the trendy sport cars, beautiful dancers and delicate dishes.
Moreover, the hotel will customise all forms of outside catering according to the guest's requirements, regardless of venue limitation, and show its magic whether indoor, outdoor or at special places.
For reservations, please contact the Events Management Department at (86 755) 2151 3959 or send an email to events.slft@shangri-la.com.
Futian Shangri-La, Shenzhen is a welcoming luxury retreat in the heart of Futian, the central business district of Shenzhen. The hotel is steps away from the newly opened Futian Station, which is the largest underground station in Asia, and the second largest in the world. It is also within walking distance to Shenzhen Convention and Exhibition Center, Central Walk and Coco Park, and surrounded by shopping malls, bars, cinemas and supermarkets. Offering views of the city skyline and a landscaped garden, the 40-storey luxury hotel houses 528 guestrooms and 53 serviced apartments. It offers discerning travellers the legendary Shangri-La hospitality, luxury accommodation, extensive catering and meeting rooms spanning over 4,800 square metres, recreation and spa facilities, and six food and beverage outlets, including the award-winning Chinese restaurant, Shang Garden.
Hong Kong-based Shangri-La Hotels and Resorts currently owns and/or manages 98 hotels under the Shangri-La brand with a room inventory of over 40,000. Shangri-La hotels are five-star deluxe properties featuring extensive luxury facilities and services. Shangri-La hotels are located in Australia, Canada, mainland China, Fiji, France, Hong Kong, India, Indonesia, Japan, Malaysia, Maldives, Mauritius, Mongolia, Myanmar, Philippines, Qatar, Singapore, Sultanate of Oman, Taiwan, Thailand, Turkey, the United Arab Emirates and the United Kingdom. The group has a substantial development pipeline with upcoming projects in mainland China, Cambodia, Hong Kong, India, Malaysia, Myanmar, Saudi Arabia and Sri Lanka.
PRESS CONTACT: Fiona Yang
Director of Communications
Futian Shangri-La, Shenzhen
电话 Tel: (86 755) 8828 4088
传真 Fax: (86 755) 8828 4388
邮箱 E-mail: fiona.yang@shangri-la.com
网站 Website: www.shangri-la.com
For digitised pictures of the group's hotels, please go to http://www.shangri-la.com/imagelibrary.