Chef Andrea Zamboni, The Ritz-Carlton, Guangzhou LIMONI Chef de Cuisine presents a reinvigorated menu this early summer, incorporating specially imported freshly harvested seasonal ingredients and combining unique cultures of 20 regions in Italy, featuring authentic homemade cuisines. Guests may satiate their taste buds with 28 new a la carte creations and 5 new desserts.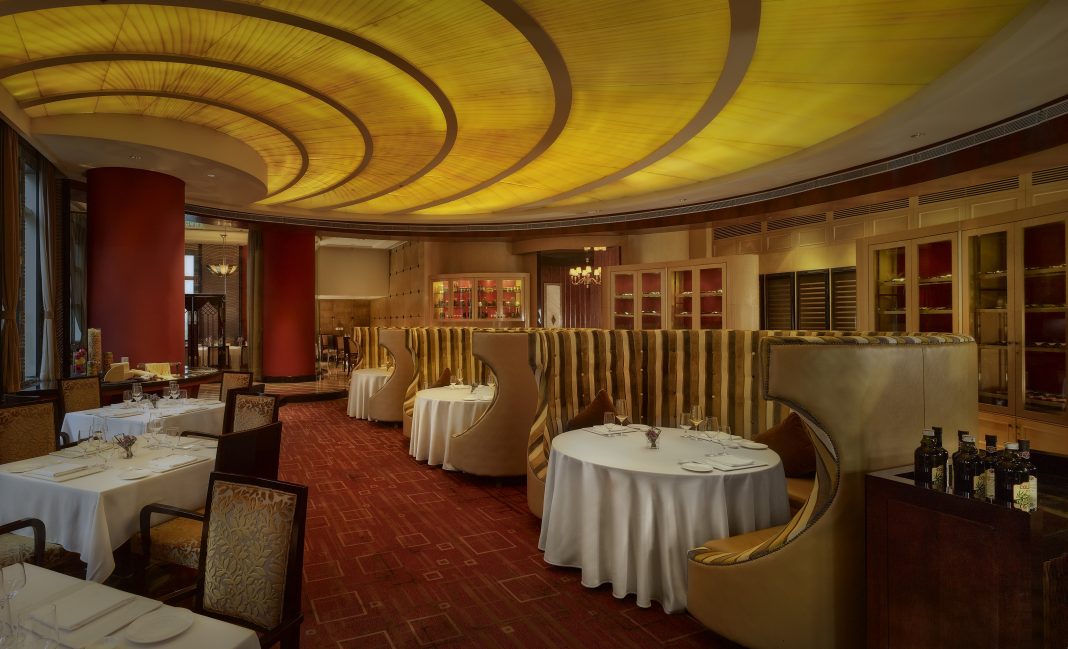 Chef Andrea uses a wide selection of summer produce to design 28 delicate dishes in this new menu. The newly curated menu offer authentic dishes which Chef Andrea gathered them through his 16 years of work experience in Michelin-starred restaurants. In addition to the traditional Italian dishes, LIMONI also offers the "Chef's Selection" dinner menu, which is updated regularly according to the availability of freshest seasonal ingredients and the newest demand to keep diners excited at LIMONI.
"Italy has a vast territory with abundant of resources and a diverse culinary culture. The menu aims to showcase the essence Italy's rich culinary tapestry and we hope all guests will share our passion for Italian gastronomic."
DB: What is special for this Summer menu?
Chef Andrea: Comparing to our previous menu, we are trying to put more authentic and traditional Italian tastes into our dishes but with simplification, modern techniques and various new ingredients. There is a growing demand from guests for traditional Italian tastes. It is a challenging task. Today, even in Italy, traditional tastes are changing. For example, what was traditional to my mother when she was young will not be traditional for my children. Various ingredients are becoming more accessible than before. My mother who lives in Italy would sometimes call me to ask about how to cook this cheaper and fresh vegetable – Chinese cabbages from the local market. Another example is Salmon which used to a top class ingredient especially in 80s and 90s for French and Italian Cuisine. In the new Summer menu, guests will discover that we are using new ingredients to cook traditional Italian dishes. The tastes of the dishes will be what you expect but the surprises are in the ingredients. What guests will see are what we call today the Contemporary Italian Cuisine.
DB: What exactly is Contemporary Italian Cuisine?
Chef Andrea: "Contemporary" does not necessarily mean "Fashion" or "Fancy". It can also be "Traditional". Nowadays, there are many new cooking techniques, knowing how to use these techniques to cook traditional or classic dishes with new and different ingredients are the key to contemporary cooking. For example, if you are taken a tour on a Ferrari, you will enjoy the ride but you will not learn how to drive a Ferrari. But if you learn how to drive a Ferrari, then you will know how to drive other vehicles such as a Fiat. What we are trying to do here at Limoni is using today's ingredients and modern techniques to bring to you the traditional Italian tastes.
Recommended Dishes
8 Assorted Leaves, 6 Micro Greens and 8 Flowers
This is a dish that you need to taste "vertically". From top to the bottom, the greens are tiered according to their characteristics and paired with homemade dressing made with apple juice, lemon juice and honey. Upper layer is filled with organic flowers and butter lettuce giving an absolute appetizing sense of sweetness. As you explore the middle tier, more intense flavor avails whilst the bottom offers the most robust taste to wrap up the dish. Be mesmerized by the unique sensations and tastes in one dish.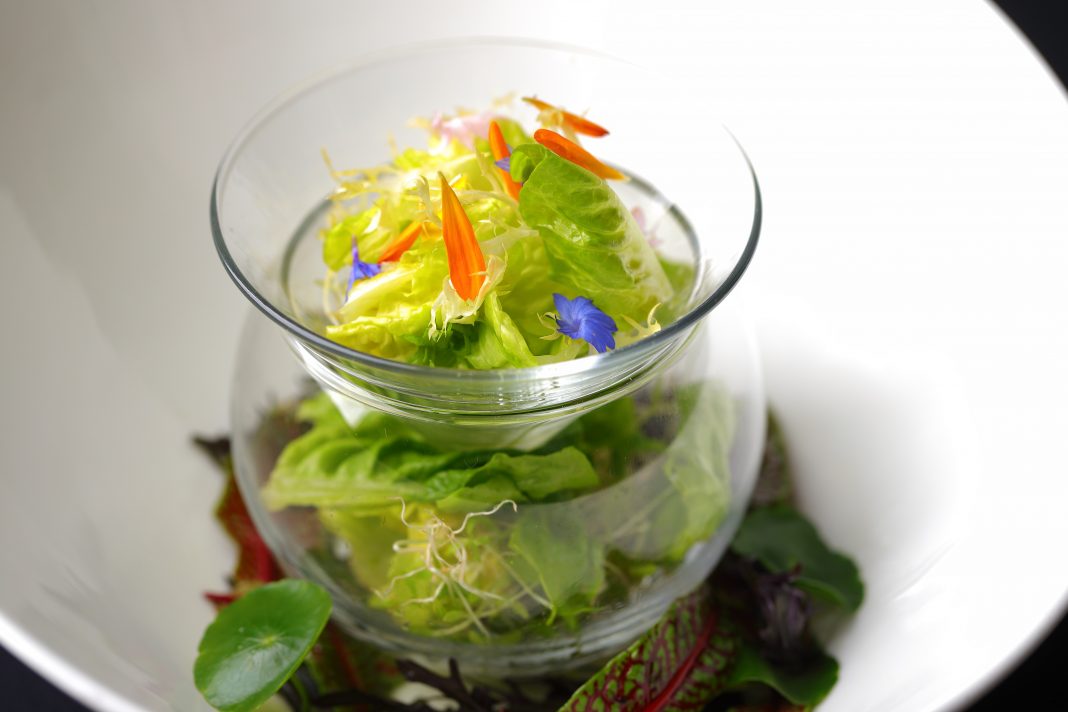 Black cod with whiskey sauce and fried mushroom
Fish is a must for summer. Alaskan black cod is a popular dish for diners around the world for incredibly flavorful with a delicate texture and smooth, buttery fish with abundant omega 3-oils. The "black cod with whiskey sauce and pan-fried mushroom" reinforces the magical combination of fine spirits and freshest ingredients. Chef Andrea glazes the black cod with the smoky flavored "Talisker 10 years single malt Scotch Whisky" before searing it lightly. The black cod is superbly rich and silky; blends fantastically well with the homemade whisky sauce to transform into an awesome intense flavorful dish.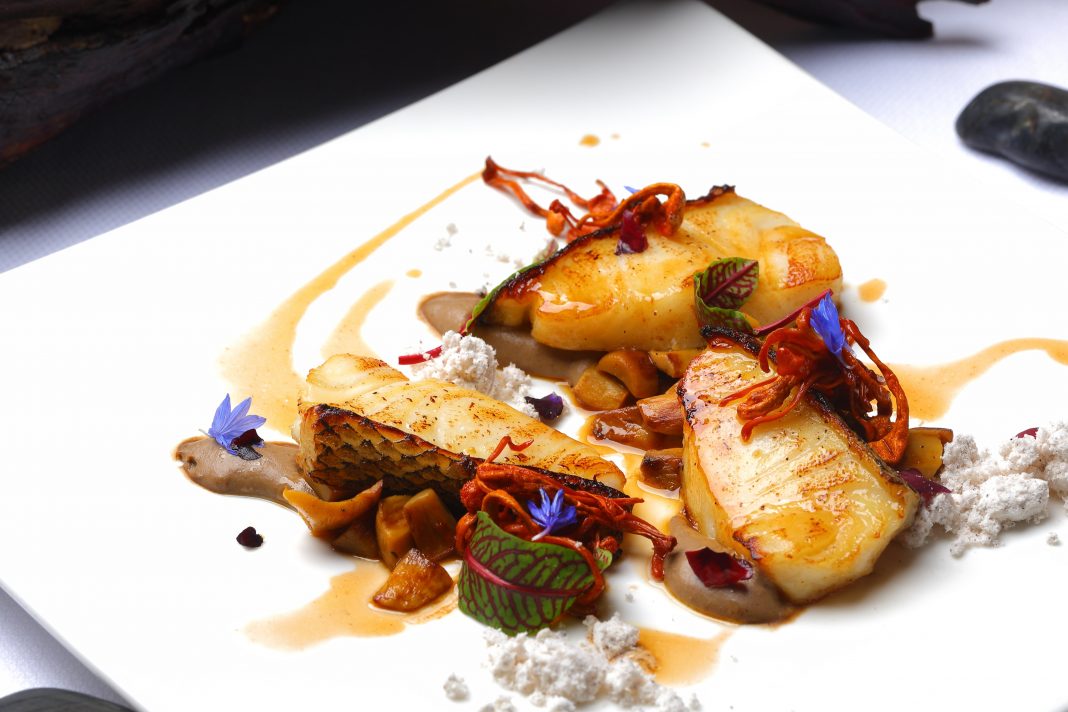 Chef Andrea's signature dessert picture painting
Chef Andrea fully embraced artistry and transforms this dish into a picturesque "Picasso culinary," using chocolate as the drawing pen and the plate as the palette to create sensations of textures and an aesthetically perfect and satisfactory sweet ending.
Besides, the new menu also preserves some classic all-time-favorite dishes, like Buffalo Mozzarella Cheese and Tomato Salad," Beef Carpaccio with Basil and Capers". The "LIMONI Focaccia with D.O.P. Parma Ham, Mascarpone and Black Truffle" is a must-try. Its inspiration came from the Italian focaccia bread, sandwiched with sweet and soft mascarpone cheese and Parma ham. The black truffle elevates its flavor, making it an extravagant.
Address:
3/F, The Ritz-Carlton, Guangzhou
No.3 Xing An Road, Pearl River New City
Tianhe District, Guangzhou
天河区珠江新城兴安路3号
广州富力丽思卡尔顿酒店3楼
Opening Hours:
11:30 a.m. to 2 p.m. (lunch), 6 to 10 p.m. (dinner)
Tel:
(+86 20) 3813-6686/3813-6888