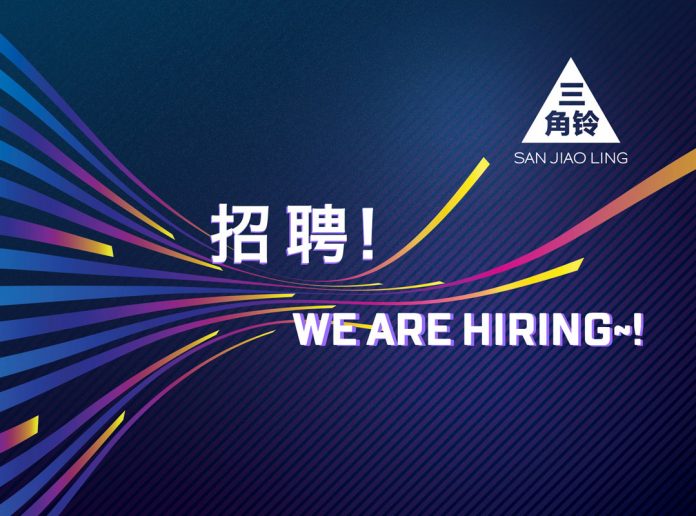 关于我们:
Abous Us:
三角铃是一个根植在广州的公关策划公司,我们主要业务包括高端活动策划执行,媒体关系,创意营销等。
San Jiao Ling is a PR agency based in Guangzhou. We do high level events, media relations, creative marketing etc…
下载三角铃演示文稿 Download San Jiao Ling Presentation: http://doc.sanjiaoling.com/sjl-presentation-2019.pdf
实习介绍 Intern Profile:
暑期在广州的大三/大四学生且有着活泼外向的个性及敢于表达的态度。英文能力是必要条件。实习期三个月,薪酬面谈。
The ideal profile is a Year 3 / Year 4 Guangzhou student available this summer. We are looking for someone very outgoing and who presents well. English is a must.
This is a 3 month full time internship. The monthly salary is negotiable and will be discussed during the face to face interview.

工作亮点 Job Highlight:
轻松愉悦的工作氛围
Relax and pleasant working environment
全英环境
English speaking
有机会与VIP客户接触,包括国外商会、领事馆、五星级酒店总经理等
Have opportunities to be in touch with our VIP clients (Chamber/Consul General/Five-Star Hotel General Manager, etc.)
工作职责 Job Responsibility
采访VIP客户
Interview some of our VIP clients
撰写中英文稿件,包括采访,软文和新闻稿
Writing articles in bilingual
微信推文编辑
WeChat posts editing skills
日常网站内容维护
Regular updates for DB Websites
协助公司举办的活动,包含布场、采购、接待、搜集资料等
Assist with the events (set up, purchasing, reception, research etc… )
职位要求 Job Requirement:
英语 / 新闻等相关专业
Major in English, Journalism, or other related disciplines
有写作编辑等相关经验者优先
Experience in editorial writing, newspaper, magazines is highly preferable
良好的中英文写作能力
Good writing skills in English and Chinese.
性格活泼开朗外向,能够进行面对面采访
Outgoing, proactive, able to handle the interview face to face
良好的英语口语,良好的沟通和理解能力,能和团队进行高效地沟通与协作
Good English speaking skills. Coordinate efficiently with team members, and good understanding and learning abilities.
熟悉使用各类办公软件
Good skills for Microsoft Office softwares
---
如需申请实习岗位,请联系Kiki并发送您的简历。
To apply, please contact and send your CV to Kiki.
kiki@sanjiaoling.com / (+86) 15959258272