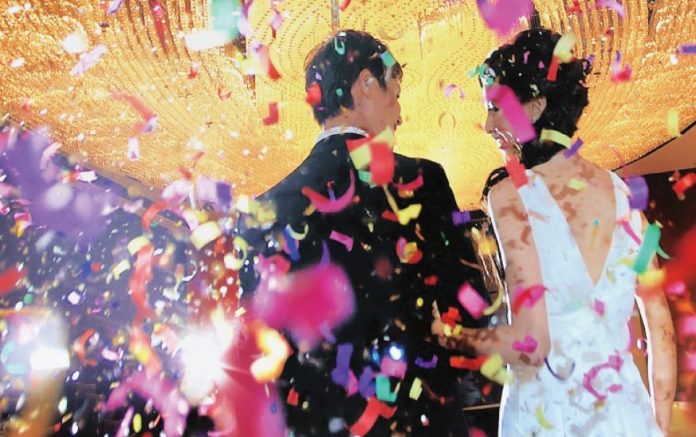 澳门,二零一七年五月十二日-澳门文华东方酒店诚邀来自香港的著名中华礼仪专业大妗罗勤芳女士于五月十三日亲临酒店宴会厅讲解及推广中式婚嫁传统、嫁娶礼仪及习俗,以及鲜为人知的择日学问。
Macau, 12 May 2017 – Mandarin Oriental, Macau is delighted to welcome Chinese Wedding Master, Madam Lo Kan Fong from Hong Kong, for an exclusive wedding workshop on 13 May 2017. During the wedding salon, she will introduce the Chinese wedding traditions, rituals and etiquettes, as well as tips on auspicious dates.
此外,酒店亦于当天展示全新的婚宴场地布置主题,以及由酒店屡获殊荣的餐饮团队主理的一系列婚宴美馔,为准新人们提供全面专业的婚礼筹划服务。
Meanwhile, Mandarin Oriental, Macau will also be unveiling a brand-new wedding theme showcasing wedding essentials including a wedding banquet specially created by the hotel's award-winning culinary team.

梦幻花园 Fancy Garden
「梦幻花园」婚宴布置带给新人们梦寐以求的清新浪漫庭园主题。酒店宴会厅摇身一变成为绿意盎然的花园,盛开的花卉、园艺造景、配以唯美的纯白鸟笼装饰,室内的浪漫花园让婚宴无惧天气变化,将户外海天一色的美景尽收眼底,留下幸福甜蜜回忆。
If you dream of having a garden themed wedding, look no further than at Mandarin Oriental, Macau. The Ocean Room at level 1 is transformed into a lush garden with beautiful flowers, plants and bird cages. Regardless of the weather, you can still enjoy the unique atmosphere of an indoor garden facing the ocean.

圆满喜悦 Double Happiness
在中国传统文化中,红色寓意喜庆吉祥。「圆满喜悦」婚宴布置特以红色为主题色调,并于设计中巧妙融合中国传统元素和现代风格,让钟爱红色及隆重感的新人拥有一个气派非凡的时尚中式婚宴庆典。
Featuring auspicious red hues and Chinese-inspired décor, the Double Happiness theme is designed for couples who wish to have a glamorous, Chinois chic-style wedding celebration. Decorative details make creative use of traditional Chinese elements, with a modern and graceful twist.
永恒祝福 Joyous Bliss
西方淡雅色系婚宴总带给宾客及新人愉悦的感动。在「永恒祝福」婚宴布置中,香槟色系清雅和自由随和的装饰,让整个婚宴突显唯美久远之感,彷佛时光就此停驻,象征及纪念双方永恒不息的爱。
This angelic, Western-style wedding theme offers décor presented in champagne and beige tones – colors associated with freshness and joy. Such décor bestows a sense of timeless serenity on the ceremony, both symbolizing and celebrating everlasting love.
浪漫雅致 Elegant Romance
「浪漫雅致」婚宴布置以尊贵和浪漫见称的紫色为主题色调。淡紫色的场地布置低调地映衬出新人优雅独特的品味,而细节装饰更突显婚宴典雅、华丽的氛围,点缀其上,为新人打造出一个独一无二的别致婚宴。
This wedding experience runs on a palette of refined light purple, a color long used by royalty and nobility. Resplendent lavender tints adorn the banquet venue, exuding essential energy and grandeur in an understated manner. The theme provides a sophisticated atmosphere that is original as well as elegant, adding a sense of uniqueness and specialness to the event for the newlyweds and their guests.
澳门文华东方酒店「中式婚宴套餐」套餐价格每席由澳门币 12,999 元起,每席可供十位享用。准新人于婚嫁讲座期间即场预订婚宴酒席,除可享特别折扣优惠外,更可升级使用酒店套房作婚纱照片拍摄场地及尊享全球文华东方酒店的蜜月假期优惠。价格需另加百份之十服务费,优惠受条款及细则约束。查询或预订,请致电澳门文华东方酒店 +853 8805 8861 或电邮至eu@mohg.com。
Wedding Packages are priced from MOP 12,999 per table of 10 persons. Couples who confirm a wedding banquet during the wedding salon are entitled to enjoy special privileges including a complimentary upgrade to Presidential Suite for a pre-wedding photo shoot experience and honeymoon privileges at the sister properties of Mandarin Oriental hotels worldwide. Price is subject to 10% service charge. Terms and conditions apply. For reservations and enquiries, please contact Mandarin Oriental, Macau at +853 8805 8861 or email eu@mohg.com.
关于中华礼仪专业大妗罗勤芳 About Madam Lo Kan Fong
罗勤芳女士为专业大妗有限公司及罗勤芳中华礼仪创办人及总监,提倡从美学角度重新整理中式婚礼,主张婚嫁礼仪要优化固有亦要新旧兼容,准确而合理地统一中式婚嫁礼。澳门文华东方酒店以专业的服务团
Lo Kan Fong is a renowned Chinese Wedding Master from Hong Kong and the founder of Lo Kan Fong Chinese Wedding which aims to prepare and assist wedding couples and their families in their plans for a joyous and memorable Chinese wedding. Mandarin Oriental, Macau offers a range of thoughtful touches, personalized service and luxurious atmosphere, and sets the tone for a perfect wedding or any special occasion.
关于澳门文华东方酒店 About Mandarin Oriental, Macau
澳门文华东方酒店汇聚独特品味、优雅及时尚风格,更于设计中巧妙融入澳门特有的欧洲文化传统特色,是澳门首屈一指的五星级非博彩豪华酒店。坐落于澳门商业、娱乐和高级零售区中心的理想位置,宾客仅需数分钟路程即可从酒店到达世界遗产所在的澳门历史城区。酒店共有 213 间陈设优雅、拥有傲人的开阔视野客房及套房,同时提供一系列各具特色的餐厅和酒廊,其中包括皇牌食府御苑餐厅、御苑酒廊,大堂酒廊和文华东方饼店,为宾客打造独一无二的美食体验。澳门文华东方酒店提供便捷私密的会议场地服务,以满足各种特殊场合的需求。与此同时,连续六年荣获福布斯旅游指南评鉴为「五星级水疗」的澳门文华东方水疗中心除了提供多种康体、美容和按摩服务,同时设有先进的健身中心和户外衡温泳池,以让旅客在安宁静谧的环境中放松身心。
A non-gaming luxury hotel, Mandarin Oriental, Macau is an elegant urban retreat exuding a subtle blend of the territory's Chinese and European heritage. Located in the city's entertainment and highend retail center, the hotel is just a few minutes' walk from the historic heart of town and enjoys easy access to all major transport hubs. The hotel has 213 well-appointed rooms and suites featuring panoramic views of the city's waterfront, and a tasteful range of dining facilities, including Vida Rica Restaurant and Bar, Lobby Lounge and Mandarin Oriental Cake Shop, offering a true epicurean indulgence. There are also extensive meeting facilities, and for complete relaxation and rejuvenation, The Spa at Mandarin Oriental, Macau, a six-time Forbes five-star winner, provides a comprehensive array of wellness, beauty and massage programmes. The overall spa and health facilities also include a state-of-the-art fitness center and an outdoor heated swimming pool.
关于文华东方酒店集团
文华东方酒店集团为一家屡获殊荣的酒店投资及管理集团,经营全球享负盛名的酒店、渡假酒店及酒店管理式住宅。集团由一家植根亚洲的酒店公司发展成一个环球品牌。目前,集团在十九个国家和地区经营二十九家酒店及八个酒店管理式住宅项目,每项物业均反映集团的东方传统和地方特色。文华东方有不少正在发展中的酒店和酒店管理式住宅项目,其中位于多哈的酒店即将开幕。
Mandarin Oriental Hotel Group is the award-winning owner and operator of some of the world's most luxurious hotels, resorts and residences. Having grown from its Asian roots into a global brand, the Group now operates 29 hotels and eight residences in 19 countries and territories, with each property reflecting the Group's oriental heritage and unique sense of place. Mandarin Oriental has a strong pipeline of hotels and residences under development, with the next hotel opening planned in Doha. Mandarin Oriental is a member of the Jardine Matheson Group.
如欲索取有关图片,可浏览www.mandarinoriental.com内之传媒相片库,选择下载合适相片。
Photographs of Mandarin Oriental are available for download in the Photo Library of our Media section, at www.mandarinoriental.com.
文华东方酒店集团精心制作的Destination MO (http://www.mandarinoriental.com/destination-mo/) 为MO杂志的网上版本。现在只需一次点击已可得到全球最新的旅游信息,包括旗下屡获殊荣的酒店、精致美味的餐饮服务、舒适的水疗体验、各国旅游景点以及专访集团的名人支持者,所有最新信息尽在其中。如欲查询更多详情,可浏览集团的社交媒体专页。
Visit Destination MO (http://www.mandarinoriental.com/destination-mo/), the online version of Mandarin Oriental Hotel Group's bespoke publication, MO. News about our award-winning hotels, the best dining experiences, spa treatments, travel retreats and interviews with the Group's celebrity fans is now just a click away. Further information is also available on our Social Media channels.