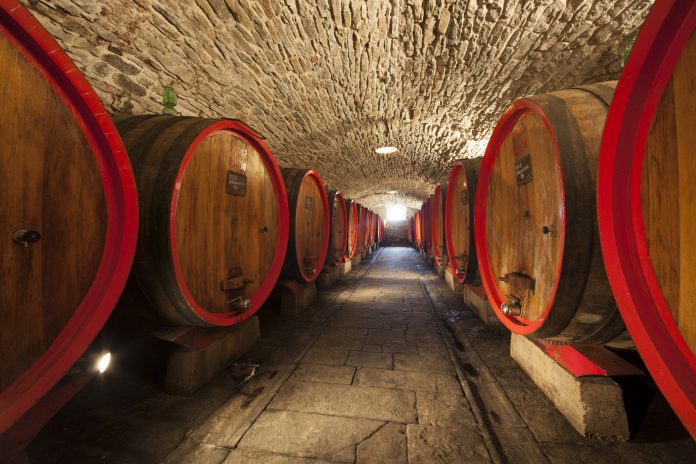 傲牧园,普利亚,意大利
Masseria Altemura Estate, Puglia, Italy
傲牧园坐落于美丽的萨伦托半岛,这片土地有着悠久的历史,立足当下,放眼未来,酒庄的使命是为来自南意大利普利亚区的葡萄酒带来全新的愿景。
Located in the breathtakingly beautiful Salento Peninsula, an area with a long history but which is now looking determinedly forward towards the future, the Masseria Altemura Estate's mission is to offer a new perspective on the wines from the Southern Italian Region of Puglia.
该酒庄的历史始于公元前四世纪。如今,感谢卓林的酒庄恢复工程,赋予了历史新的生机,在保留同时代显赫传统的同时加入现代技术元素。
The history of the estate began in the 4th century B.C.. Today the past has been brought back to life, thanks to the Zonin's project of restoring the property to its original splendour whilst adding modern amenities.
Geographically the Estate lies in the centre of Puglia, between the Ionian and the Adriatic Seas which lap the shores of the region. A unique maritime climate and abundant sunlight provide Masseria Altemura with very favourable conditions for grape growing. In addition, this innovative and swiftly evolving domaine benefits from the sea breezes and the nutrient-rich deep red soil that characterizes much of the Region of Puglia.
就地理位置来说,酒庄位于普利亚区的中心,爱奥尼亚海和亚得里亚海之间,为海洋所环绕。独特的海洋性气候和充足的光照为葡萄的生长提供了适宜的环境。此外,海风和普利亚区特有的肥沃深层红土,都为这片革新而迅速发展的葡萄园带来颇多益处。
Here Baroque infl uences blend perfectly with Oriental elegance. The estate's main ally is the sun, which rises everyday to bless the vineyards and makes Masseria Altemura mirror the true spirit of Puglia today.
在这里,巴洛克风格与东方的优雅完美融合。每天,葡萄园沐浴在充足的阳光中,这也使傲牧园成为如今普利亚精神的代表。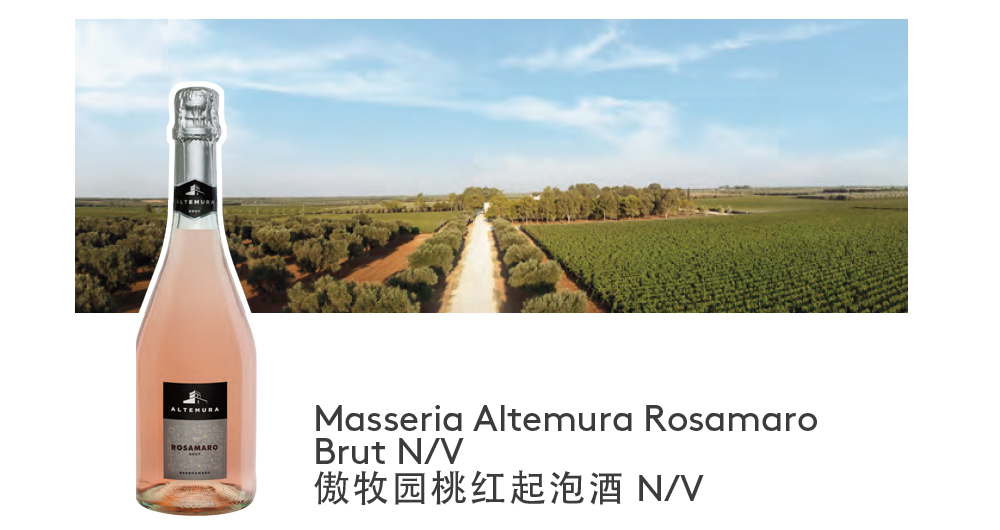 100%黑曼罗
Negroamaro 100%
萨伦托IGT,意大利
Salento IGT, Italy
品酒词:
这款闪亮的桃红呈微妙的粉色,有着良好而精致的气泡。香气怡人,果香四溢,有着苹果和些许小红莓的芬芳。口感顺滑,有花香和果味。
Tasting Notes:
A luminescent rosé of subtle pink with a fne and delicate perlage. Pleasantly intense and fruity with hints of pippin apple and light notes of small red berries. Smooth on the palate and flows with flowery and fruity notes.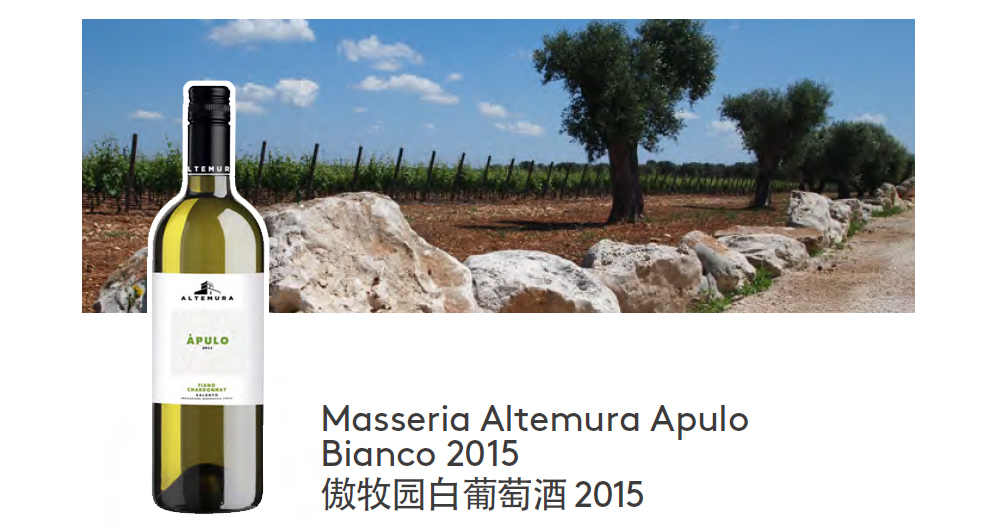 65%菲亚诺和35%霞多丽
Fiano 65% & Chardonnay 35%
萨伦托IGT,意大利
Salento IGT, Italy
品酒词:
浓郁的麦秆黄带着活泼的绿色光晕。香气馥郁,有着桃子、西柚和青柠皮的美妙芬芳。清爽而可口,有着带异国情调的果香、迷人的果味及活泼可爱的酸度。
Tasting Notes:
Intense straw yellow with lively greenish hints. Deliciously intense with beautiful aromas of peach, grapefruit and lime skin. Fresh and flavorful with hints of exotic fruit and an attractive fruity character sustained by a lovely bright acidity.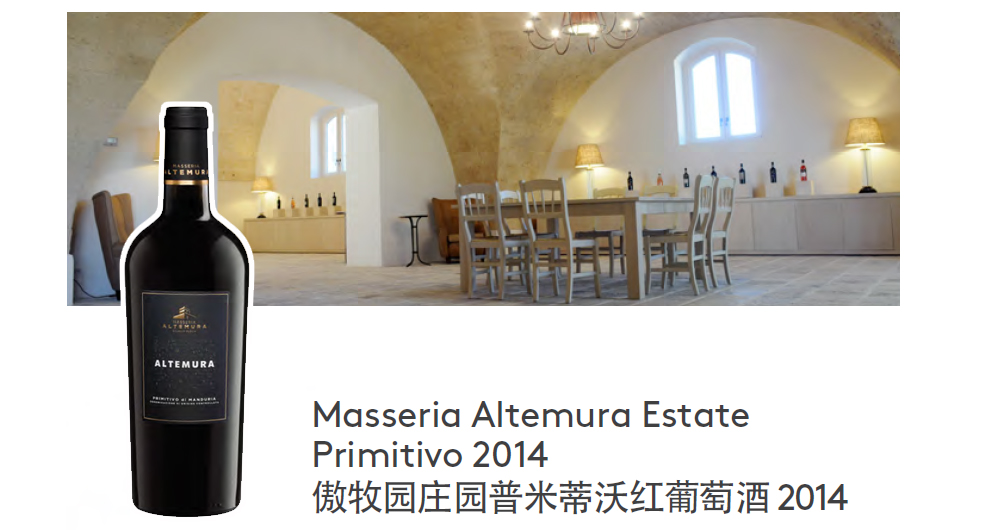 100%普米蒂沃
Primitivo 100%
曼杜利亚DOC,意大利
Primitivo di Manduria DOC
品酒词:
鲜艳的红宝石色带着紫色光晕。有着成熟的红色和黑色水果酱的香气,馥郁而独特。风味活泼、丝滑而浓郁,富有葡萄品种和风土条件的特点。
Tasting Notes:
Vivid ruby-red colour with purple shadings. An intense and distinct aroma of jam-like ripe red and black fruit. A very warm, silky, and almost dense flavour, rich in varietal and territorial sensations.
---
奥伯拉古堡酒庄,齐安迪,意大利
Castello d'Albola, Chianti, Italy
Steeped in history, Castello d'Albola can trace its ownership back to the 12th century and has passed through the hands of some of Tuscany's most important and inuential noble families, such as the Acciaioli, the Samminiati, the Pazzi and the Ginori Conti princes. Committed to beauty and excellence, Castello d'Albola is an exceptional source for wines that are elegant rather than coarse or blowsy. Castello d'Albola captures the essence of the Sangiovese variety with its often subtle and austere tones, capable of delighting all those who care to unlock its fascinating secrets.
奥伯拉古堡酒庄的历史始于12世纪,期间辗转几经托斯卡纳一些重要的名门望族之手,例如 Acciaioli 家族、Samminiati 家族、Pazzi 家族以及 Ginori Conti 贵族等。奥伯拉古堡酒庄致力于酿造精致优雅的佳酿,而非粗犷风格的葡萄酒。奥伯拉古堡酒庄懂得如何展现出桑娇维赛葡萄的精髓:微妙而紧实,并将其潜质发挥的淋漓尽致。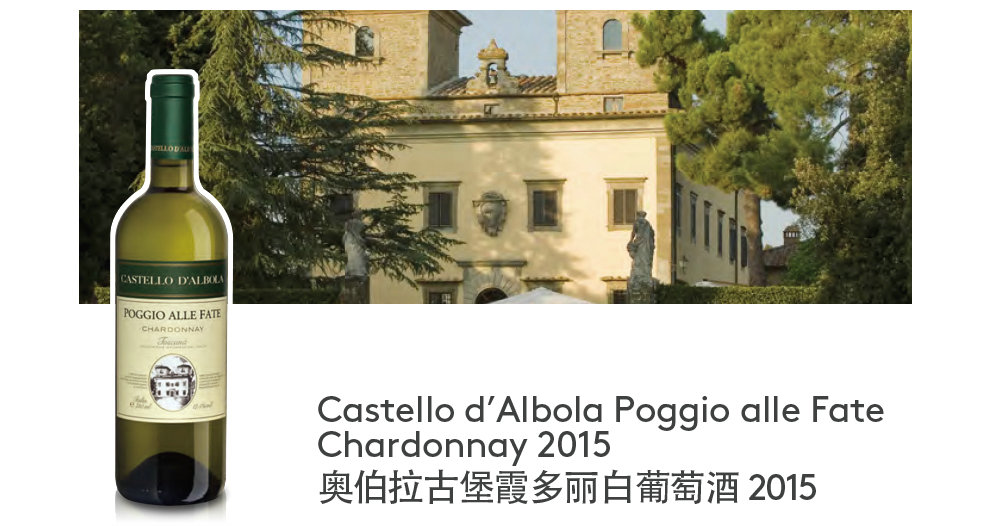 100%霞多丽
Chardonnay 100%
托斯卡纳,意大利
Tuscany, Italy
品酒词:
口感干爽新鲜,酒体平衡,有良好的酸度,回味带有矿物质和绿苹果的香气。
Tasting Notes:
Appealingly dry fresh and well-balanced, with fresh acidity and a mineral and green apple finish.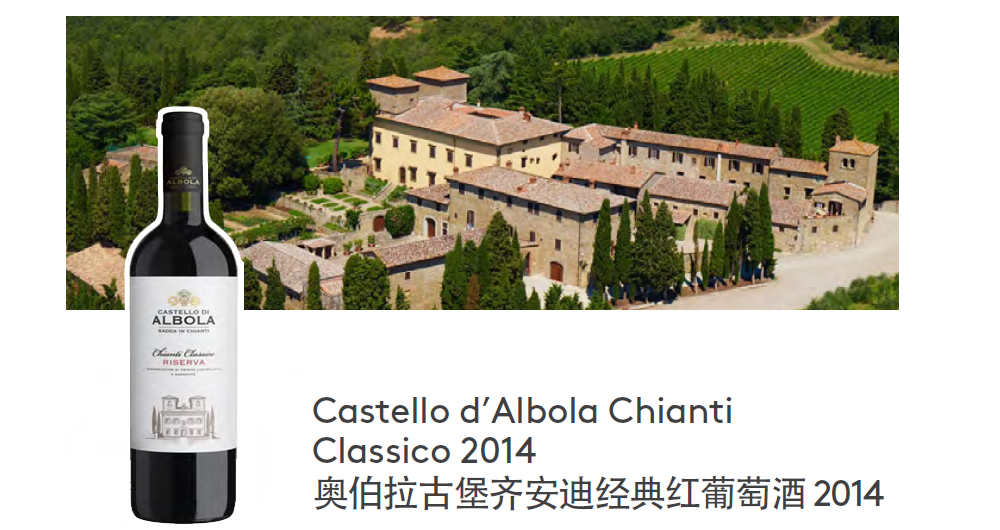 95%桑娇维赛和5%卡纳奥劳
Sangiovese 95% & Canaiolo 5%
齐安迪经典DOCG,意大利
Chianti Classico DOCG, Italy
品酒词:
味干而平衡,结构良好,质地柔软。
Tasting Notes:
Well-balanced and dry, with good structure and a velvety texture.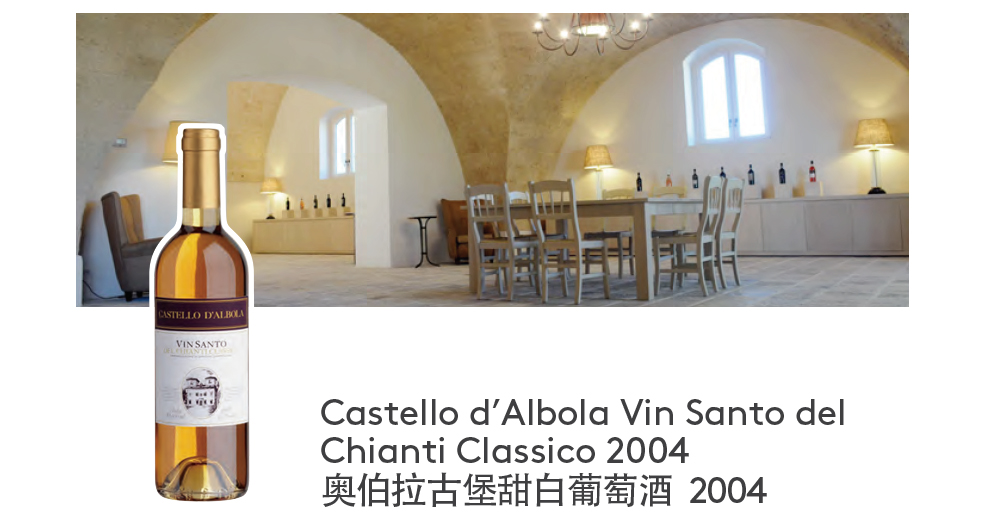 托斯卡纳白玉霓和齐安迪玛尔维亚
Trebbiano Toscano & Malvasia del Chianti
齐安迪经典DOC,意大利
Vin Santo del Chianti Classico DOC, Italy
品酒词:
整个陈酿过程为小型栗木桶间歇性陈酿,根据温度和压力的自然变化来控制,历时8年。
Tasting Notes:
Maturation continues for 8 years in the small chestnut–wood barrels, in which the fermentation for a very long time.
---
桃乐丝(中国)葡萄酒贸易有限公司
Torres China
Contact: Celia, +86-135 3390 3715
天河体育西路111~115号建和中心11楼E室
Room E, 11/F,Jian He Center
No.111~115, Tiyu Road West, Tianhe, Guangzhou