锐力搏冠军赛"靓战羊城"赛事于5月30日晚在广州天河体育馆拉开战幕,这也是锐力搏冠军赛首度登陆羊城。虽然当晚赛前开始下起了瓢泼大雨,但却无法浇灭拳迷的热情,4000多位拳迷来到现场观赛,争相一睹高水平职业MMA拳手的风采。
REBEL Fighting Championship "A Warrior's Return" was held on the evening of 30th May at the Guangzhou Tianhe Stadium. This was also the first time that the REBEL Fighting Championship took place in Guangzhou. Despite the heavy rain, the enthusiasm of Mixed Martial Arts (MMA) fans went high when the Championship started. According to official statistics, more than 4,000 fans came to the scene to watch the Championship matches.
当晚,来自全球各国,源自不同武术流派的20位职业拳手在锐力搏冠军赛这一平台上为到场观众奉献了10场精彩激烈、扣人心弦的对决,令所有观众大饱眼福。当晚出战主赛的三位中国拳手全部获得了胜利,可谓是中国力量全面绽放的一夜。
From all over the world, 20 professional fighters from different martial arts genres contributed 10 exciting and breathtaking competitions to the audience on the platforms of the REBEL Fighting Championship. As the results revealed, all three Chinese fighters who fought hard in the main matches claimed successfully their honors as winners.
下一  "战" ?
 WHERE  IS NEXT?
赛后新闻发布会上,锐力搏冠军赛CEO梁安毅先生正式对外宣布锐力搏冠军赛下一站北京赛的相关信息。锐力搏冠军赛北京赛主题为"名动京城",将于2018年8月11日在国家奥林匹克体育中心举行,前UFC著名拳手"大脚"安东尼奥·席尔瓦将出战北京赛。同时,巴西拳手阿德里亚诺·贝尔博、日本拳手坂野周平、水垣偉弥等强手也将出赛。由此锐力搏冠军赛北京赛将成为中国级别和水准最高的一场MMA赛事。
At the press conference after the matches, the CEO of the REBEL Fighting Championship Justin Leong announced that the next REBEL Fighting Championship will take place in Beijing at the National Olympic Sports Center on 11th August, 2018. The former UFC star fighter "Big Feet" Antonio Silva has confirmed his participation in Beijing. At the same time, Brazilian fighter Adriano Belbo, Japanese fighter Shono Shino and Mizuo Takeshi will also join the REBEL Fighting Championship in Beijing. It is going to be the highest level of MMA event in China.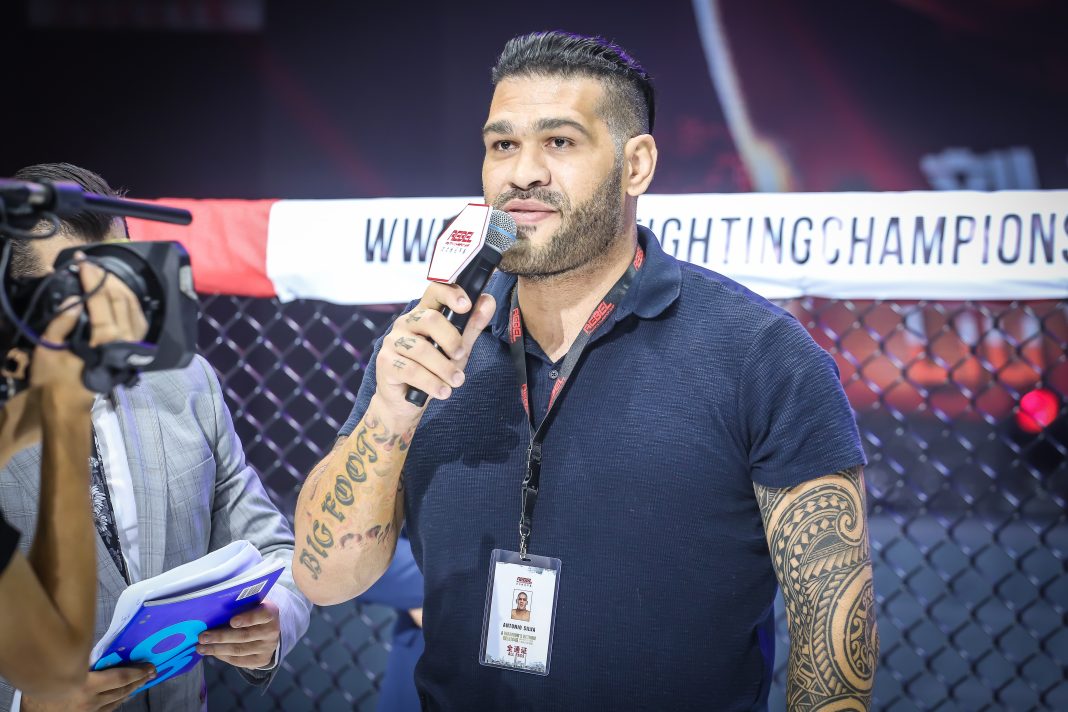 ---
全程赛果*
FULL RESULTS*
1.雏量级(135 lbs) 61.2KG
王道元(中国)VS 牛康康(中国)
赛果:牛康康点数获胜
Bantamweight (61.2kg) Division:
Wang Daoyuan (China) VS  Niu Kang Kang (China) 
2.雏量级(135 lbs) 61.2KG
陈睿(中国)VS 亚德·斯恩(印度)
赛果:陈睿第三回合TKO对手获胜
Bantamweight (61.2kg) Division:
 Chen Rui (China)  VS Yad Singh (India)
3.轻量级(155 lbs) 70.1KG
包音那(中国)VS 阿尔本·艾斯凯(菲律宾)
赛果:包音那第一回合降服对手获胜
Lightweight (70.1kg) Division:
 Bao Yinna (China)  VS Arben Escayo (Philippines)
4.轻量级(155 lbs) 70.3KG
吴成杰(中国)VS 杰比·艾斯皮诺萨(菲律宾)
赛果:吴成杰第一回合TKO对手获胜
Lightweight (70.3kg) Division:
 Wu Chengjie (China)  VS Jabbi Espinosa (Philippines)
5.雏量级(135 lbs) 61.2KG
罗纳多·费拉米(巴西)VS 塔拉斯·葛斯蒂夫(乌克兰)
赛果:罗纳多·费拉米点数获胜
Bantamweight (61.2kg) Division:
 Renato Ferrami (Brazil)  VS Taras Grytskiv (Ukraine)
6.羽量级(145 lbs) 65.8KG
王亚勇(中国)VS安德瑞·霍洛夫(乌克兰)
赛果:王亚勇点数获胜
Featherweight (65.8kg) Division:
 Wang Ya Yong (China)  VS Andre Hohlov (Ukraine)
7.羽量级(145 lbs) 65.8KG
唐凯(中国)VS尼克雷·康恩贾克(乌克兰)
赛果:唐凯第一回合TKO对手获胜
Featherweight (65.8kg) Division:
 Tang Kai (China)  VS Nikolay Kondratiuk (Ukraine)
8.中量级(185 lbs) 83.9KG
契克·孔尼(法国)VS阿斯卡尔·莫兹哈罗夫(乌克兰)
赛果:阿斯卡尔·莫兹哈罗夫第一回合TKO对手获胜
Middleweight (83.9kg) Division:
Chic Connie (France) vs  Askar Mozharov (Ukraine) 
9.次重量级(205 lbs) 93KG
刘文擘(中国)VS 马塞洛·特诺里奥(巴西)
赛果:刘文擘点数获胜
Light Heavyweight (93kg) Division:
 Liu Wenbo (China)  VS Marcelo Tenorio (Brazil)
10.中量级(185 lbs) 83.9KG
王赛(中国)VS康斯坦丁·李尼克(乌克兰)
赛果:王赛第一回合降服对手获胜
Middleweight (83.9kg) Division:
 Wang Sai (China)  VS Konstantin Linnik (Ukraine)
*红名标注为获胜者
*Winner in colour RED