法国电影联盟与法国驻华大使馆组织第十六届法国电影展映。这一不容错过的活动让中国观众有机会在中国主要城市的影院欣赏法国电影代表性新作,展示了当今法国电影的活力。
UniFrance and the French Embassy in China are setting up the 16th edition of the Panorama of French Cinema. This unmissable event offers Chinese cinemagoers in major cities the opportunity to discover an eclectic sample of films, illustrating the vitality of contemporary French cinema.
今年,第十六届法国电影展映携九部不同风格的法国电影与广州和深圳的电影爱好者们见面,其中不乏诙谐幽默,惊悚刺激和发生深省的题材。这九部电影分别是:《白雪公主》,《开战》,《大浴场》,《容基耶尔女士》,《以恩宠之名》,《英雄归来》,《雷米奇遇记》,《怪物游乐园》和《听瓦尔达说》。
This year, the 16th Panorama of French Cinema brought nine different styles of French films to film lovers in Guangzhou and Shenzhen with humorous, thrilling and deep-seated themes. The nine films are: "Pure As Snow", "At War", "Le Grand Bain", "Lady J", "By the Grace of God", "Return of the Hero", "Remi, Nobody's Boy", "Zombillenium", "Varda by Agnes".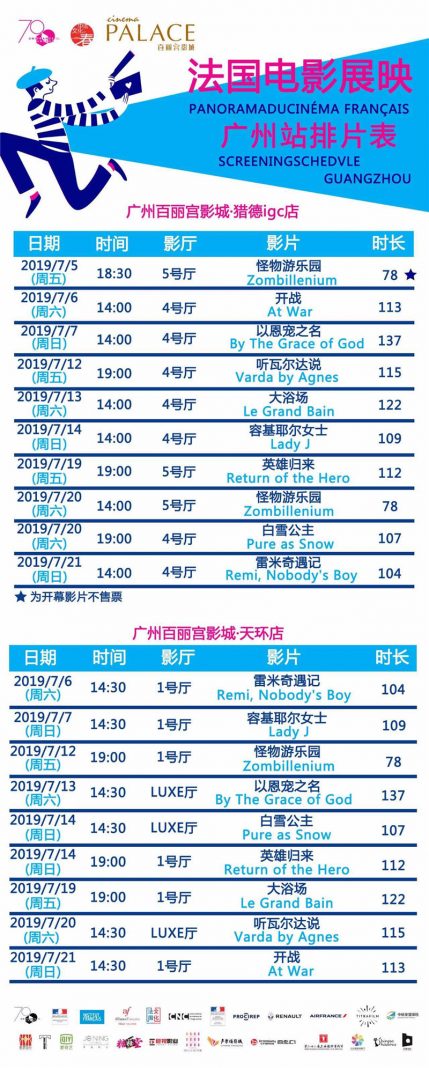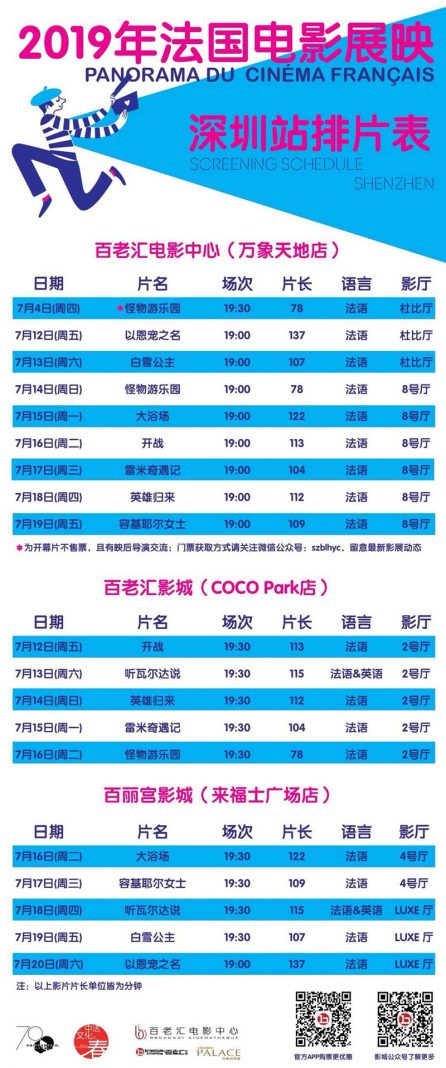 ---
IGC百丽宫影城
Cinema Palace, IGC
广州天河区兴民路222号天汇广场
No. 222 Xingming Road, Tianhe District, Guangzhou
地铁猎德站B出口
Line 5 to Liede Station, Exit B
Tel: +8620-8565 5971
天环百丽宫影城
Cinema Palace, Parc Central
广州市天河路218号天环广场地下一层B117铺
Shop B117, Basement Floor, Parc Central, No. 218 Tianhe Road, Guangzhou
地铁体育中心站D出口
Line 1 to Tianhe Sports Center Station, Exit D
Tel: +8620-8527 9526
深圳百老汇电影中心
Broadway Cinematheque
深圳南山区深圳万象天地五楼
5/F, MixC World, Nanshan District, Shenzhen
地铁高新站A出口
Line 1 to Hi-tech Park Station, Exit A
Tel: +86755-8616 0222