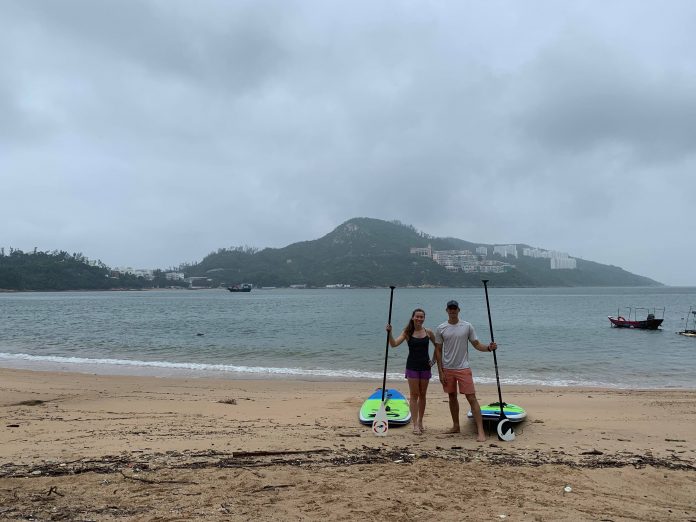 Meeting the Team…
On Monday morning, DB were invited to have a chat with Aqua Terra Performance, a relatively new company who are offering something unique to Hong Kong locals and travellers alike. The company is co-founded by Esther Bland and Niall. While Esther offers pre and post-natal classes for mums looking to recover and build strength after the stress of pregnancy, Niall offers stand up paddleboarding and surf skiing to those looking to try something a little different during their time in Hong Kong.
After a brief chat with Esther, it became apparent that the couple are very passionate about what they do. They are both lovers of water sports and created the paddleboarding branch of Aqua Terra to share that love with others in the area. Niall is also a history fan and shared many interesting facts with us about Stanley. The history chat was followed by a safety briefing and just like that, we were ready to go.
…Out on the Water
Looking out at the choppy water, we had our doubts about the weather holding up. Esther reassured us that the waters were safe and navigated us so that we could paddle where the waters were calmer.
I was impressed by how patient Esther was, especially considering balance and hand-eye coordination are not my strong points. She was extremely encouraging and although it took me a while to get the hang of it, after a short while in the water, I felt comfortable on the board.
I should probably mention that I spent 80% of the time kneeling on the board and the other 19% crashing into Esther. For a brief second though, I did in fact manage to stand up and Esther and Niall cheered. In that moment, I felt like a pro.
We paddled towards St Steven's beach and then to the promenade, where we rested before heading back to shore. Niall pointed out historical landmarks and it was refreshing to be surrounded by nature after a weekend in the city. It was hard work, but it definitely paid off and as far as first times go, the afternoon was not a complete failure.
…Back to Dry Land
Our time on the water was brief because of the weather but I was impressed with how well the team handled it. They emphasize that safety comes first but they also are reluctant to let a couple of choppy waves ruin an afternoon. Instead of calling it a day, they switched up the route, so we could enjoy paddling in the safest part of the bay.
I was also surprised by the physical challenge of paddleboarding. By the end of the session, I felt like I had had a full body workout, only I hadn't stepped foot in a gym. This was followed by a rush of endorphins and Esther and Niall were able to make recommendations for food nearby.
…Final Notes
Overall, DB's Aqua Terra performance exceeded our expectations. Sure, I am nowhere near on my way to becoming a professional stand up paddleboarder, but I did manage to get out on the water and I couldn't have had better teachers for my first time.
If you are interested in trying something new and giving paddle boarding a try, you can book via the Air BnB link below. Aqua Tera also offer a selection of prenatal and postnatal classes for new and expecting mums. Esther is a certified trainer and is an excellent motivator too.
Thank you Aqua Tera for a fun-filled afternoon and we hope to see you again after we have had a little more practice!
Website: https://www.aquaterraperformance.com/
Booking: Air BnB
Contact: esther@aquaterraperformance.com