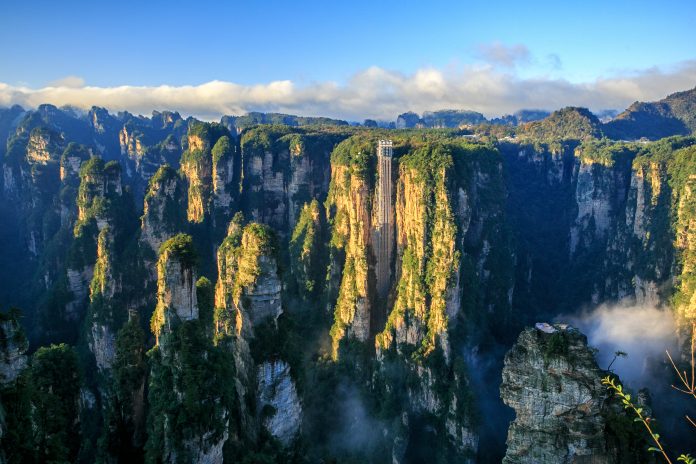 看那坐落在湖南省的张家界国家森林公园,这是一场视觉的盛宴。四周环绕着美丽的石英砂岩塔,被政府视为"阿凡达哈利路亚山"。只要亲临感受一次,就会发现它的美与它的描述如此符合。备受好评的电影《阿凡达》,它的导演詹姆斯•卡梅隆就是在这个令人惊叹的张家界公园美景中获得灵感,潘多拉星球便是在此取景的。如果你正在寻求一次冒险和赏景的夏季之旅,不要犹豫了,张家界公园正是最好的选择!
Behold the Zhangjiajie National Forest Park. Situated in the Hunan province, this spot is a visual feast. The park is surrounded by beautiful quartz sandstone towers and was deemed "Avatar Hallelujah Mountain" by the government. One visit to this place and you will see that the park's beauty really does match its description. James Cameron, director of critically acclaimed film "Avatar", took inspiration from Zhangjiajie Park and based fictional planet Pandora on this stunning site. If you are looking for an adventurous and eye opening summer trip, then visit Zhangjiajie Park!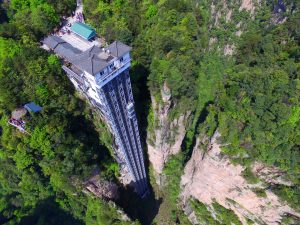 现在,游客们可以搭乘一个1070英尺的玻璃升降梯来领略公园的壮丽景象,单程票价为72元,双程票价为144元。这个玻璃升降梯是由白龙天梯公司建造的,乘坐它,游客可以在短短的两分钟内到达悬崖的顶峰。站在最高峰上,亲眼目睹宏伟的景观-这必定是一次令人难以忘怀的旅行!此外,张家界还提供另一番美景的游历——黄龙洞,花费100元,不仅能领略到同样令人赞叹的景色,还可以坐着游船在童话般的湖泊上游览。
And now, visitors are able to witness the Park in all its majestic glory via a 1,070 foot glass elevator, where tickets are 72 RMB for one way and 144 RMB for two ways. Built by company Bailong Tianti, tourists are able to reach the peak of the cliff in as little as two minutes. The views from the summit are spectacular – a trip here will be an unforgettable experience. Zhangjiajie also offers a tour of the Huanglong Cave, an area of indescribable beauty. This costs 100 RMB and includes a ride on one of the park's pleasure boats through the fairytale-esque lakes.
此外,在张家界,你们绝不能错过的风景区还有:令人惊叹的天门山,和能净化心境的紫霞寺。如果游客们想要在这里体验一些豪华的住宿酒店,那么,萨曼莎温泉度假村、张家界国宾馆将绝对不会让你失望! 萨曼莎温泉度假村是一座豪华的酒店,它将中国传统建筑和现代优雅交织在一起。庭院和套房的设计,完美的营造出乡村环境,赋予了度假村经久不衰的魅力。点击这里访问它的网址www.samantharesortspa.com。张家界国宾馆是一个高品质的度假胜地,为客人提供五星级的服务。酒店装饰十分典雅,坚持传统的东南亚风格。客人还可以在酒店餐厅品尝到来自湖南、四川和广东的菜品。点击这里访问它的网址www.zhangjiajiestateguesthotel.com。如果需要一个价格更为适中的酒店,那么琵琶溪宾馆将是适合你的选择。点击这里www.trivago.com 了解更多的信息。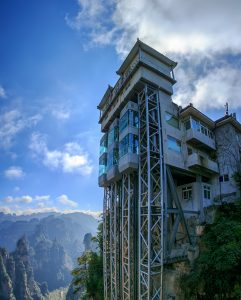 Also, other scenic spots in Zhangjiajie are a definite must see: visit the incredible Tianmen Mountains, or have a spiritual reflection at the Zixia temple. If tourists wish to sample some of the luxurious accommodations the area has to offer, then a visit to Samantha Resort and Spa or the Zhangjiajie State Guest Hotel will not disappoint. Samantha Resort is a luxurious hotel that weaves together traditional Chinese architecture and modern elegance. The courtyards and decadent suites are perfectly designed to compliment the rural surroundings, which gives the resort a timeless charm. Visit the website here www.samantharesortspa.com. The Zhangjiajie State Guest Hotel is a high quality resort which offers five star care of their guests. Hotel suites are tastefully decorated and adhere to a traditional South-East Asian style. Guests can also sample a mixture of Hunan, Sichuan and Cantonese cuisine at the hotel restaurant. For the Zhangjiajie State Guest Hotel Website, please click here www.zhangjiajiestateguesthotel.com. If a more moderately priced hotel is required, then the Pipaxi Hotel is the place for you. Visit their page on www.trivago.com for more details.
路线指导
游客可以从珠海机场(ZH)乘坐四川航空或者山东航空到达大庸机场(DYG),票价为3986.68元人民币(452英镑);也可以从深圳宝安国际机场 (SZX)乘坐中国南方航空,飞行用时最短为1小时35分钟,票价为1022元人民币(115.87英镑);如果游客从广州白云国际机场(CAN)出发,可以乘坐中国南方航空公司的航班出发,票价为932元人民币(105.66英镑),飞行时间为1小时40分钟。如果想要了解更多优惠, SkyScanner 是你最好的选择,点击这里访问它的网址https://www.skyscanner.net/。此外,从荷花机场到张家界国家公园需要51分钟的车程:沿着228省道,到306省道,然后顺着大庸路一直到达目的地。
How To Get There
Visitors can fly out from Zhuhai Airport (ZH) to Dayong Airport (DYG) via Sichuan Airlines or Shangdong Airlines. Tickets are priced at 3986.68 RMB (£452). From Shenzhen, the shortest flight is 1 hr 35 min through China Southern Airlines and goes from Shenzhen Baoan International Airport (SZX). The price of these tickets are from 1022 RMB (£115.87). If tourists are travelling from Guangzhou-Baiyun International Airport
(CAN), you can fly from China Southern Airlines at a price of 932 RMB (£105.66) where the flight lasts 1 hr 40 min. If you are looking for deals, SkyScanner is the best option, click here for the website https://www.skyscanner.net/. To get from Hehua Airport to Zhangjiajie National Park is a 51 minute drive: take the route from highway 228 to highway 306, then along Dayong Road.