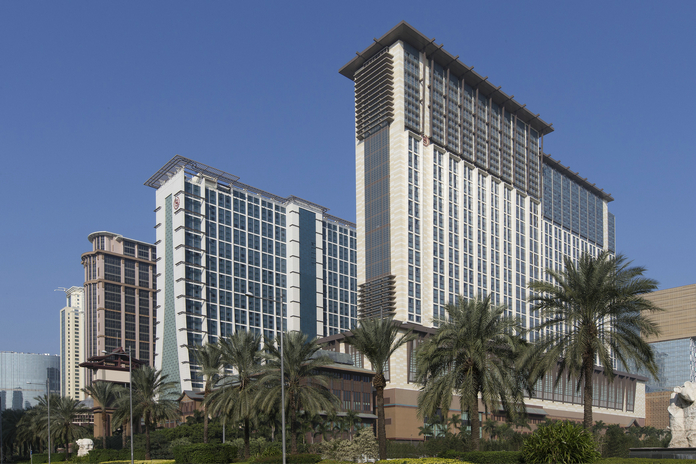 澳门喜来登大酒店为即将到来的冬日佳节准备了一系列节日住宿及餐饮礼遇,让宾客与挚爱一同分享快乐,欢度温馨时光。
Sheraton Grand Macau has the festive season covered this year with a special staycation package and a range of great-value restaurant offers to make for a memorable holiday season to share with loved ones.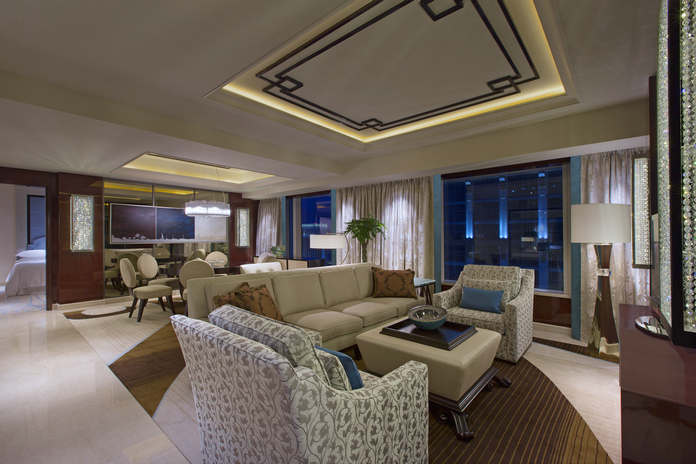 澳门喜来登大酒店首次推出"佳节喜聚住宿套票",为宾客与亲朋好友带来与别不同的冬日节庆体验。"佳节喜聚住宿套票"价格由澳门币/港币5,088++起,最多8人入住指定套房,礼遇包括澳门喜来登大酒店大使套房或总统套房一晚住宿及于客房内享用节庆晚餐,晚餐特色菜肴包括烤14磅软嫩美国火鸡及配菜、黑森林原木蛋糕、圣诞姜饼人曲奇及精选汽泡酒等。
For the first time this year, guests and their loved ones can celebrate the festive season in luxurious style with the 'Enjoy a Suite Surprise at Sheraton Grand Macau' accommodation package that includes a one-night stay at our Ambassador Suite or Presidential Suite with a celebration in-suite dinner. Priced from MOP/HKD5,088++ with room for up to eight guests, the Enjoy a Suite Surprise package includes a traditional festive dinner served in-suite, with a tender 14lb 'Butterball' roast turkey and classic side dishes, black forest log cake, gingerbread men and sparkling wine for toasting.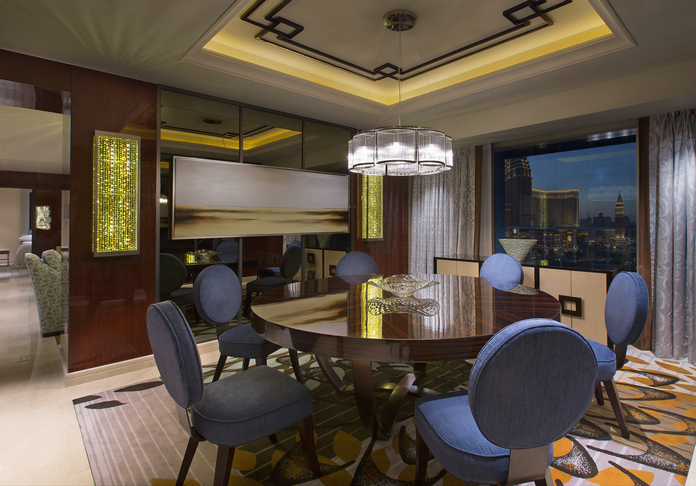 澳门喜来登大酒店销售及市场推广总经理陶莉娜女士希望此次推出的"佳节喜聚住宿套票"能为宾客带来一个愉快难忘的节日体验。
General Manager of Sales & Marketing at Sheraton Grand Macau, Daniella Tonetto, said the 'Enjoy a Suite Surprise at Sheraton Grand Macau' package is sure to make for a memorable festive season.
她说:"今年的冬日佳节与过去数年有所不同,我们很期待这次推出的'佳节喜聚住宿套票'可以让一众宾客与其亲朋好友度过欢乐气氛洋溢的节日。宾客将可以选择入住澳门喜来登大酒店最宽敞,豪华的大使套房或总统套房,与挚爱及朋友一同分享节日佳肴,度过愉快晚上并于第二天继续节日欢庆活动。"
"The festive season will certainly be a different for many this year, and we're thrilled to be able to offer this package for families and friends to create and celebrate a memorable holiday season," Ms Tonetto said. "With the choice of our two most spacious and most luxurious suites, families and friends can get together and share a delicious festive-inspired meal, spend the night and then continue the celebrations over breakfast the next day."
她续道:"对于希望与亲朋好友一同享用节庆晚餐及午餐的宾客,我们的'盛宴'环球美馔自助餐厅及'桃园'中餐厅将于整个假期为您带来一系列滋味礼遇。"
"Or if you're looking for a special festive lunch or dinner to celebrate with friends or family, our restaurants are hosting special lunches and dinners throughout the holidays."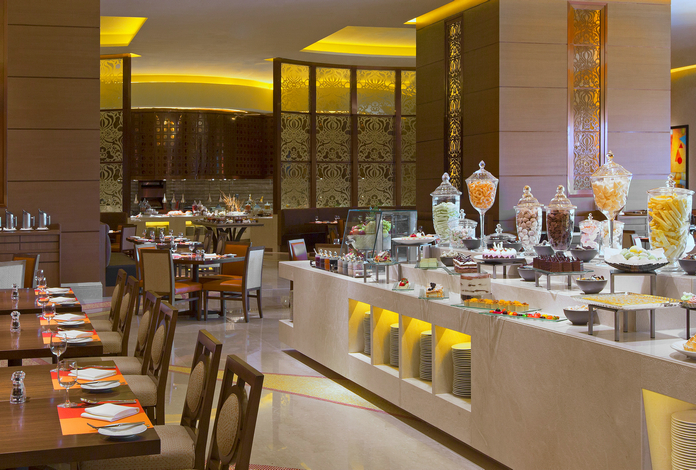 "盛宴"环球美馔自助餐厅将于除夕及圣诞节期间推出一系列节日美馔,包括多款时令海鲜冷盘、四川麻辣火锅、亚洲风味汤面档以及日式烧鸡串,当然还有节庆传统烤火鸡以及美式烟熏牛胸腩等美食。除夕自助晚餐更设有幸运大抽奖环节,奖品包括餐饮、水疗及酒店住宿礼券。
Feast International Buffet is hosting special Christmas lunch and dinner buffets, as well as New Year's Eve dinner and New Year lunch buffet. Guests will be spoilt for choice from the most popular cuisines of the world including fresh chilled seafood, Sichuan Mala hotpot, an Asian noodle station and Japanese Konro griller–Yakitori, as well as featuring classic festive dishes including roast turkey, Texas rubbed smoked US beef brisket. For New Year's Eve dinner, guests can try their luck at the lucky draw prizes including restaurant, Shine Spa and hotel stay vouchers.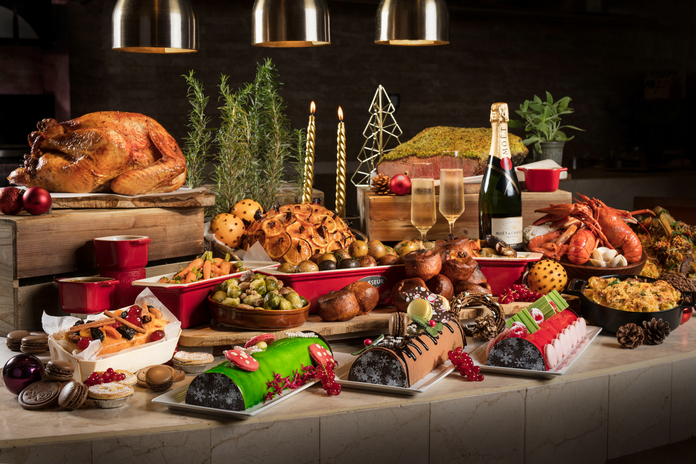 "桃园"中餐厅亦推出滋味暖胃的六道菜中式冬日套餐,菜式包括养身竹笙菜胆云吞炖鸡汤、泮水木耳炒山药、四川辣汁炒虾球、瑶柱火鸭炆丝苗以及肉汁香甜的西班牙黑豚肉厚切叉烧。而希望以中式传统美食庆祝的宾客更可品尝皮脆肉嫩的北京片皮鸭并配以厨艺团队自制的饼皮,与亲友分享节日喜悦。
Diners at Yum Cha Chinese Restaurant can also get into the festive spirit with a six-course menu of winter comfort food, including double-boiled bamboo pith and wonton soup, wok-fried black fungus with coriander and Chinese yam, wok-fried prawns with Sichuan chili bean sauce, braised rice with conpoy and roast duck, and the much-loved Ibérico pork char siu. For the classic Chinese celebration, diners can add to the menu and enjoy our specially prepared Peking duck with homemade pancakes to share.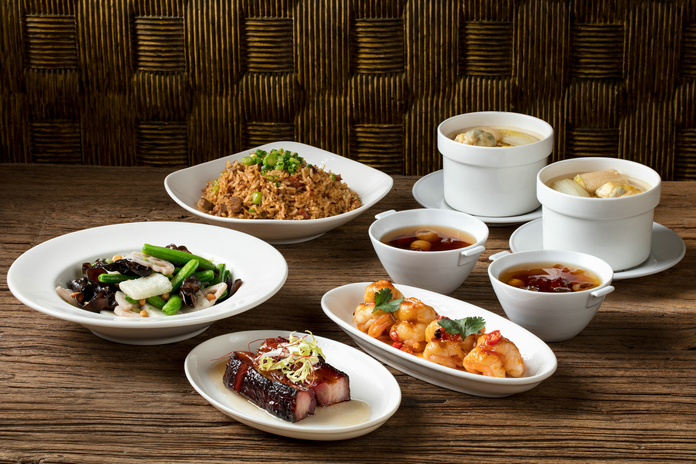 如欲增添节日气氛,宾客更可到设于酒店4楼宴会厅的节庆礼品屋,选购一系列传统圣诞烘焙美点及节庆佳礼。
And, for a special gift, diners and guests can visit our Festive Treats Retail Shop in the Level 4 Foyer area to purchase a range of festive treats including fresh Christmas cookies, cakes and keepsakes.
"佳节喜聚住宿套票"预订日期由即日起至2020年12月28日,入住日期由2020年12月1日至2020年12月31日,双人住宿每晚由澳门币/港币5,088++*起。
The 'Enjoy a Suite Surprise at Sheraton Grand Macau' package is available to book from now until December 28, 2020 and for stays from December 1 to December 31, 2020. Prices start from MOP/HKD5,088++.
---
澳门喜来登大酒店
Sheraton Grand Macao
澳门伦敦人,澳门路氹连贯公路
The Londoner Macao, Estrada do Istmo, s/n, Cotai, Macau
Tel: 4001-693-388
+853 – 6269-9088
sheratongrandmacao.com