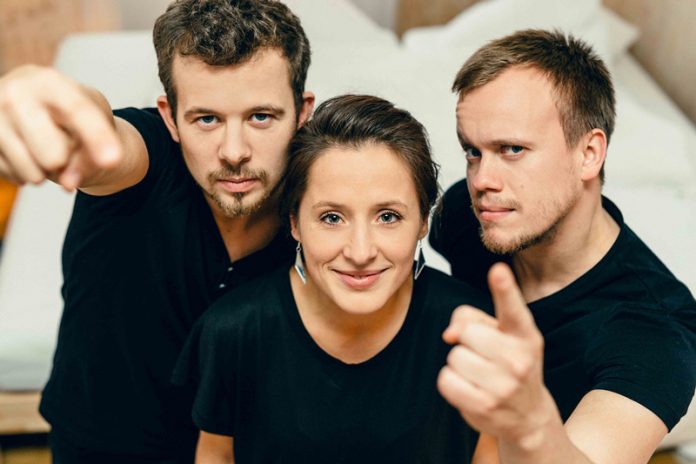 TRAD.ATTACK – 环球巡演中的爱沙尼亚乐团 - an Estonian Band on Tour Around the World
TRAD.ATTACK is one of the most well-known bands in Estonia and recently made their debut in Zhuhai, China at the Beishan World Music Festival. Estonia, a small country in Eastern Europe, is home to a big collection of folk songs and the band takes inspiration from them. Their songs magically draw people into dancing as they are listening to them.
With the passion for Estonian folk music, TRAD.ATTACK has put much effort into their music creations. They also won the Estonian Ethno Music Awards and Estonian Music Awards in 2014 and 2015. They are currently awarded as the best band of Estonia and their album "AH!" won the best album title. Delta Bridges was given the honor of being the first Chinese media to have an interview with TRAD.ATTACK.
DB: When did you start your band?
We started our band two and half years ago. Our first concert in Estonia went very well and after that everything started to roll as a snowball. We got agent and label and many concerts. When the band was formed, it was our dream to play in countries of all over the world. One year after our formation, we started to tour abroad and now we are here in China. During the last one and half years, we have been to 17 countries and in each one we performed our show. China is the 18th country that we are visiting.
Our group has grown in several ways, more than I have ever imagined thanks to our experiences all over the world. The three of us have been friends for 15 years and we had played together in different groups before we founded the band.
DB: What inspires you to create your band?
At the very beginning, the idea was to create a jam band, which means that we did not rehearse specific songs together but improvised on stage. We just wanted to play what we came up with at the particular moment and we enjoyed every minute of these jam sessions. But after a while, we realized that it would be a challenge to start a band in which everyone has his/her own position. Also, every member needs to get out of their comfort zone even if they are already good at something. For instance, Sandra has been playing the traditional instruments and traditional tunes, but now she needs to play loper and sound effects. Jamar who is extremely talented in playing the guitar now needs to take charge also of the base function. Myself (Tõnu), I need to sing and talk while playing the drums, which is a new combination for me.
Going out of our comfort zones is the best motivation. We are good friends and we have mutual trusts in each other, so this helps us as well.
DB: Your band focuses on Estonian folk music. Have you made some special creations in your music or are you planning to do so?
Actually, we do use some innovative elements in our music. We use old recordings as samples on the stage. For example, when we perform our music, we will hit the recording button and the singing voice will come out from the machine. So sometimes when people are listening to our music on stage, they may wonder who is singing since none of us are moving their lips.
These recordings consist of folk singers that were living in around 1900-1970. The recordings are from during the 1960s and 1970s. By using their recordings, we want to give our music an emotional touch and of course honor these musicians. My grandmother, for example, died in 1964, but in this way, we can still listen to her voice on the stage.
First, we used to sing the songs ourselves. We felt like we understood the lyrics and knew why they would sing them, but then we realized that there is something missing. Their music is connected to the world, to love and to other important things in their lives. Their singing is too profound and meaningful for us to reproduce with our own voices. It is their spirits that sing with strong emotions that can penetrate the hard rock and deep sea.
Another reason for the use of recordings in our music is that Estonia has one of the biggest archive recording museums in the world. Thus, it is not difficult for us to find the recordings we need. In these recordings, you can enjoy different voices. Although it is quite difficult to comprehend, you will know how it sounds like when you are listening to our music.
DB: What do you think about this music festival in Zhuhai?
To be honest, this is the first time we are visiting China and putting on a show in Zhuhai. The festival is well-organized and we can get the latest information in advance. Everyone including the staff is very nice and helpful.
Besides, this festival is a major and important step for us to know more about China and to introduce our band and music to the Chinese people. The market in China is tremendously huge compared to Estonia. In Estonia, there are only 1.3 million inhabitants – similar to or even less than the population of Zhuhai.
DB: What is the goal of this tour stop in Zhuhai?
We are going to invade Asia (laughter)! We want to achieve many things when we tour abroad. First, we want to play our music because this is why we are here. We want to bring our music to the people from other regions and play the best we can. Second, we want to go to different countries to know more about them. This means that we want to eat the local food and drink the local beers. In this way, we get to know the local culture and the country a little better. Third, we want to get to know ourselves better.
Sandra: Every morning, I go running and I see some Chinese elderly people playing Taiji. I think it is amazing to experience the Chinese life and culture in this way.
DB: What's your future plan for the band after the show in Zhuhai?
During the summer, we will still be on tour through the world. But first, we are going South Korea and then back to Estonia at the beginning of May. After that, we are going to Germany and Canada. At the end of July, we will be back in Estonia. We are also working on our new album which is supposed to come out next year. Then we may come back to China…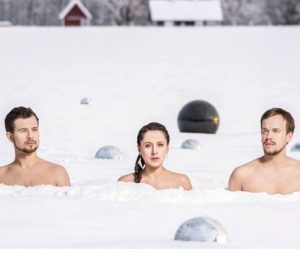 DB: Finally, will you consider to develop your music career in China?
Yes, China is a really big market for us. We even have our own Weibo account to communicate with our Chinese fans. In order to better communicate with our Chinese fans, we are also learning some Chinese every day. We now know some basic Chinese phrases such as Ni Hao(Hello), Mei Wen Ti(No problem) and Wo Ai Ni(I love you).
We want Chinese people to know more about us, about our country Estonia and of course about our music, and hopefully, we will have more fans in China soon.