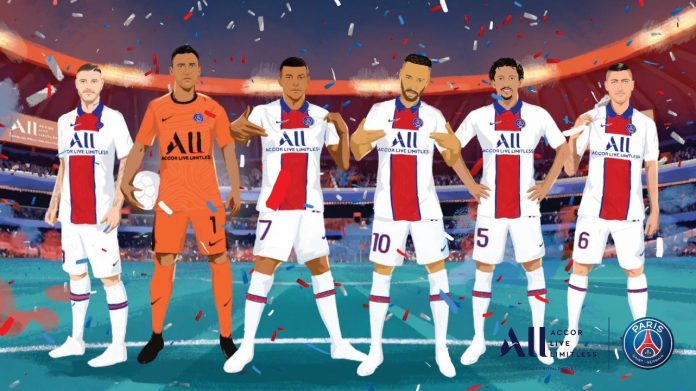 ALL – Accor Live Limitless 雅高心悦界近日发布了创意数字漫画,展示了巴黎圣日耳曼足球俱乐部的新款客场球衣,也展现出雅高心悦界的全球愿景,希望重振球迷热情,鼓励世界各地的旅行者享受精彩的旅行体验。
ALL – Accor Live Limitless, recently launched a groundbreaking digital cartoon to showcase the iconic new away Paris Saint-Germain football jersey and celebrate ALL's global ambition to revive football fans' passion while inspiring travelers to live limitless experiences around the world.
此次大巴黎球员卡通形象与屡获殊荣的跨领域插画家 Spiros Halaris 联袂合作,旨在庆祝 2020/21 赛季足球赛事回归王子公园的同时,也展示了雅高心悦界的热忱。雅高心悦界是日常生活方式的贴心旅伴,将雅高集团生态系统下的礼遇、服务和体验紧密融合。
Made in collaboration with the multi-disciplinary award-winning Illustrator Spiros Halaris, the cartoon celebrates football's return to Parc des Princes for the 2020/21 season as well as ALL – Accor Live Limitless, the daily lifestyle companion that brings together all the benefits, services and experiences offered by the Accor universe.
雅高心悦界与巴黎圣日耳曼足球俱乐部的合作伙伴关系始于2019年,标志着国际领先的全方位服务酒店集团与全球发展最快的足球俱乐部强强联手,携手为客户提供优质体验。巴黎圣日耳曼足球俱乐部人气火爆,有着独特的风格和气质,凭借享誉世界的专业球技激励着广大支持者和合作伙伴,与雅高集团的忠诚计划雅高心悦界不谋而合。雅高集团旗下拥有超5,000家酒店和全球品牌,从经济型到奢华酒店一应俱全,包括莱佛士、费尔蒙、索菲特、铂尔曼、诺富特、美居和宜必思等品牌,旨在为会员提供难忘的体验。
ALL's partnership with Paris Saint-Germain, first launched in 2019, brings together a world-leading augmented hospitality group with the world's fastest-growing football club. Paris Saint-Germain's booming popularity, unique lifestyle approach and world-acclaimed know-how to inspire supporters and partners alike combines well with Accor's loyalty program, which aims to offer "once in a lifetime" member experiences across more than 5,000 hotels and global brands, from economy to luxury, including Raffles, Fairmont, Sofitel, Pullman, Novotel, Mercure and ibis.
巴黎圣日耳曼足球俱乐部在成立50周年之际推出全新球衣,根据球队的标志图案重新设计,在疫情造成的全球停滞后,激励球员们重返热爱的绿茵场,为翘首以盼的球迷带来精彩赛事。由于封城期间的影响,雅高心悦界选择制作这幅珍贵的漫画来展示全新客场球衣,作品中也体现出雅高集团最引以为傲的两大品质:团队精神和满怀热忱。通过这幅漫画,我们也希望能激发大家的出行热情,探索雅高全球110个旅行目的地,重燃对旅行的热爱。
The new Paris Saint-Germain jersey, based on an iconic design in time for the historic club's 50th anniversary celebrations, has been long-awaited by fans and is inspiring players to get back to the game they love after an unprecedented break due to Covid-19. Because access to the players was not possible due to lockdown, ALL – Accor Live limitless chose instead to create this premium animated cartoon to show off the new away jersey and the very best elements of our two universes: teamwork and passion. With this cartoon, we also aim to inspire people with positivity and encourage them to reignite their love of travel, through the rediscovery of our 110 destinations.
---
重新点燃你的旅行热情,开启下一个梦想旅程。即日起至 2020 年 10月 31 日,雅高心悦界会员可享专属优惠,最高可达32%的房价优惠:
• 经典卡和银卡会员可享 20% 折扣
• 金卡会员可享 22% 折扣
• 白金卡和钻石卡会员可享 24% 折扣
• 雅高 A 佳会员可享 32% 折扣
Rediscover your passion for travel and explore your next dream destination with ALL. From now until 31st August, 2020, ALL members can enjoy up to 32% off on rooms as per the following tiers for bookings and stays:
• 20% discount for Classic and Silver members
• 22% discount for Gold members
• 24% discount for Platinum and Diamond members
• 32% discount for Accor Plus members
预订酒店请访问网站/Book your next stay:
https://all.accor.cn/zh/promotions/memberdiscount2020