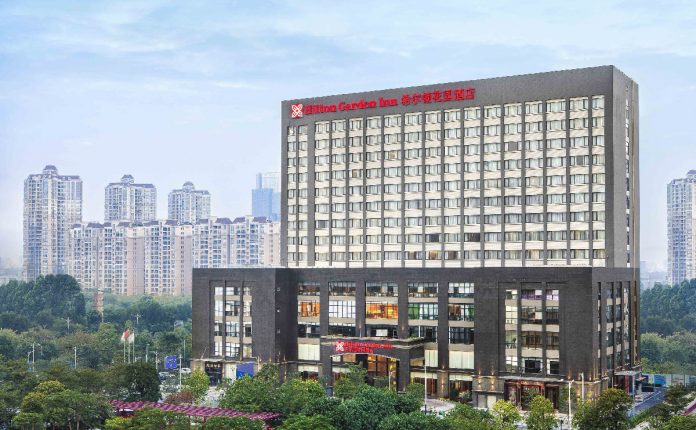 杜爱华, 佛山希尔顿花园酒店

总经理 – Angel Du, General Manager, Hilton Garden Inn, Foshan.
1. 佛山希尔顿花园酒店是希尔顿集团新晋中国品牌,它与其他希尔顿旗下的酒店有何不同?Hilton Garden Inn, Foshan, is a new Chinese brand under the Hilton Group. How is it different from other Hilton hotels?
希尔顿花园酒店是希尔顿酒店管理集团旗下旨在为商旅人士和休闲游客提供优质的专注式服务、先进的设施和适中的价位为核心的高档专注服务型的酒店品牌。希尔顿花园的特色是满足顾客的需求和减少他们不用的服务设施,提供高水平的服务,使顾客真正体验到高性价比的好酒店。酒店的设计和布局更人性化,员工所提供的服务更周全和细致,备受寻求高住宿质量和合理价格的旅客们所推崇,其客户满意度在同类竞争对手中也享有崇高的地位。
Hilton Garden Inn, belonging to Hilton hotel management group, is designed to provide high-quality service, advanced facilities and moderate pricing for guests. In another word, it is a high-end focused service hotel brand. The characteristics of HGI are to meet customer's needs and reduce their unnecessary service facilities by providing a high level of services and enabling customers to truly experience a cost-effective stay. To point out some differences, the design and layout of the hotel is more humane and the service provided by employees is more comprehensive and detailed. All these minor adjustments are highly praised by travellers seeking for a high quality stay while maintaining a reasonable price. HGI's level of guest satisfaction stands at a high status in similar competitors.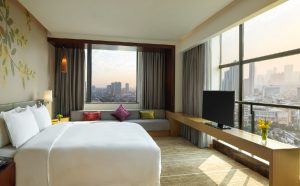 2. 说出客人能从佛山希尔顿花园酒店所期待三个的特色。2. Name three features of Hilton Garden Inn, Foshan, that customers can expect.
最重要的一个特色是性价比高;相信这也是我们在佛山市场上迅速发展起来的重要因素,无论是酒店的设施设备还是我们对员工的知识培训都扎根在客人的需求出发,把资源都投入到客人住店期间的每个时刻。虽然希尔顿花园酒店和希尔顿旗下的全方位服务酒店在人员配置上有一定的区别,但我们衡量服务的标准是统一的是一致的。
One of the most important features is its high-cost performance; we believe this is also an important factor in the rapid development of our market in Foshan. We are dedicated to going above and beyond in every moment of the guests' stay. Whether is from the facilities equipment of the hotel or our team members' knowledge and training, they are rooted in the needs of guests. Although HGI is different from other Hilton full-service brands in its manning structure, the overall service standard measurements are unified.
其次是温馨舒适;希尔顿花园酒店设有全方位服务的餐厅和酒吧,提供现点现做的早餐、晚餐客房服务,以及一个让您可以在忙碌一天之后尽情放松的全套酒吧。从用于缓解压力、锻炼身体的先进健身中心,到提供免费打印和无线上网服务等等,我们可以充分满足您一切所需。
The second feature of the brand will be the warmth and comfort proliferated from not only every corner of the hotel environment but also every heart of our team members. HGI has a full-service restaurant and bar that offers cook-to-order breakfast and in-room dining service. There is a full bar at the lobby that allows you to relax after a busy day. From the advanced fitness centre to relieve pressure and exercise the body to the complimentary printing and wireless internet services, we can fully meet everything a guest needs.
当然对于所有商旅人士对于便捷的要求也是我们的顾客给于我们的积极评价。便捷的配套设施和便利的地理位置,让更多的客人选择我们的同时也非常乐意推荐给他们的朋友和亲人。
Of course, we also have our customers' positive feedbacks on our convenience aspects. This was also the most vital factor for all business travellers. Convenient facilities and geographical location are the two most valued points for guests to choose us and happily recommend us to their friends and relatives.
3. 作为一名从营销背景出身的管理者,你从中如何受益并运用在酒店管理上呢?As a General Manager with a strong background in sales, how can you benefit from this experience and apply it to hotel management?
我个人从事酒店营销工作将近20年,其实在我的职业生涯当中有很多的良师益友,也有各类优秀的竞争对手,他们都在不同的阶段和不同的层面帮助我成就我,带着这种感激和感恩我也希望自己能够培养更多乐于奉献给酒店行业的优秀人才。作为一名管理者更多的是授人以渔而非授人以鱼,所以让带领的团队具有战斗力才是取胜的关键,特别是目前酒店行业人才奇缺,大家都面对高流失率、用工荒等等问题,所以留住人才和培养人才在我的工作中和从市场上获取生意是同等的重要。引用营销的一句名言"没有淡季的市场,只有淡季的思想"这让我更坚信通过培养人才、提高服务质量能有效地稳固酒店的市场占有率、来留住更多的回头客。通过将近一年的实践我们酒店已在市场上取得一定的成绩,酒店团队也拙壮成长起来,也使希尔顿花园酒店的品牌在佛山市场上绽放光彩。
I personally have engaged in the hospitality industry for nearly 20 years. In fact, in my career life, there has been a lot of excellent mentors and all kinds of outstanding competitors who helped me to achieve what I have become today at different phases and levels. With this gratitude, I also hope that I can cultivate more team members into a talented and dedicated person in this industry. As a manager, what is more important is to teach them a way of handling problem instead of just handling a problem itself, so letting the team grow and develop is the most effective way and the key to success, especially at present hotel industry, talented team members are very scarce due to the market's high demand. At the property level, many are faced with the problems of high turnover rates and labour shortage and so on, so retaining talented employees and maintaining good training in my work and getting business from the market are equally important. A famous quote in marketing: " there is no off-season market, only the idea of off-season" has strengthened my mindset that only by improving service quality and stabilising the market share can we retain more repeat customers. Through nearly a year's effort, our hotel has achieved success in many ways. I am glad to see that the hotel team is growing up and the Garden Inn brand is holding more and more market share in Foshan.
4. 目前女性总经理人才辈出、出类拨萃,而希尔顿品牌亦倡导女性领导力。你认为作为一名女性总经理,会对酒店的管理拥有哪些优势或新的见解呢?Currently, there are more and more female GMs anywhere and Hilton advocates such a trend. What advantages or new sights do you think as a female GM would have to contribute to the management of a hotel?
女性领导力已受到越来越多行业的重视,特别是在服务性行业的发展中更凸显了优势。作为一名女总经理对员工的工作发展需求和生活思想动向我会观察更入微;在洽谈业务时我会更能感受不同顾客的要求和目的;在日常管理上我要求更细致严谨,让员工们在工作中成长和学习。对于大部份刚步入社会的年青人,他们是懵懂而不清楚自己的人生方向的,他们需要更有效的引导和帮助,让他们在职业发展的路程上尽可能的避免走歪路,让他们也明白自己潜在的潜力和未来,每天都感受到工作和生活的正能量, 从而通过自身来影响身边的每个人。
Female leadership has been paid more and more attention to, especially in the development of service industry. As a female general manager, I will observe our team member's development and needs in a subtler but detailed way. In negotiating business, I tend to understand more on the requirements and objectives of different customers; In daily management, I require a more careful and rigorous approach to let employees grow and learn from their work. For most young people who enter the society, they are like children who are lost without having a clear direction, they need more effective guidance and helps. I want to approach them and coach them in this way so that they can avoid stumbling and falling while passing through the road of career development. I hope to guide them through and let them understand their potential in themselves and foresee their own future. By doing so, I am sure they would develop a positive energy in work and life every day and in turn to cause a positive effect on everyone around us.
5. 你如何看待精品酒店型酒店在佛山的发展?How do you think of the development of boutique hotels in Foshan?
精品酒店在佛山的发展非常的快速,投资回报率远远高于豪华酒店,这也让投资者们对这种新的投资模式乐此不疲,当然这也证明了精品酒店在市场上的生命力和竞争力。目前在佛山市场上的精品酒店是百花齐放,不论是国内各大知名品牌还是国际一线的酒店管理公司都纷纷驻足于这个毗临广州的热门城市。精品酒店每个品牌都有自己非常鲜明的个性和服务特色,从酒店的产品设计、店内的功能区的分布和各自独特的吸引力都有很大的不同, 所以针对的目标顾客群体也是非常明确的, 这让顾客们根据不同的出行目的,不同的差旅预算等等都有了更多的选择,如果说豪华酒店强调奢华,那么精品酒店就是在强调深刻、精致"文化+物质"的消费体验。佛山希尔顿花园在短时间内提升市场占有率并让顾客接受并推荐这个品牌,其实和大部分精品酒店一样,我们更注重自己的个性/唯一性。
The development of boutique hotels in Foshan is very fast and the return rate of investment is far higher than luxury hotels, which allows investors to enjoy this new investment model. Of course, it also proves the vitality and competitiveness of boutique hotels in the market. At present, the boutique hotels in Foshan market are blossoming. First-line hotel management companies have settled in this popular city next to Guangzhou. They appear from traditional domestic brands to well-known international brands. Each brand of boutique hotel has its own distinctive personality and service characteristics ranging from the hotel product design, the distribution of functional areas to their unique attraction tools. All the above is very clear which gives customers more choices for different travel purposes, different travel budgets and so on. If luxury hotels play on their grandiose WOW experience, then we Hilton Garden Inn Foshan emphasise on improving market share quickly and let customers accept and recommend this brand after their stays by paying more attention to our personality/uniqueness.
DB:我们能从什么渠道了解更多佛山希尔顿花园酒店?Where can we get more information about Hilton Garden Inn, Foshan?
微信公众号 WeChat Account:HGI_FS