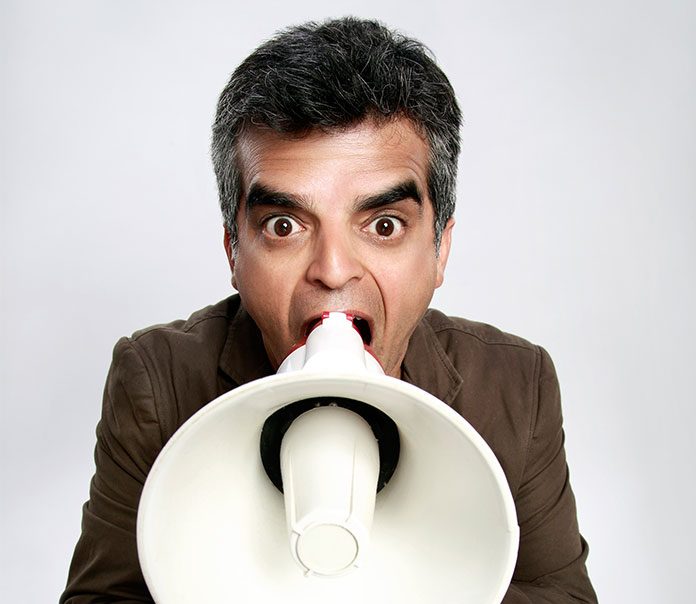 This October, DB had the pleasure of sitting down with Atul Khatri just an hour before his show in London, UK as part of his world tour. He will be performing his first solo gig in Hong Kong on November 17th, after his shows on the 18th quickly sold out. Khatri is the winner of CEOs got Talent and is rated among the top Indian comedians. He claims that although the stand-up comedy scene in India is new, it is here to stay for a long time and very soon it will be all over the world. In today's interview DB finds out more about Khatri's transition from CEO to established stand-up comedian along with some of his thoughts on stand-up comedy, his world tour and his upcoming show in Hong Kong.
DB: In a few words, how would you describe your sense of humour?
Observational, sometimes political and very relatable (according to the feedback I get!) Although I am forty-nine, a lot of my jokes are related to the younger crowd. I have a young fanbase in India starting from fifteen and going up to people in their fifties so there is a large spectrum of people who understand my jokes and relate to them.
DB: You have performed stand-up all over the world. Do you intentionally adapt your material based on where you are performing?
You tend to talk a lot about your experience of the country or city that you are visiting and a lot of my jokes will relate to this experience. I don't tend to do a lot of research, unlike a lot of comedians, but instead I will go there one or two days before and try to pick up some jokes by walking around and observing. I try my best to pick up what the locals find funny and relay it on stage.
DB: You have performed in over 400 comedy shows, but do any come to mind if I were to ask you about the most memorable?
I did a show as part of the competition "CEO's got talent." It was memorable for me because my dad, who was around eighty years of age and my mum at seventy-eight, had never seen my comedy. I invited them to come and watch the show. It was very memorable because it was the first time my parents had seen me perform. Even though they didn't understand a lot of the references in my comedy, they were very happy that I won the award and so that was very memorable for me.
DB: If you were to go back in time to when you were studying for your bachelor's degree in engineering, how do you think the younger version of yourself would react to learn that you are now known for being one of India's top comedians?
I don't think I would ever imagine myself becoming a stand-up comedian! *laughs* You have to understand that stand-up comedy in India is very new. Twenty-five years back when I was studying, there was no concept of English comedy or going up on stage and making people laugh at jokes. It is a new industry in India. So, the younger version of me would be surprised to learn this!
DB: How has the shift from CEO of a computer business to stand-up comedian affected your general attitude to life?
Actually, it has been a big shift. I was a CEO for twenty-five/six years and when you are doing something for that long you become accustomed to an ecosystem made up of your clients, your employees, your business associates etc. In the comedy world, there are more creative people and also much younger people. There are a lot of comedians I work with who are twenty-two/four years old. What I learnt through this change, was to the importance of being humble. When I would go to comedy clubs to request a spot, I had to let go of the baggage that I was a CEO for a company and that I have achieved a lot of things. You have to kill all those egos. The stage is a level playing field – only if you are funny will the audience laugh at you. You could be the CEO of a company or the president of the country but if you're not funny, people won't laugh. A very different skillset is required. Also, while I was a CEO, I was very scared of going on stage and talking, although this is something I have grown to love. Like many people, I had a lot of stage fright. I was not the guy in college who would go up and speak in debates and things like that. I was very scared to go up and talk. So, when I went into stand-up I had to work to kill those demons to go up on stage and perform in front of people I don't know and try to make them laugh.
DB: Is it important to you that comedy pushes boundaries/challenges the status quo?
Yes, it is very important. In India the comedy scene is very easy in the sense there are comedians, like me, who started five years back, but today are reaping the benefits and travelling around the world to perform. There is thus a sense of responsibility which comes to us in terms of trying to convey social messages through comedy. Secondly, you have to realise when you perform in some cities in India, that a lot of the audience are watching comedy for the first time. Even in urban cities like Bombay, Deli or Mumbai, if you go up on stage and ask who has seen a comedy show before, you will be surprised how few people put their hands up. A lot of Indians are very familiar with Bollywood movies or plays – but not stand-up comedy. It therefore becomes a responsibility for comedians to not scare them away. I performed in a small city in India where even if you said the word sex on stage people were shocked. You can't always go straight to edgy humour, but instead you have to go slowly and they will learn along with you.
DB: On the 18th of November you will be performing your first ever solo show in Hong Kong and it has already sold out. How does this feel?
We also now plan to have a third show in Hong Kong! I am very excited because Hong Kong has a very young and dynamic Indian scene. A lot of people are working in the banking and financial sector in Hong Kong and are still connected to India. I'm super excited for the show because it sold out and Hong Kong is a very buzzing city, which I love. The crowd which comes are ready to take in real comedy and the humour which you bring to them.
DB: Where do you hope to be in five years?
I would love to perform in a world-class venue like the Royal Albert Hall and perform to large international audiences!
www.atulkhatri.com
www.facebook.com/hornysindhi
www.instagram.com/one_by_two
www.twitter.com/one_by_two