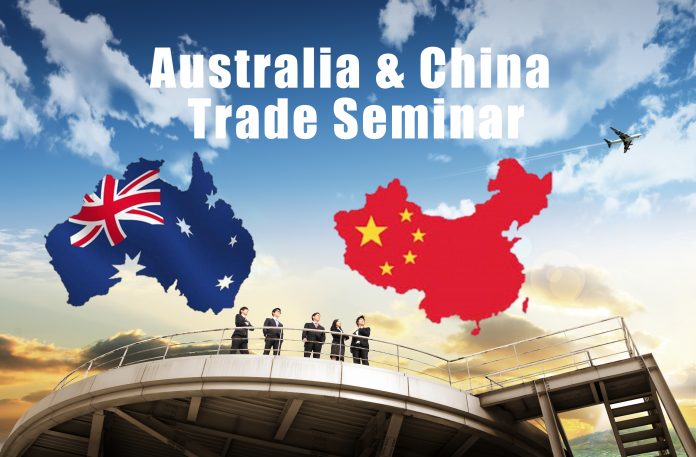 Australia and China Trade Seminar
April 20 @ 3:30 pm – 6:30 pm
Are you wanting to know how trade and investment between Australia and China can benefit you?
Join AustCham South China at our upcoming seminar to learn more about these benefits. This event is also an opportunity to welcome and meet with new Senior Trade Commissioner Paul Sanda, who will be presenting and answering questions in a Q&A session following the seminar. Presenting alongside Paul will be Kevin Shimota from Wechat / Tencent speaking about digital marketing strategies in China and how to best utilise them for your business.
Connect and network with other businesses invested in China-Australia trade and investment afterwards with cocktails and finger food.
Our sponsors Little Treasure, China Southern, the HSBC Guangzhou Branch, Pran Wines, San Miguel, and OZ Wine Club will be showcasing their products, services, and advice on how they can continue to support Australia-China trade relations.
Date : Thursday, 20th April 2017
Time : 15:30 – 18:30
Address : Grand Hyatt Gunagzhou | 12 Zhujiang West Road, Pearl River New City, Tianhe District, Guangzhou 510623
Venue : Salon V-VII
Paul Jaroslav Sanda
Deputy Consul-General, Australian Consulate-General
Guangzhou Senior Trade Commissioner, Austrade Guangzhou
Paul Sanda commenced his posting as Deputy Consul-General and Senior Trade Commissioner at the Australian Consulate-General in Guangzhou in March 2017.
He was previously Manager, Media and Communications, Australian Trade and Investment Commission based in Sydney.
In this role Paul managed a team responsible for coordinating Austrade's corporate communications requirements and engagement with media. The team also works to enhance Austrade's reputation and minimise reputational risk.
Paul served four years from 2008 to 2013 as Counsellor (Commercial) and Senior Trade Commissioner at the Australian Embassy in Warsaw, Poland.
Paul has previously completed two postings in China, as Consul (Commercial) in Shanghai from 1998 to 2003 and Counsellor (Commercial) in Beijing from 2003 to 2008.
Mr Shimota's biography
Kevin hails from Seattle, USA and graduated from the University of Washington. After working at Boeing for three years in international supplier management, he acquired his Masters in Business Administration in Shanghai, China. Since 2015, he has been supporting WeChat's global marketing and partnership efforts. He believes technology will be integral to finding innovative, sustainable solutions to many of today's greatest challenges.
To register please email AustCham South China at rsvp@austcham-southchina.org  or call +86 20 2237 2866 with following information provided:
– English full name
– Company name
– Mobile number