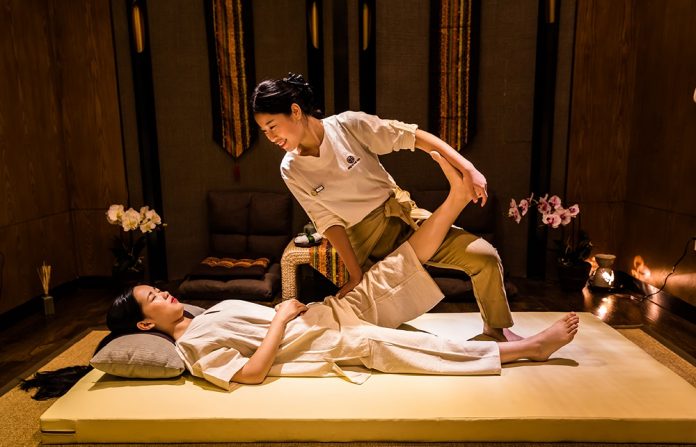 一到下班,就忍不住大呼:"OMG!腰酸背痛,渾身的勁使不上了……"
一到冬天,遇到那寒風冷雨就想開啟冬眠模式,裹著被子也沒有出門的動力…….
Do you have backaches after working for a long time? Or lack strength when it is cold and rainy outside and just want to sleep?
其實珠海有這麼一個去處——閨蜜泰療!去了那裡的人都說:"就算不用脈動,仍然動力十足。充電不足30分鐘,也夠勁一星期。"
Then it is worth visiting this wonderful place in Zhuhai – Great Me Thai Therapy! People who have gone to Great Me Thai Therapy say it brings them back to full energy!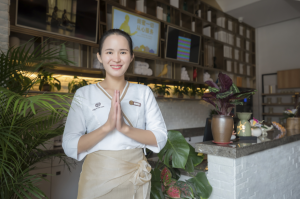 在團購平臺上,廣大消費者是這樣評價這家店的。
Comments from consumers on online shopping platform.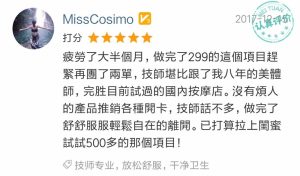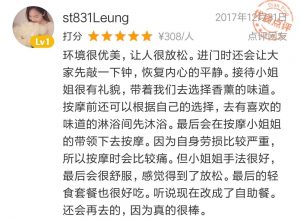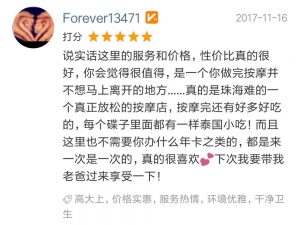 閨蜜泰療是珠海的首家泰式理療,位於珠海香洲區吉大景山路東大商業中心,到現在已經成立了兩周年。
Located in the East Business Center of Jida Jingshan Road, Xiangzhou area, Zhuhai, Great Me Thai Therapy is the first Thai Therapy in Zhuhai and it has been open for two years.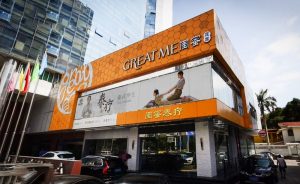 一樓擺放著一座泰國古董鑼,聽鑼聲快慢與高低可辨敲者心情好壞,人一舉鑼錘敲三下還可祈福求得好運。
There is an antique Thai gong on the first floor. The way people beat the gong indicates their mood, and they will receive good luck when they beat the gong three times.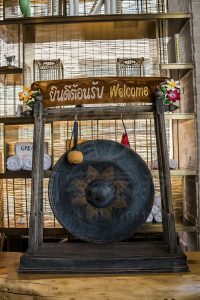 地上鋪著地毯,走路不會發出什麽聲音,交談也是輕聲細語,縈繞耳邊的是那柔軟舒雅的音樂,鼻尖輕輕一嗅的是檸檬香茅和薑黃等泰草藥混合的清新香味。
The floor is carpeted so that people don't make any noise when walking through the room. The quiet environment, peaceful and elegant music, and fresh fragrance enable people to relax.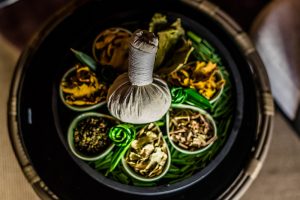 走上二樓,又是一番別致景色。竹簾擋住了外界迫切闖入的陽光和無處不在的車水馬龍,頂上的紗幔又增添了一種浪漫又神秘的情調,這是在珠海嗎?不禁這樣問自己,在這裡每小走一步,自己的心跳聲似乎清晰可見。
Go up to the second floor and you will see the unique scenery. Bamboo curtains blocks the sun and protects you from the chaos of the outside world. Veils over your head create a romantic and mysterious atmosphere. You cannot help but suspect that you are not in Zhuhai!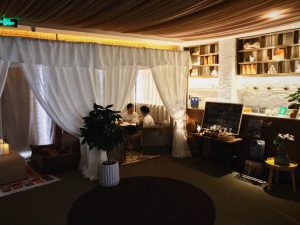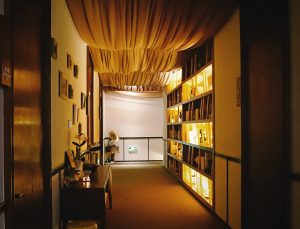 暖色調的燈光,把冬日裡的冷冽忘卻在門口;溫和恰當的照明,讓每日追求精緻妝容的你想素顏到底;多種舒適的特色座椅,任你擇一喜處正式開始這場泰式的身心之旅。
Warm-colored light drives away the winter coldness; gently lighting your whole body. You may feel no need to wear makeup anymore. A variety of comfortable seats are available for you. Come and enjoy Thai Therapy!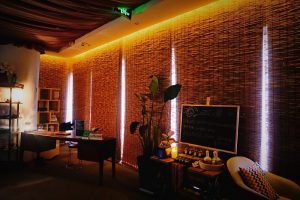 泰式按摩被稱為"被動瑜伽"和"雙向瑜伽",因為理療師會運用他們的雙手、雙臂、兩腳及全身重量,隨著體驗者的呼吸節奏,來伸展和拉伸體驗者的身體。在這過程中,全身極為放鬆,大腦隨著放空,一顆心安放,閉著眼睛仿佛進入了冥想。
Thai massage is called "passive yoga" and "two-way yoga", because the therapists will use their hands, arms, feet and body weight, accompanied by the breathing rhythm of the guests, to stretch their body. During the massage, the guests will be extremely relaxed as their body, mind and soul are liberated.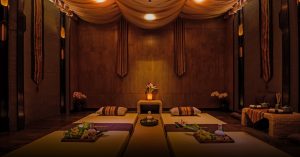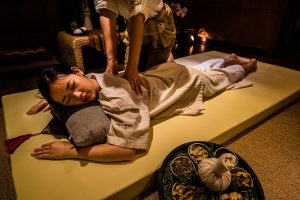 正宗的泰式按摩是他們最大的特色,閨蜜泰療的創始人爲了保證原汁原味,服務團隊全由泰國專業老師手把手教成。即使是已學成的資深成員,每日也要繼續訓練進而提升按摩手法。
Great Me Thai Therapy is characterised by its Thai massage, which is learned from professional teachers in Thailand. Even the skilled therapists need to keep training in order to improve their massage techniques.
現在他們推出了新套餐[傳統蕉葉草藥療法],還有嘗鮮的專屬優惠:
購買【傳統蕉葉草藥療法】即贈送【泰療泡浴濕蒸】
活動時間:2018/1/19-2018/1/31
Now they have launched a new package,[Traditional Banana Leaf and Herbal therapy], along with the exclusive preferential:
Buying the new package [Traditional Banana Leaf and Herbal therapy], and you get a free Thai steam and Hydrotherapy.
Time:2018/1/19-2018/1/31
傳統蕉葉草藥療法介紹:
¥328
總時長45分鐘:正面泰式掌壓15分鐘(蕉葉包裹)+背部泰式掌壓和頭部按摩20分鐘(蕉葉包裹)+泰式拉伸10分鐘
1、沿用了傳統泰式療法,有助於消除水腫、緩解肌肉及關節疼痛,還可幫助體驗者將毒素排出體外。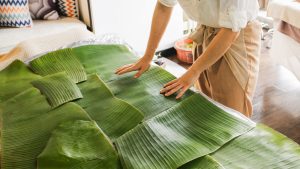 2、通過汗蒸毯將蕉葉上的泰草藥和蕉葉加熱到一定溫度,當你躺在蕉葉上時,熱度幫你打開身體毛孔、排汗排毒並進一步提升泰草藥的功效,舒緩肌肉疼痛。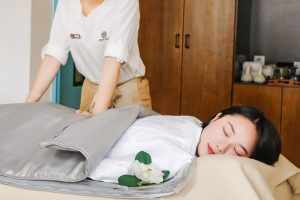 3、最後以泰式拉伸結束,增強身體的柔軟度和靈活性。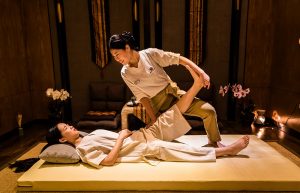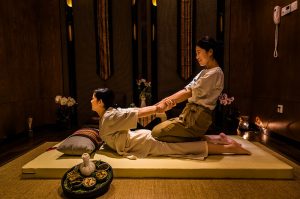 Introduction to Traditional Banana Leaf and Herbal therapy:
¥328
Total Treatment Time: 45 minutes. Thai palms are pressed on the front of the body for 15 minutes (wrapped with banana leaf) + Thai palm press on the back and head massage for 20 minutes (wrapped with banana leaf) + Thai stretch for 10 minutes
1, The traditional Thai therapy helps to eliminate swelling, relieve muscles and reduces pain, as well as helping to excrete toxins from the body.
2, Banana leaf and Thai herbs are heated by the steam to a certain temperature, so when you're lying on the banana leaf, every cell of your body will be activated and thus further excrete toxins and relieve muscle pain.
3, The therapy ends with the Thai stretch, which enhances the flexibility of the body.
泰療濕蒸泡浴介紹:
¥98
總時長60分鐘:45分鐘的泰式濕蒸泡浴Thai steam and Hydrotherapy
+15分鐘的泰草藥磨砂體膜Thai Herbal scrub and body mask
1、濕蒸採用的是泰草藥濕蒸。溫暖水汽先慢慢舒張身體上的毛孔,之後泰草藥隨著水汽消除你一身的寒冷與疲憊。
2、在水力按摩池泡浴時,會有往上至下,從左到右,帶著恰好力道的水按壓在身上。你可歡喜水的溫柔與歡快,還可享受溫泉按摩的舒適。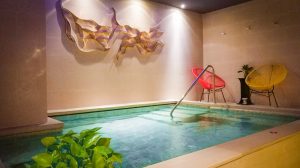 3、泰草藥磨砂體膜散發著一股清新怡然的香味,當輕柔去除身體的角質後,還可滋潤你的皮膚,使之變得光滑柔嫩。
Introduction to Thai steam and Hydrotherapy:
¥98
Total treatment time: 60 minutes. Thai steam and Hydrotherapy for 45 minutes+Thai Herbal scrub and body mask for 15 minutes.
1, Thai herbs are the major ingredients for Thai steam. Warm water slowly relaxes the body and eliminates all of your coldness and tiredness.
2, During the Hydrotherapy, your body will be pressed by water from all directions. You can enjoy both a comfortable bath and the spa massage.
3, With the fresh and pleasant fragrance, Thai herbal scrub and body mask helps to remove rough skin, moisturizing and smoothing your skin.
項目結束後,還可放開享受來自泰國的輕食自助餐,玫瑰花茶、香茅茶、蝶豆花茶、洛神花茶、甜菊茶、木橘茶、藍米酥、香米酥、香蕉聖石、班蘭葉包雞、泰式魚餅……讓胃也舒服而滿足地讚歎吧!
After the treatment is finished, you can also enjoy the Delight Spa Cuisine, which provides you with rose tea, lemongrass tea, pea flowers tea, roselle tea, stevia tea, baelfruit tea, blue rice crisp, jasmine rice crisp, banana stone, panda leaf chicken, Thai fish cake etc.
還要多說一句,結束後務必請多喝水,以補充身體水分和幫助身體順暢循環。
By the way, please drink plenty of water after the end of treatment so that body will retain moisture and function normally.
珠海是一個讓人很舒服的城市,晚上你可以獨自或者約上一人,沿著海邊的情侶路騎車散步、談天說地、聽那海潮起潮落、胡亂在沙灘上留下一個個深淺的腳印。即使鞋子裡進了沙子,也無所謂,就著沙子笑著再多轉幾圈,沒有人催你快點快點。
Zhuhai is a very comfortable city. In the evening, you can either walk alone or with friends on the romantic road, listen to the ebb and flow of the tide, talk and laugh. No one will push you to go ahead and you are free to enjoy your journey.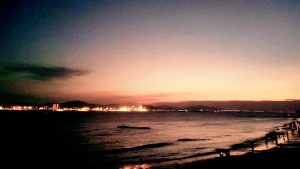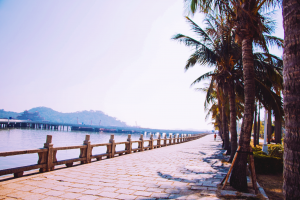 白天也不紛紛擾擾。行人不會走路快如風,目不斜視,公路就是公路,哪曾無奈變成停車場。一個或一群行人在無設置紅綠燈的斑馬線走過時,一邊的公交車和私家車在熄火禮讓。
It is also peaceful during the day. Everything just functions well; pedestrians walk with no rush on the road, and the highway never becomes the parking lot like in other cities. When pedestrians cross the road, which doesn't have traffic lights, the buses and cars stop moving and let them pass.
珠海就是這樣一個令人舒服的城市,一個令人去了還想再去的城市。而這家店——閨蜜泰療,就在珠海等你!
Zhuhai is such a comfortable city, which deserves to have you go again and again. And Great Me Thai Therapy is here waiting for you!
閨蜜泰療,珠海首家泰式理療
營業時間:週一至週四11:00-23:00,週五至週日11:00-24:00
人均消費:¥198
聯繫電話:0756-3222036
店鋪地址:珠海香洲區吉大景山路92號東大商業中心
Great Me Thai Therapy, First Thai Therapy in Zhuhai
Business hours: Monday-Thursday 11:00-23:00, Friday-Sunday 11:00-24:00
Per capita consumption: ¥198
Contact number: 0756-3222036
Address: East Business Center of Jida Jingshan Road, Xiangzhou area, Zhuhai
更多信息请前往Great Me Thai Therapy Facebook 账号或添加微信公众号
For more information,please go to the Facebook account of Great Me Thai Therapy or add Wechat