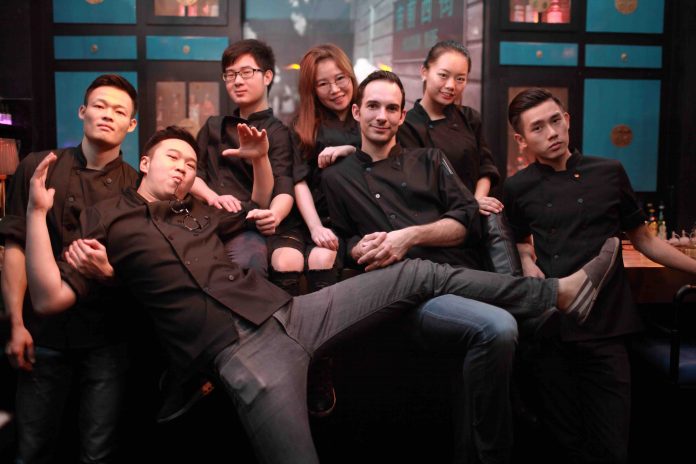 Bastien Ciocca & Andrew Ho – 广州庙前冰室合伙人 – Co-owners, Hope & Sesame, Guangzhou.
DB:你从什么时候开始有了开 '庙前冰室' 的想法?它的理念是什么?When did you come up with the idea of opening 'Hope and Sesame' and what is the concept?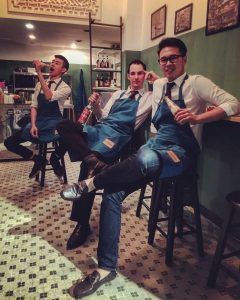 我们那时参观了广州一间独特的房子,它是以前军事驻地的旧址。这里幽芜的环境让我们有了想开一间隐秘酒吧的想法。我们重新改造了所选的本地中式甜品馆,然后'庙前冰室'就这样诞生了。我们想开这么一间酒吧是因为我们认为广州本土需要有一间纯正的鸡尾酒酒吧。广州人对鸡尾酒和美食都有相当高的欣赏水平,并且对它们有理想的标准。然而,在鸡尾酒领域,这里并没有特别多好的选择。我们执着于打造一个别样的酒吧,选择优质的原料,提供上乘的鸡尾酒。
We visited a house in a unique area of Guangzhou, the old rich military area. This location was very quiet and deserted at night that the idea came to hide a bar within it. We recreated a local Chinese dessert restaurant and 'Hope and Sesame' was born! We opened a cocktail bar because we identified that there was a need for good cocktails in Guangzhou. People of Guangzhou are really sophisticated in terms of cocktail and food knowledge and they have high standards and know what is good. However, there are few good options available to them in Guangzhou. We are a progressive cocktail bar serving tons of homemade concoctions which highlights local ingredients.
DB:听闻你曾在学院酒吧进修学习你的调酒技术 ,在那里有发生过什么有趣的故事吗?News has it that you learned your cocktail-making skills at Le Berceau des Sens, is there any interesting story to share during your learning?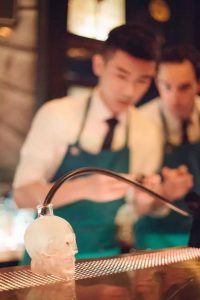 我当时在Rodolphe Sorel的指导下接受调酒训练,他在调酒领域十分有才,曾是英国的一位调酒冠军。我随后亦担任了两年的瑞士调酒协会副主席并有机会游历各地,会见调酒业的各色人物。
I was trained by Rodolphe Sorel, he has been the UK bartender champion in the past and a very talented bartender. I was vice president of the Swiss bartender association (SBU) during two years and had the chance to travel and meet many people from the industry.
DB:作为一名鸡尾酒特调师和爱好者,你一定去过世上不少的酒吧汲取灵感,能谈谈你最喜欢的是哪间?为什么?As a cocktail maker and lover, you must have visited many different bars across the world, which is your favorite one and why?
我一直欣赏伦敦的这间White Lyan酒吧。他们从来不用易变质的调料,甚至不需要冰去制作鸡尾酒。而苏黎世Kronenhall的Peter Roht是位常年驻守于此的出色调酒师,将这里点缀得非同一般。
I have been very impressed by White Lyan, in London, where they don't use any perishable ingredients, not even ice to make cocktails, the Kronenhall in Zurich with the amazing Peter Roht and his uncountable years working in the superb place.
DB:'庙前冰室'与其他小酒馆不同,尤其表现在装潢和地理位置上,这是为什么呢?Hope and Sesame are different from other regular speakeasies in terms of its decoration and location, why is that?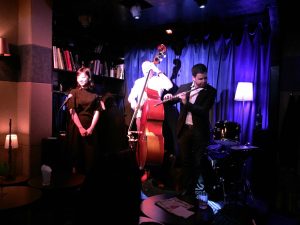 庙前冰室是一家位于东山口的现代前卫的地下酒吧,主打鸡尾酒。选址前身是广州的军事驻地,曾为达官贵人居住的地方。这里有丰厚的文化,而我们想开一间与周围环境相融的酒吧,所以我们决定将酒吧建在一个中式咖啡厅里,装潢充满着现代中式的气息。夜晚,透过这扇隐形的芝麻之门,顾客可一享迷人的现场爵士乐。
Hope & Sesame is a modern speakeasy cocktail bar located in the quaint neighborhood of DongshanKou, which used to be the military stronghold of Guangzhou and where the rich and power lived. It has a rich culture and we wanted to open a bar which suits our neighborhood, hence a cocktail bar hidden inside a Chinese cafe which blends into its surroundings. The decoration inside the bar is modern Chinese with another hidden door leading to a secret jazz room where we have live jazz music nightly.
DB:'庙前冰室'最出名的莫过于其鸡尾酒了,如果让你推荐一位性感的女士喝上一杯鸡尾酒,你会为她准备什么?为什么选择它?We know Hope & Sesame can make nothing but fabulous cocktail drinks. If you are to recommend a drink for a sexy lady, what would it be and why?
如果真的要我推荐一款鸡尾酒给一位性感的女士,我想我会介绍她喝"红橙"。这款酒是用花香十足的西班牙金酒、红橙酒、菊芋酒、橙酒和柚汁调成。我们着重介绍了调酒的原料,想以此为顾客减轻每次"不知选什么酒"的窘境和压力。
If I were to recommend a drink for a sexy lady, it would definitely be one of our more delicious cocktails consisting of a very fragrant and floral Spanish gin, blood orange, artichoke liqueur, orange liqueur and lime juice. This drink is simply called "Blood Orange" where we really want to highlight the main ingredient we use and simplify the whole "cocktail-choosing" dilemma for many customers.
DB:我们能从什么渠道了解更多'庙前冰室'?Where can we get more information about Hope & Sesame?