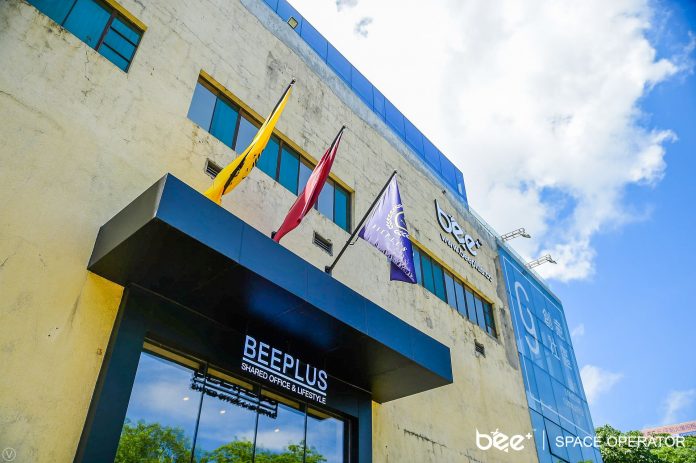 2017年8月12日,周六下午2点,Bee+在深圳举行了盛大的开幕仪式,庆祝Bee+办公空间正式进军深圳。创立于2015年9月,Bee+致力于在珠三角地区创立联合办公空间。Bee+的发展非常迅速,继在珠海和广州办公空间创建仅一年后,Bee+深圳办公空间也正式投入运营。办公室生活总是千篇一律的,但Bee+希望打破这种传统,创建一个实用的、舒适的、能促进大家交流、令人愉悦的办公空间。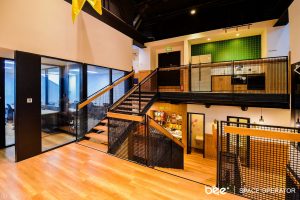 At 2pm on Saturday the 12th of August 2017, Beeplus hosted an opening ceremony in Shenzhen to promote the latest addition to their co-office venues. Founded in September 2015, Beeplus specialises in creating co-working spaces across the Pearl River Delta. It is a fast growing company, and as well as Zhuhai and Guangzhou, Shenzhen marks their third venue opening in only one year. Often there is monotony seen in office life, but Beeplus wish to break this stereotype by creating a workspace that is not only practical, but social, comfortable, and aesthetically pleasing.
开幕式举办得非常成功,有超过1000个来宾参与了这次活动。来宾数字远超于Bee+一开始预估的800人。Bee+空间运营管理单元总裁袁绵表示:"非常开心今天各位来宾的到来。有超过30家的媒体朋友亲临我们开幕式现场进行报道,其中包括我们最常用的社交媒体——微信!"
The opening event was a clear success, it had over 1000 attendees throughout the day, a number that exceeded Beeplus estimate of 800 guests. Beeplus associate Lotus Main stated: "We are very pleased with the turn-out today. There has been over 30+ guests purely doing media coverage, including the social networking platform WeChat!"
这座由工厂翻新而成的联合办公空间,它的一楼用作休息室简直是明智的选择:所有员工聚集在这宽敞舒适的公共休息空间,肯定会让这里变得温馨。显然,许多来宾都被Bee+的内部设计所吸引。来自意特斯的Sean Davis说道:"我觉得这个办公空间的设计极具创新意识。这种比以往更便民友好的设施,肯定能让人们更高效率地工作。"
联合办公空间的大堂摆放了舒服的沙发,提供了各式各样的食物和饮品;还有一个迷你吧台,提供Bee+专属的啤酒!Bee+合伙人戴健进这样解释道:"我们希望提供这样一个休息室,希望大家可以工作之余进行一定的社交。通过与不同背景的人相互交流,相互了解、资源共享。"
The ground floor of the now renovated factory is an excellent choice for a co-office space: a huge lobby serves as a communal lounge for all employees, which makes the venue warm and inviting. It is clear to see that visitors were fascinated with the Beeplus had to offer, guest Sean Davis from ITTIZ said: "I think the design aspect of this space focuses on an element of creativity. This is absolutely beneficial for the people working here as it is friendlier way to work than previous corporate infrastructures". The lobby offers an abundance of comfy sofas, food and drink, and even a mini bar with craft beers exclusively created for Beeplus! David Dai, co-founder of Beeplus, has this to say about the venue: "We hope the people can work and socialise in the lobby area, and interact with people from diverse backgrounds in order to exchange resources as well as good conversation"
Bee+想要打造一个商业与社交融合的公共环境,像它的愿景一样:"把生活带到工作的地方"。当被问到周六活动的成功举办,以及对Bee+公司整体的一些看法,创始人贾凡是这么说的:"今天对我们来说是特别的一天。从我五年前开始创业的那天起,要在深圳开创一片领域是我一直的目标。我们计划要在中国华南地区开更多的联合办公空间。未来几年的话,我们希望能够把我们联合办公的想法带到国外去!"
It is evident that the company aim to create an environment where business and socialising come together, and this philosophy is upheld in their motto "Bringing life to the workplace". When discussing the success of Saturday's event and the company as a whole, CEO of Beeplus Robert Jia said this: "Today is a very special day for us. Since I started my business five years ago, it has always been important to me to open a venue in Shenzhen. We plan to open more venues across Southern China. As for future years, we would love to introduce our co-office space ideas overseas!"
开幕式当天下午,Bee+提供了各式各样的蛋糕、水果以及啤酒等给各位客人。还有一群非洲鼓手们为现场营造气氛,现场也用着Bee+代表色——黄色、黑色的气球装饰着。这个联合办公空间既是一个办公场合,也是一个社交的好地方。
总的来说,无论是现场的来宾反应来看,还是当天活动的气氛,Bee+深圳办公空间的开幕式取得圆满成功!
Throughout the afternoon, guests were offered cakes, fruits and free craft beer from the bar. There was also a group of African drummers which brought an exciting atmosphere to the office space, and the place was decorated with yellow and black balloons as a nod to the origin of the company name – their office space is a social hive for all guests to enjoy themselves whilst they work together. Overall, both the capacity of guests and the positive energy in the room made the Shenzhen venue opening an undeniable success!