在5月20日这个特殊的日子,一场以"520·喜来约定"为主题的婚礼派对艺术活动在广州南沙越秀喜来登酒店成功举办。活动以2019年度潮流颜色珊瑚橘作为主题颜色,分别在酒店户外草坪、"雅"日韩餐厅、19楼空中花园及总统套房举办一系列主题活动。作为广州南沙的国际星级酒店品牌,广州南沙越秀喜来登酒店通过此次活动,为都市宾客呈现了酒店的多样玩法,实为求婚、订婚、结婚及各式派对举办场地的上乘之选。
On the very special day of 20th May, the "Beyond Happiness" Wedding Art Party, a theme event aims to promote happiness and joy was held at Sheraton Guangzhou Nansha Hotel. The colour of the year 2019 Pantone16-1546 Living Coral was selected as the theme colour of the party, elegant setup with beautiful decoration at outdoor lawn, Miyabi Japanese Restaurant, 19th floor outdoor garden and presidential Suite. It is a successful presentation in promoting this international star hotel as a fantastic place for the moment of propose, engagement, wedding ceremony and birthday party.
---
户外草坪下午茶
Theme Afternoon Tea at Outdoor Lawn
"见证婚礼奇迹",第一站,在面积达600平方米的户外草坪举办了珊瑚橘主题下午茶。伴着乐音美食,点点暖阳洒下,宾客们共同见证、祝福这场具有浪漫情怀的草坪户外婚礼。
"A Wedding Miracle". The first station of the party was the Living Coral Theme Afternoon Tea at outdoor lawn. All invited guests can enjoy exclusive assorted canapé and drinks, and much fun awaits while witnessing the outdoor wedding ceremony.
---
"雅"日韩餐厅特色晚宴
Special Dinner at "Miyabi" Japanese Restaurant
"爱上幸福的滋味",第二站,宾客在位于酒店一楼的"雅"日韩餐厅享用特色晚宴。精选应季河鳗使用不同的烹饪方法呈现不同的日式料理;以及选用南沙当地特色黑珍猪烹制美味,给宾客带来新鲜独特的味蕾体验。
"For the Love of Food". Food, one of the most important element of the event. Invited guests were treated to a tailored made menu specially prepared by the hotel culinary team. Besides the eel selections, the chef also used Nansha local black pork to cook in different ways to bring a brand-new dining experience for the guests.
---
19楼空中花园鸡尾酒会
Cocktail Party on 19th Floor Outdoor Garden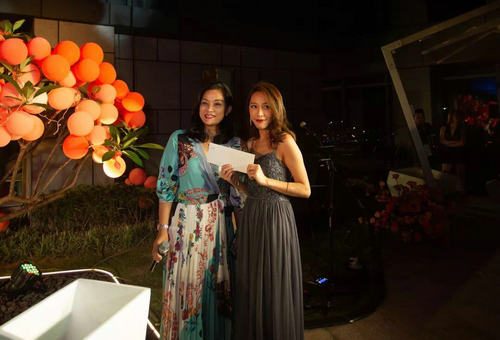 无论您心中所憧憬说出"我愿意"的一刻是哪一种浪漫,广州南沙越秀喜来登酒店为您成真。第三站,19楼户外空中花园鸡尾酒会,繁星点点的夜空注定这是一个曼妙的夜,洁白的月光下,醉人的音乐与美食美饮为这充满惊喜的夜更添一分色彩。
"A setting for All Season". No matter what romantic ambiance you wish to create the perfect backdrop for saying "I do"! Sheraton Guangzhou Nansha Hotel has the take to make it happen. The outdoor garden is located on 19th floor, with the panoramic view of Nansha and Jiaomen river. During the cocktail party, guests enjoyed a range of drinks and light bites along with the tune of live music.
---
总统套房生日派对
Birthday Party at Presidential Suite
永志难忘的一天,一起走过的每一天都值得被记住。活动当晚最后一站在酒店的总统套房举办了小红书博主的生日会。时尚精致的布置,男主角推出珊瑚橘优雅精致的生日蛋糕,许下心愿后与朋友们一起切生日蛋糕、开香槟,共同庆贺这充满爱与欢乐的独特一刻。
"A Day to Remember". For the last station of the party, a memorable birthday party for blogger Xiaohongshu was arranged at the presidential suite. Her Mr. Right appeared with a decorated trolley on which sits an elegant cake, the birthday girl then made a wish. What a cheerful celebration filled with excitement and joy.
---
广州南沙越秀喜来登酒店
Sheraton Guangzhou Nansha Hotel
活动套餐咨询
Event Package Inquiry
广州市南沙区海滨路海西街79-80号
No. 79-80 Haixi Street, Haibin Road, Nansha District, Guangzhou
Tel: +8620-3900 2288 ext.6607
Email: Juvia.yan@sheratonhotels.com