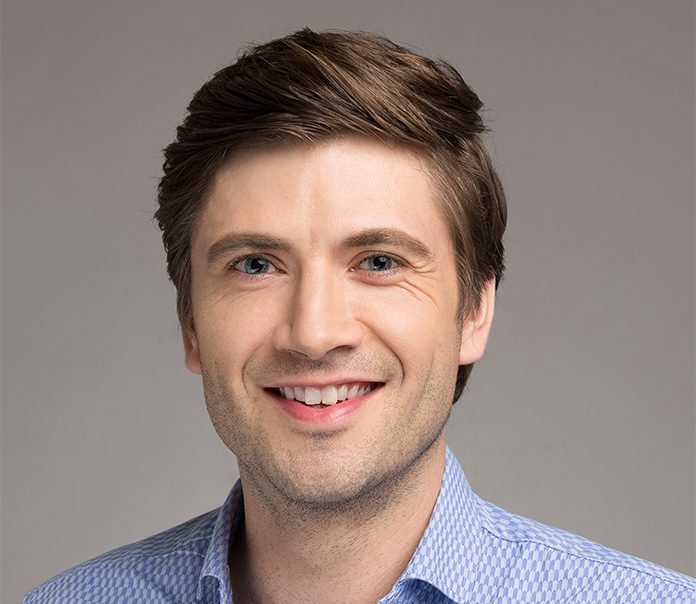 Bram van Ooijen在2013年创立了Cycle Canton,为大家提供自行车导游服务,带领大家挖掘广州不为人知的美丽。
Bram van Ooijen founded Cycle Canton in 2013, it is a bicycle tour guide service in Guangzhou with special attention to uncovering beauty in the city and its people.
DB: 首先,请问您为什么选择广州,还有您已经在中国多久了?
Firstly, please can you tell us why you have chosen Guangzhou, and a little bit about how long you have been in China?
我已经在广州工作了7年,之前去过了中国很多其他的省会。我喜欢广州这座城市是因为它不仅很古老,同时也很年轻。 广州一直在中国近代历史上占有重要地位。这里是对西方最开放的,自由的地方,所有的革命几乎都在这里开始. 对于旧城,依旧保持着原有的风味,新城也同样壮观。
I have been in Guangzhou for 7 years, and before that I travelled to pretty much every other provincial capital in China. I love this city for the reason that is it has the balance of both being very old and very new. Guangzhou has always had a significant place in modern Chinese history. It has been the most open to the West and liberal, all the revolutions have started here. As for the old city they have kept it rather intact a lot of the history is still here yet the new town is equally as spectacular.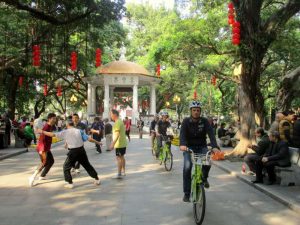 DB: 请问您为什么决定启动Cycle Canton,你们还提供了什么旅游?Why did you decide to start up Cycle Canton and what tours do you offer? 
当我刚来到这座城市的时候,我做的第一件事就是买一辆自行车。因为我来自荷兰,在闲暇的时候就是在骑自行车。我在城里的一些地方开启我的骑车之旅,即便会经常迷路,但在那个过程中,我发现了许多美丽有趣的地方。
因为我有这些很酷的经历,朋友们开始加入我的行列,所以在某种程度上,我们也认为必须和其他人分享我们对这种美的事物的热情。我们的目标包括:那些认为这个城市没有什么特点的外国人,在网上找不到任何东西的商人或者游客,现在已有相当多的当地人来欣赏属于这个城市不一样的美。
我们每天提供一次旅游,从古老的地方到年轻的珠江新城中心。我们偶尔会经营另外六次旅行,主要是想鼓励更多的客人来,以便我们可以更频繁地运营特别的旅游。
其中包括乡间的路线、艺术之旅、历史之旅、步行美食之旅和报名参加公司的寻宝游戏,每个人分开相互比赛竞争。这是一个同事们间有趣的户外团队建设活动,有助于体现出每个人最好的一面!
When I arrived the first thing I did was buy a bicycle as I'm from Holland and that is what we do! In my free time I explored parts of town, often becoming extremely lost but, in that process I discovered lots of beautiful and interesting places. Friends began to join me riding because I had all these cool stories, so at some point we thought we had to share our passion for this beautiful city with others. We aim to include everyone: expats who think that the city is nothing special, business people and tourists who look online and can't find anything, and now even quite a few locals come and see the city in a very different light.
We offer one tour everyday which takes us from the old parts to the new pearl river city centre. We have developed another six tours which run occasionally, we want to encourage more guests to come so that we may run our special tours more frequently.
They include countryside routes; an art tour; a history tour; a walking food tour and a scavenger hunt for companies to sign up to in which, they split up and compete against each other. It is a fun outdoor team building activity for colleagues to do, it brings out the best in people!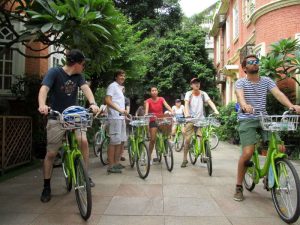 DB: 在旅行中分享着自己所喜爱的城市,请问您觉得最有价值的部分是什么?
What is the most rewarding part of sharing a city you love on the tours?
可以看到客人度过一个愉快的时光,并与当地人相处得十分融洽,获得的特别的友谊。一版顾客都是单独或与一些人一起报名,但在旅游结束时,我们都坐在酒吧聊天,就好像我们已经多年的朋友,我想它这是一个非常有价值的经验。
当我们到达人民公园时,一个来自巴拿马的客人脱颖而出,带来了自己的音乐。我们从演讲者那里听到了这种音乐,就开始和当地人一起跳拉丁舞,简直太棒了!
作为导游,就个人而言,我们还可以停下来会见当地的人,并向他们介绍我的顾客。 例如,功夫大师,潮流市场的卖家,人民公园的常客。 我们还能认识了很多不同的人 : 学生,首席执行官,奥运金牌得主。 这是一个很庞大的群体。
To see the guests have a good time, and mingling with the locals. The friendships you gain are special. Guests sign up alone or with a few people as individuals, yet by the end of the tour we are all sitting at the bar chatting as if we have been friends for years, so it becomes a very enriching experience.
One that stands out for me is when guests from Panama brought their own music. When we arrived in People's Park we had this music from a speaker and started dancing with the locals to Latin music, just fantastic!
Personally, as guides we get to meet our local family along the way as we have stops to introduce our guests to them. For example, a Kung Fu master, sellers at the wet market, and regulars in People's Park. We get to meet so many different people- students, CEO's, Olympic gold medal winners. It's a great mixed crowd.
DB: 请问您最为推荐给人们的3个景点是什么?
What are your top 3 spots to show people?
第一当属人民公园,广州最古老的公园,有101年的历史。 有当地人跳舞,唱歌,练太极,还有美丽的树木。在那里, 可以轻松愉快地度过半天,只需要和那里的人玩游戏。 其次是围绕在附近的古老的小村庄,大约100年前,中国人从国外回来时,他们为自己建造了漂亮的砖砌别墅。 最后,珠江新城中心公园花城广场。 在那里你可以欣赏到城市的新建筑,歌剧院,博物馆和图书馆。还有,最棒的事情是,在我们旅程中,我们将游览这三处景点!
Top choice, People's Park, the oldest park in Guangzhou at 101 years old. It has local people dancing, singing, practicing tai chi as well as having beautiful trees. I could spend half a day there easily, just playing games with people there. Secondly, the old small villages which are dotted around. When Chinese people came back from overseas about 100 years ago, they made beautiful brick villas for themselves. Finally, Huacheng Plaza, the Central Park of Pearl River New Town. There you can look over the city's new architecture, the opera house, the museum and library. And the best thing… is we visit all three of them on our tour!
DB: 请问您如何看待明年Cycle Canton的发展?
How may we see Cycle Canton grow in the next year?
我们将在乡村和步行美食之旅中做更多的特别的旅游。今年在广州举行的"财富"全球论坛期间,我们也期待着接待一些特邀嘉宾。
We will do more of our special tours, in the countryside and the walking food tour. We are also looking forward to hosting some special guests during the Fortune Global Forum, held in Guangzhou this year.
官方网站 Website: www.cyclecanton.com
微信公众号 WeChat Account: CycleCanton
脸书 Facebook: www.facebook.com/cyclecanton