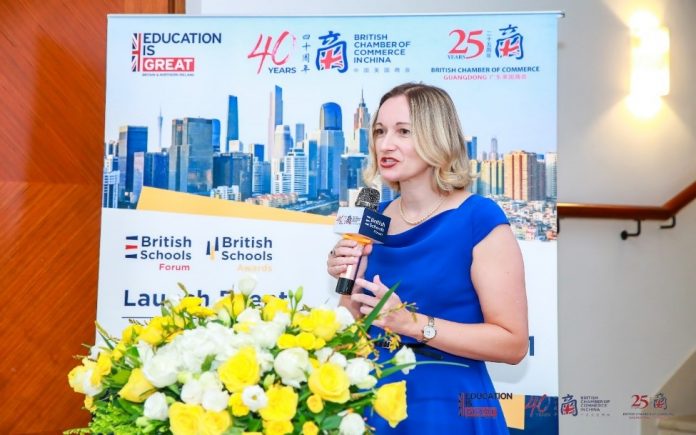 Recently at the British Consul-General's Residence in Guangzhou, Consul General Jo Hawley and the British Chamber of Commerce in China have launched the British Schools Awards 2021 hosted by Jo Hawley, British Consul-General in Guangzhou, Julian Fisher, BCCC Education Chair and Steve Allen, BCCG Education Chair.
The British Schools Awards aims to recognise and celebrate the high quality British K-12 education in mainland China. The awards ceremony will take place later this year on 5th and 6th November as part of the British Schools Forum, a two-day event connecting over 70 schools and 140 Heads and Deputy Heads from across China. The Awards and the Forum hope to bring together and build upon the existing networks and connections to create a prosperous and dynamic future for the British schools' community in China.
The launch was held in Guangzhou, situated in a province that is home to a dynamic education landscape where British schools have been able to thrive. In terms of the number of British-style schools, the gap between North and South is widening; almost all of the schools that opened in 2020 are located in the southern coastal provinces of China. Of all the British-style schools scheduled to open in the next few years, 47% are in Guangdong. This flourishing region is now expanding into other southern provinces such as Sichuan, Fujian and Hainan. 51% of the companies partnering with British independent schools are headquartered in the Greater Bay Area.
Education is core to the development of all countries and is a crucial part of UK-China relations. Both countries are committed to creating more opportunities to encourage bilateral exchange and cooperation in this domain. The UK has a rich heritage in education and learning that stretches back over many centuries, and is recognised as a world leader in education from pre-school to university and beyond. Education modernisation has been highlighted as one of the key China's national development goals. In line with one of the main focus of initiatives for both China and the UK in recent years, the British Schools Awards have a particular focus on sustainability. The Student for Sustainability Award and the School Design Award are both set to promote and enhance innovative sustainability education in K12 schools in China. Establishing a strong sense of community amongst British schools is a key part of both the British Schools Awards and the British Schools Forum enabling the exchange of best practices and understandings of Chinese education policies and landscape.
Jo Hawley, British Consul-General in Guangzhou and Patron of the British Schools Awards said, "We are glad to see that a growing number of British schools with great heritage work together with their Chinese partners, to bring in high quality education offers to China. I hope these British-style schools will serve as a platform for exchanges and communication between educators and young people from both countries. The British Schools Forum comes at a key point in the development of UK education in China, the strengths of these UK-China cooperation projects are clear: high-quality academic experience, combined with a broad curriculum covering music, drama, art and sport, as well as excellent pastoral care. Now is a great time to bring together their senior leaders to exchange best practice and celebrate success. I am therefore delighted to be appointed as the patron of the British Schools Awards."
Julian Fisher, British Chamber of Commerce of Commerce in China Vice Chair explained: "British-style schools in China are an essential part of the UK-China relationship offering opportunities for students to become globally competitive, for organisations to learn from each other's cultures and, perhaps most importantly for young people to work together to imagine a better future for humanity globally. The awards celebrate all of the aspects of education that truly build a world-class K12 school. The enterprise and employability award is something that particularly resonates with the chamber as we organise both an employability week and a young professionals development programme to support young people as they make the transition from university to work. As Chinese society looks to rebalance the workforce and close the skills gap, we're proud to support the development of young people regardless of their background. The finals of the awards will be at the British Schools Forum in November in Beijing where school leaders will spend two days considering how best they can best improve their schools while also benefitting society."