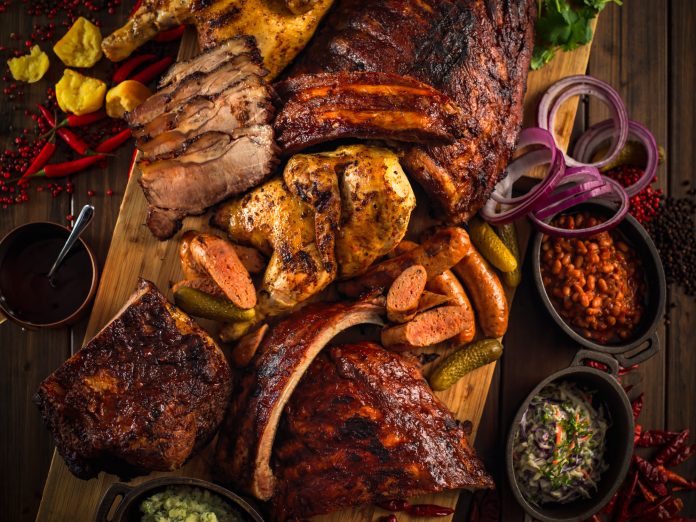 近日广州城的气温正在慢慢回升,你是不是觉得还不够"火候"?不怕,广州圣丰索菲特大酒店已为你准备好了一场充满"热浪"的盛宴,让西部牛仔的精彩世界为这个春天助力回温!
Guangzhou has seen a rise in temperature in the past few weeks. Some of us might still feel that the days can be a bit hotter. Be prepared! Sofitel Guangzhou Sunrich has brought together the world of the 'Wild West' and the best of Texas Barbecue to foodies in town. It is going to be HOT!
3月30日起至5月26日,巴黎8号酒吧及空中花园逢周五及周六为您带来德州牛仔风情烧烤派对!无论是在户外花园里尽情享用美式烧烤肉排、各式沙拉小吃及甜点,或是欣赏乡村音乐、挑战疯狂骑牛和飞镖大赛等精彩活动,我们的德州牛仔烧烤派对将为您的周末欢聚时光带来无穷乐趣!
From 30th March to 26th May, 8, Faubourg Bar & Terrace at Sofitel Guangzhou Sunrich awaits you with the ultimate Texas Barbecue Extravaganza every Friday and Saturday evening. Enjoy live-charred Barbecue the Southern way in the outdoor garden. Accompanied by a Salad bar and sweets, the Texas Barbecue is perfect for real cowboys and –girls on your weekend. Enjoy country music, ride the mechanical Rodeo bull or participate in a dart competition. The choice is yours!
人民币368元净价*/位
2018/03/30 – 2018/05/26,逢周五及周六,18:00 – 22:00
CNY 368 net*/person
2018/03/30 – 2018/05/26, Fridays & Saturdays, 18:00 – 22:00
*价格已含服务费及增值税 Price is inclusive of service charge and VAT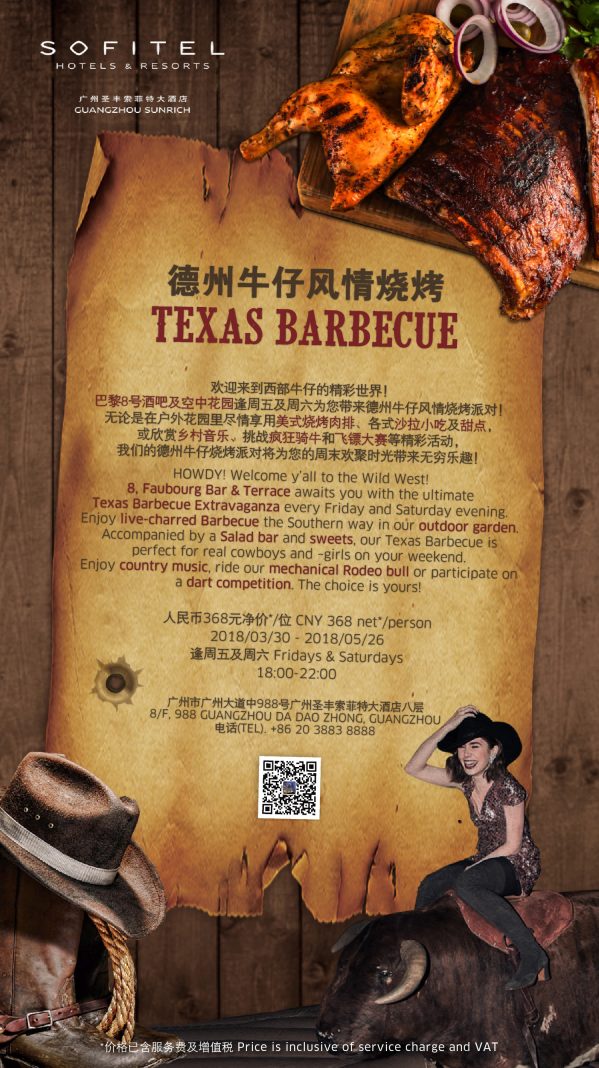 ---
巴黎8号酒吧及空中花园
8, Faubourg Bar & Terrace
广州大道中988号广州圣丰索菲特大酒店八层
8/F, Sofitel Guangzhou Sunrich
988 Guangzhou Da Dao Zhong, Guangzhou
TEL: +8620-3883 8888