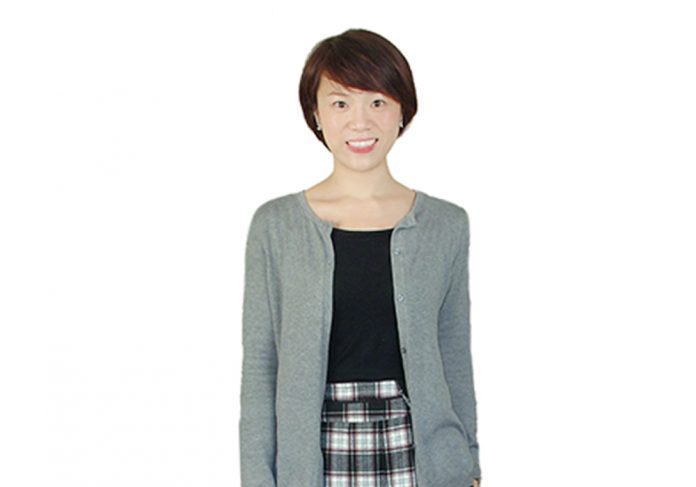 黄绘桐,珠海长隆横琴湾酒店的市场推广副经理 - Carmen Huang, 

Assistant Manager (Marketing Communications), Chimelong Hengqin Bay Hotel, Zhuhai.
DB:长隆横琴湾酒店在过去数年间获得了许多奖项,您能和我们简要分享吗?Chimelong Hengqin Bay Hotel has won many hotel awards in the past few years, could you give a brief introduction to this?
长隆横琴湾酒店开业至今,已获得国内外多个重大奖项,备受业界的认可及游客们的推崇。其中2015年、2016年酒店更是连续两年蝉联世界旅游大奖"全球领先主题酒店"殊荣,这也是对我们一直努力为宾客打造难忘体验的认可。
Chimelong Hengqin Bay Hotel has won many awards since its birth, which has gained trust and credits from the industry and tourists. Our hotel has won the "World-Leading Themed Hotel" award for two consecutive years by World Travel Award, and this recognises our efforts and pursuit of providing the best service to our clients.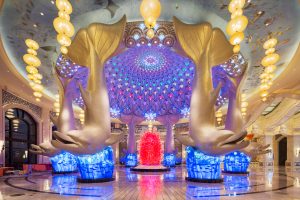 DB:长隆横琴湾酒店的房型都拥有哪些主题?What type of themes do you have for your different room types?
酒店拥有1,888间宽敞舒适的客房,多达13种充满海洋气息的房型,入住不同的房型,宾客可从多个不同角度欣赏珠海长隆园区别样景致。其中设计师贴心设计的家庭房及行政复式家庭房,因其独特的双层儿童床及复式结构设计,一直以来都是家庭游客的出游首选。
The hotel has 1,888 spacious and comfortable rooms, with more than 13 different types of ocean-themed room. Guests can enjoy the Chimelong Ocean Kingdom from various angles in our hotel rooms. Our thoughtfully-designed Family room and duplex family room always serve the first choice for our family tourists because of the well-equipped children beds.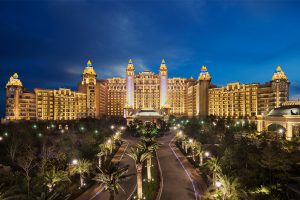 DB:长隆横琴湾酒店拥有许多餐厅,并且是酒店一大亮点,哪一个最受欢迎?Restaurants in Chimelong Hengqin Bay Hotel are a highlight to every lodger, which one is the most popular?
酒店拥有10间风格各异的餐厅和酒吧,提供中式、西式、日式及亚洲特色美食的餐饮体验。充满海洋特色的珊瑚自助餐厅,不仅拥有2个大型热带鱼水族箱,更荟萃多国特色美食,全年多款海鲜及新鲜刺身无限量供应,深受各地宾客喜爱及追捧。
There are 10 restaurants and bars that share different themes and styles, providing quality Chinese, Western, Japanese and Asian culinary experiences. The Coral Buffet restaurant, which not only has two large tropical fish aquariums but also offers a wide range of seafood and fresh sashimi in unlimited supply, is favoured by tourists from all over the world.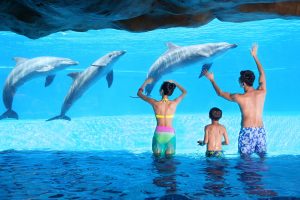 DB:住客能在长隆横琴湾酒店享受到什么娱乐活动?What recreational activities can dwellers enjoy in Chimelong Hengqin Bay Hotel?
酒店住客不仅可以畅玩横琴湾水世界,还可以近距离观看可爱的海豚喂食表演,更能零距离体验"与海豚畅游",拥有一段难忘的美好回忆。酒店大堂更有长隆特色的近景魔术秀、海洋精灵快闪表演、小丑及吉祥物互动等欢乐精彩的节目等你来体验。
All in-house guests can not only have fun in the Hengqin Bay Water World but also have a close interaction with the most adorable Dolphin in the Dolphin Pool. In the lobby, guests can experience a close-up magic show, ocean fairies flash dance show and clown's play.
DB:长隆横琴湾酒店会为游客提供优惠畅玩长隆海洋王国?What can Chimelong Hengqin Bay Hotel do to help tourists explore the world of Chimelong Ocean Kingdom?
长隆海洋王国全新上演的"海洋保卫战",好莱坞级别的制作及视觉效果震撼眼球。现预订酒店【超值特价】套餐,仅需2,268元起,即可入住主题客房住宿一间一晚,两张海洋王国两日多次入园门票,双人自助午餐,两张横琴湾水世界门票,即刻开启你的奇幻旅程。
The Chimelong Ocean Kingdom has now launched a brand-new performance "Ocean Defence War", and it will amaze guests with a Hollywood-class production and visual effects. Special ticket packages are now on offer (2,268 RMB), which includes a one-night stay in a themed room, two tickets to the Ocean Kingdom, lunch buffet for two persons and two tickets to Hengqin Bay Water World. It is time to begin your magical journey here!
DB:我们能从什么渠道了解更多'长隆横琴湾酒店'?Where can we get more information aboutChimelong Hengqin Bay Hotel?
微信公众号 WeChat Account:CLhengqinbayhotel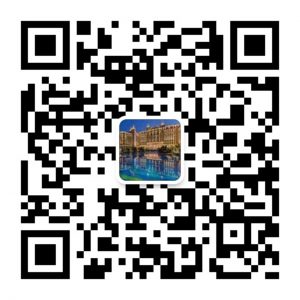 微博 Weibo:长隆横琴湾酒店
脸书 Facebook:chimelong
Instagram:chimelong_ig
官方网站 Website
官方APP:长隆旅游