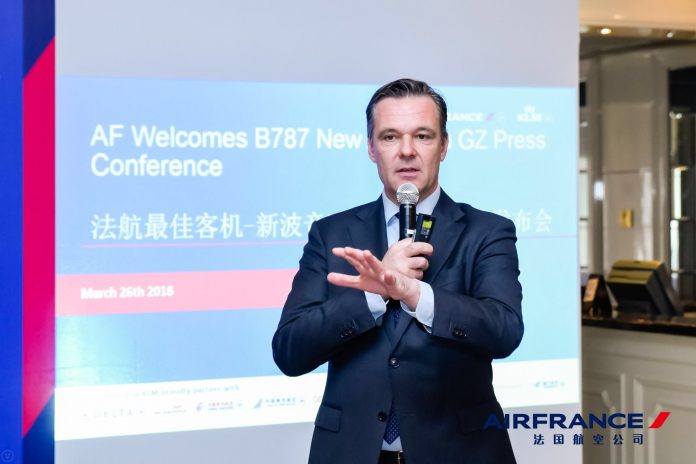 At 17:10 (GMT+8), 26th March, with the successful landing of the Air France flight AF102 from Paris to Guangzhou marked the begining of Air France to operate B787-9 Dreamliner on Paris-Guangzhou Route. It is the first time for Air France to operate the China-Europe route using the next-generation B787-9 Dreamliner. For the occasion, Delta Bridges talked to Mr. Toon Balm, General Manager of Air France KLM, Greater China about this exciting news and the future plan for Air France KLM in South China.
 Delta Bridges:  Why did Air France choose Guangzhou as the first city to operate the brand new B787-9 Dreamliner?
 Toon Balm:  It is indeed the first B787-9 operation in China. A big team in Paris, Air France's headquarters, is responsible for the optimization of the network, based on the calculation of average revenues and costs, and what is the best fit route for this aircraft. In that sense, the Guangzhou Route is perfectly fit to operate the B787 aircraft. B787 is better in operation; they are cleaner, also more cost-efficient and will save almost 20%, which makes the Guangzhou market more potential and profitable. Demand in this region is very high; at the same time, there is a lot of competition, not only from airlines which operates directly out of Guangzhou, but also from Hong Kong and Shenzhen. The Delta Area for us is a very interesting and competitive market. So Air France has always to be very close to her customers, and offer the best products and service to them. A good cooperation with our Chinese airline partners, such as China Southern Airlines, which also operates weekly flight to Paris-CDG and homewards. Moreover, China Southern also has been operating CAN-AMS in a joint venture with KLM for ( how many years), together we offer the best possible connections for our customers to Europe, North America, South America and Africa. In that sense, we will strengthen our cooperation. In a word, the business is there, the demand is there; because of fierce competition, sometimes the pressure on price here in the market is higher than the other destinations.
 DB:  Compare to the current aircrafts operated by Air France, could you please share some highlights of this new BA787-9 Dreamliner?
 TB:  For Air France customers, the Boeing 787 has many assets:Greener, Cleaner, Quieter; More comfort for the customers; Lower cabin altitude and enhanced in-flight humidity levels for greater travel comfort; Mood lighting, larger windows giving more brightness that are approximately 30% larger than on similar aircraft; More storage for luggage in cabin, the latest Air France cabins – a cocoon in the sky in the Business cabin (30 seats) and comfort for all in the new Premium Economy cabin (21 seats) and in Economy (225 seats); a Wi-Fi connection on board adapted to the requirements and habits of customers.
 DB:  Guangzhou Bayun International Airport is going to have its new terminal and other updates. What's the plan for Air France relating to this new terminal?
 TB:  We are very thrilled to move and we are in full preparation. Based on the earlier described co-operation, we will of course join China Southern in their plans to move.
 DB:  Could you please share with us some exciting promotions from Air France for the rest of the year in South China?
 TB:  New route: CDG-TPE – Starting 16 April 2018, Air France will begin operating 3 weekly direct flights to the Taiwanese capital, Taipei, on departure from Paris-Charles de Gaulle. These flights will be operated by Boeing 777-200, equipped with the latest Air France long-haul travel cabins, with a capacity of 280 seats including 40 in Business class, 24 in Premium Economy class and 216 in Economy class. Another exciting event is to celebrate the 80th anniversary of the opening of Paris-Hong Kong route.
 DB:  For you personally, what are the key factors that make you choose Air France when traveling?
 TB:  When entering an Air France flight, the atmosphere ''catches'' you and it seems that you are already in France. The great food and drinks on board, the cabin crew, of which some are Chinese speakers and this great new B-787 makes it to an unforgettable experience!
Next to that, together with our Partner China Southern, Air France KLM, is simply the best option to choose from as we offer the most possible connections through our hubs in Paris and Amsterdam.