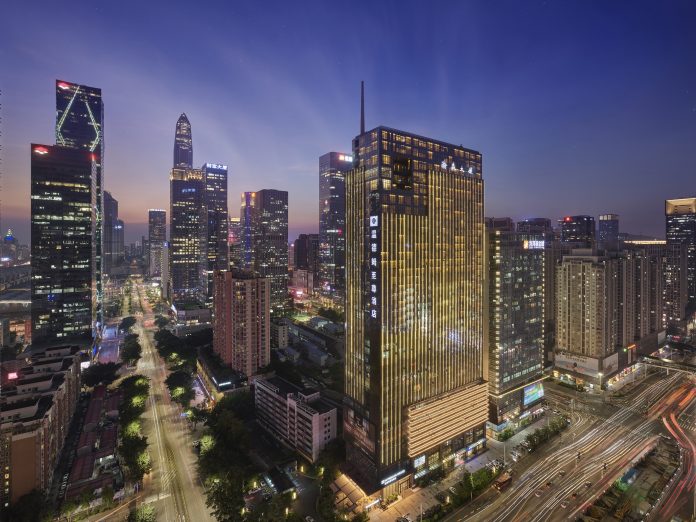 2020年1月9日,深圳温德姆至尊酒店即将迎来五周年店庆,为回馈广大客户对酒店长期以来的支持,酒店将推出一系列线上活动,从酒店客房、餐厅产品到康体健身,更有通券产品,可体验一站式服务,给顾客带去惊喜。深圳温德姆至尊酒店由瀚森集团投资兴建及管理经营,自2015年月开业以来,凭借优越的地理位置、优美的自然环境、优质的酒店产品及体贴的个性化服务,成功为客人打造了卓越的入住体验。
On the coming January 9th, 2020, Wyndham Grand Shenzhen is celebrating its 5th anniversary with a series of online products to appreciate clients' continuous supports. Celebration products starts from hotel rooms, dining promotions to fitness card, hotel also launched a common coupon that applied to a wide options from dining to car parking access which offer clients high flexibility.
在过去的五年里,深圳温德姆至尊酒店曾荣获有第十九届中国金马奖、中外酒店(十三届)白金奖、潮生活•2018百万粉丝推荐美食榜年度十佳最受消费者喜爱星级酒店等奖项。今后,深圳温德姆至尊酒店也将向市场展现更新颖、更个性化的酒店产品及服务,为各地宾客展示待客之道。
Opened in 2015, with its convenient location in central business district, unique hotel products and service, Wyndham Grand Shenzhen has achieved a lot of good comments from clients. In the past 5 years, hotel received many awards like The 19th China Golden Horse Award, the 13th International Hotel Platinum Award. Grand Kitchen All-day Dining Restaurant also has been chosen as the All Day Dining of the Year from the media That's food & drink award. With client's continuous supporting, Wyndham Grand Shenzhen will strive to show more possibilities in future.
了解店庆产品,请关注酒店微信公众号(Wyndhamgrand_SZ)或致电075582998888。
Check out anniversary products please follow the WeChat account Wyndhamgrand_SZ or contact 075582998888 for more information.