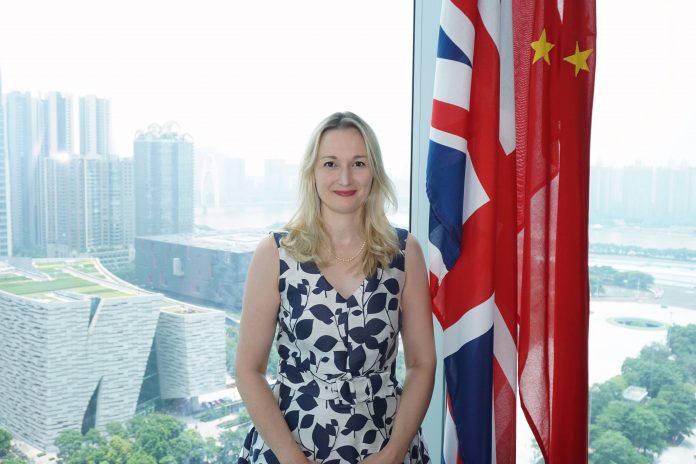 英国驻广州总领事贺颂雅女士于2019年7月15日正式就职。8月9日,三角铃有幸作为首个英文媒体平台率先采访这位具影响力且平易近人的女性领导者。首次以新总领事的身份接受采访,贺颂雅女士分享了英国驻广州总领事馆在大湾区的未来发展计划以及她在广州的生活趣事。
Ms. Jo Hawley, the new British Consul-General in Guangzhou, officially took office in the week of July 15th, 2019. SJL had the pleasure of being the first English-language media platform to interview this approachable and influential female leader.As the new Consul-General, Ms. Hawley shared the future plans of the British Consulate General in Guangzhou concerning the development of the Greater Bay Area (GBA). She also unveiled some interesting details of her life in Guangzhou.
SJL: 请问您第一次来广州是什么时候?
When did you visit Guangzhou for the first time?
我初次来广州是2014年。在香港工作的期间,我游览了广东的许多城市并爱上了这里。每次我出门,人们都会给我和我可爱的儿子拍照,他们还会问我为什么来到这里,对中国的看法,以及是否喜欢广式点心。广东人的友好与热情让我对这个地方倍感亲切,因而启发了我来穗工作。
The first time that I visited Guangzhou was in 2014. During my time working in Hong Kong, I visited some of the cities in Guangdong and I enjoyed my time here very much. This is one of the reasons why I chose to work in Guangzhou. I find that people here are so friendly and welcoming. Wherever I go, people want to take photographs of me and my adorable 10-month-old baby boy. They want to know why I am here, what my thoughts are about China, and they like to hear how much I enjoy the dim sum. It is nice to connect with people and it definitely strengthens my passion for coming to work here.
SJL: 请问您在广州有什么有趣的经历吗?
Could you share some interesting experience you have had in Guangzhou?
昨晚,我去了由扎哈·哈迪德大师设计的广州大剧院,观赏了《玛蒂尔达》,它是根据英国作家罗尔德·达尔的一本经典儿童读物改编而成的作品。我非常高兴能够看到这部作品能来到中国演出,观赏时人们欢呼、大笑、鼓掌,反应特别好,可见它在中国的确很受欢迎。
Last night, I went to the Guangzhou Opera House – designed by Zaha Hadid. We saw Matilda, which is based on a children's book written by a British author, Roald Dahl. I was delighted to learn that it had come to China. There was a lot of cheering, laughing and clapping. I think people really enjoyed it and it seemed to transfer very well in China.
我的业余爱好是旅行。在广州扎根之前,我已数次游历北京和上海。在广州落脚后,除了学习中文,带我的孩子体验软体游乐并探索周围的餐厅,此外我还计划着去南沙享受周末度假,去帽峰山远足。同时我也喜爱书法,书法对我来说是一种冥想,因为它给了我一个反思的时间,尤其作为一个领导者,你往往需要时间来静心思考。
Aside from working, one thing I really like to do is travel. Before arriving here, I had been to Beijing and Shanghai many times. Now that I am settled in Guangzhou, apart from studying Chinese, taking my baby to soft play and exploring restaurants around the area, I also plan to do a bit more traveling such as going to Nansha for a weekend break and go hiking at the Maofeng Mountain. I also enjoy practicing calligraphy. Calligraphy is a kind of meditation to me. It gives me a moment for reflection and as a leader, I benefit from taking the time to slow down and think.
我也非常热衷于运动,上周五我的中文老师邀请我去观看富力和苏宁的足球赛。有意思的是在比赛中,我发现了英格兰队传奇球星特里•布切尔已成为了广州富力一线队的教练,我很高兴能看到这样的体育交流。
I am also a keen sports enthusiast. Last Friday, I was invited by my Chinese teacher to see a football match between R&F (富力) and Suning (苏宁). Funny enough, the new coach is Terry Butcher, who is a former England legend. It is nice to see this kind of exchange happening in sports.
在足球体育方面,"学转英超"是由英超联赛和英国文化教育协会联手合作的项目。其中一个重要部分是我们把职业足球运动员带到中国的学校。自2007年以来,"学转英超"项目在全球已经接触到超过一百万的年轻群体,并为中国23个城市中超过五千个教练和裁判员提供了培训。
What's more, we also have football programme here called "Premier Skills" which are jointly run by the Premier League and British Council. The most important part is, we bring professional footballers to schools. Since 2007, Premier Skills has reached more than one million young people globally. It has trained more than 5,000 coaches and referees in 23 cities across China.
SJL: 您曾经于2014年至2017年在英国驻香港领事馆国际贸易投资部总监,请问这段经历对您现在的工作有什么帮助吗?
You served as the Director of Department for International Trade at the British Consulate General in Hong Kong from 2014 to 2017. How has your previous experience prepared you for your current work?
在香港工作期间,我与中国其他地区的使领馆一直保持着密切的联系,共同致力于增进中英两国的贸易投资合作。这份工作也让我更了解英国外交部的各种业务。同时,我也有机会协助了许多英国公司进驻香港,随后拓展大陆市场,这是一条非常常见的商业规划路线。我个人非常喜欢与Monica Vinader, Jenny Packham等英国时尚品牌合作,实际上我知道这些品牌是源于凯特王妃,她是我的时尚偶像,她的穿衣打扮永远引领风潮。可以和这些品牌合作,帮助他们进驻亚洲我感到非常高兴。如今,我们仍然保持紧密的联系,共同商讨如何能深化在华的商业合作,毕竟中国大陆拥有庞大的时尚市场。
During my time in Hong Kong, I worked very closely with our team across China to promote trade and investment between China and the UK. This role gave me the opportunity to look at the wider services at the Foreign Office. It offered opportunities to encourage more of the companies who were set up in Hong Kong to branch out into mainland China. It's a very traditional route. What's more, I always love working with fashion companies, such as Monica Vinader and Jenny Packham. Actually I got to know these brands because of Kate Middleton, who's my fashion icon and always look very fashionable. It's great that I was able to work with these brands and help them come to Asia. Now, we are continuing conversations on how they can be doing more in mainland China, where there is such a huge fashion market.
SJL: 请问您认为英国驻广州领事馆在粤港澳大湾区的发展中发挥什么作用?
From your perspective, what role does British Consulate General in Guangzhou play in the development of the Greater Bay Area?
在中英贸易份额中,广东约占三分之一。作为华南的发达地带,粤港澳大湾区在增进中英关系中起到了非常重要的作用。这是一个非常好的国际合作契机。教育是其中一个重要的合作领域,通过不断促进大湾区和英国的学生间的交流,能有效增进中英人文关系。许多英国优质学校有意在中国建立分校,大湾区的建设规划给予我们一个契机,为英国学校介绍这个区域的合作机会,也使得我们对于他们把这一区域纳入未来发展的战略规划的建议更有说服力。除了北京和上海,英国学校还可以在大湾区建立分校,抓住当地的市场和机遇。目前久负盛名的英式学校哈罗公学和坎特伯雷国王学校,已经在大湾区选址办校。教育合作意义重大,因为教育对人一生的影响是深远的,同时也令两个不同的国家可以保持持久的沟通。Guangdong accounts for around one third of UK-China trade. As a prosperous area of Southern China, the Greater Bay Area strengthens the link between the UK and China as a whole. It is an excellent opportunity for international collaboration. One key area of collaboration is education. This involves encouraging more exchange of students between the Greater Bay Area and the UK. We've got many good schools in the UK that are keen to come and set up in China. The Greater Bay Area gives us a good opportunity to talk with them specifically about this region, and gives us a reason to convince people that they need to take this area into their strategic planning for future development. Apart from Beijing and Shanghai, British schools can also set up in this area where there are so .We have Harrow School and King's School Canterbury, both very prestigious British schools, setting up sites in this region already. Education collaboration is kind of a gift that keeps on giving as education will last in a person's lifetime; it's an opportunity that keeps ongoing engagement between two different countries.
我们一直密切关注着粤港澳大湾区的发展规划纲要,以此寻找合作的契机。在建设粤港澳大湾区的进程中,绿色及可持续的发展模式是一大焦点,而这也是我们领事馆的着重点。环境保护是全球性的议题,无人能独善其身。英国与中国其实正面临着相同的挑战,譬如垃圾分类工作的展开便是一例。在英国,我们已经开展了很长一段时间的垃圾分类与回收利用,但这在中国才刚刚开始。不过,万事开头难,公众需要逐渐习惯的过程。正因我们不能忽视环境问题,因此我们更应该聚在一起,共同商讨解决方案,共同学习,并分享最佳的实践经验和重要创新技术。
We have been looking at the blueprint of the Greater Bay Area to find out where we can help. In the Greater Bay Area, there is a large focus on green living and sustainability. This is a big focus of the Consulate as well. The environment is a global issue and you simply cannot solve this problem on your own. Some of the challenges that are being faced in the UK also exist in China. In the UK, we have already been separating our rubbish and recycling. This practice is only just starting to take off in China. It is a difficult change at the beginning, but people will soon get used to it. We cannot ignore the environmental problem and we need to find a solution. We should join forces, learn from each other, and share the best practices and most successful innovations.
SJL: 在促进中英两国的交流与合作上,英国驻广州领事馆将来会做出什么努力?
What kind of efforts will the British Consulate General in Guangzhou make in the future to deepen mutual understanding and cooperation?
英国政府鼓励中英两国在旅游、商务旅行、交流学习等方面开展更多的交流合作。英国于2018年向中国公民签发了超过73万份签证,其中98%的签证申请皆顺利签发,我们简化了申请流程,同时也开展了快速签证通道,以解决紧急个案,快速通道尤其欢迎赴英学习的学生使用。因此,我们正致力于推进签证的工作,以加深两国间的交流。
The UK government is encouraging more exchanges between China and the UK in terms of tourism, business trips, and studying. Last year, we issued 730,000 visas to China, and 98% of all the visas applied were granted smoothly. The whole process is in the streamline and we also have fast-track services, particularly when it comes to welcoming the students. Subsequently, we are interested in this visa work so that we can strengthen the mutual communication of both countries.
改变中国在英国人心中的传统形象对于推动中英关系发展来说,此举意义重大。英国商人十分了解中国,这源于中英两国悠久的贸易传统。但对于大多数的英国来说,他们的心中仍记着20年前中国的旧形象,他们并不了解如今的中国是怎样的光景。因此,我认为我们有必要去让英国公众重新认识中国。
It is crucial to change the traditional image of China and promote the China-UK link. British business people know this area because of the long heritage of trading, but most of the ordinary people in the UK still have the traditional image of China as it was 20 years ago. People in the UK don't have a current image of what China looks like. Ultimately, I think we need to update the public understanding of China in the UK.
另外,我们还与英国文化教育协会合作,共同向海外推广英国文化。近来,广东美术馆联合英国文化教育协会举办了一场英国艺术家玛吉·汉布林的画展。与精英云集的传统艺术展开幕式不同的是,举办方通过微信宣传的方式,成功吸引了众多家庭前来参观,这确实是一场精彩绝伦的开幕式。我被家庭和孩子们的参与度深深触动,我们应该从中学习,并把经验带回英国。毕竟孩子是艺术与文化的传承者,如何提高下一代的艺术参与度,这将会是两国文化交流的共同议题。
Furthermore, we also work with the British Council here, who help to promote British culture overseas. Recently, an exhibition of Maggi Humbling, a British artist, has been running at the Guangdong Art Museum. Unlike traditional openings of art exhibitions, which are typically full of art elites, Guangdong Art Museum held a fantastic opening which engaged a lot of families through WeChat. I was touched by the family engagement and there were lots of children in the audience. I think that we should learn from it and bring this experience back to the events in the UK. Ultimately, children are the future generation who will inherit art and culture. Engaging the future generation ought to be the theme of cultural exchanges in both countries.