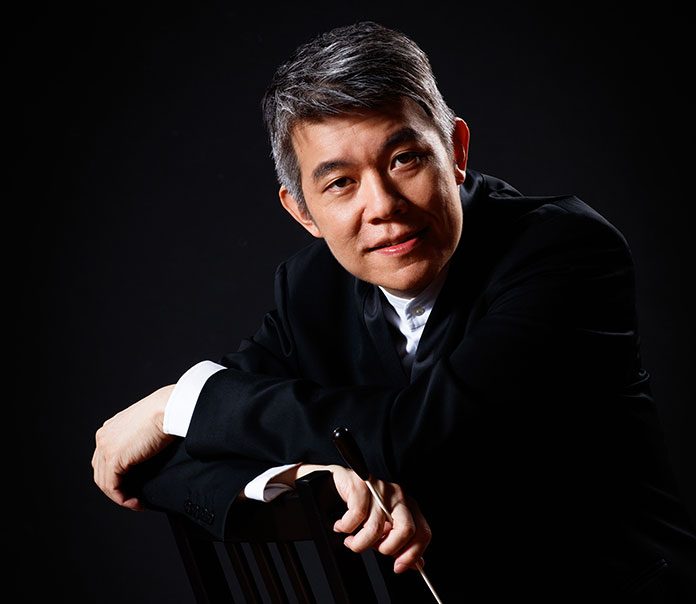 周熙杰 ,香港中乐团常任指挥 Chew Hee Chiat, Resident Conductor of Hong Kong Chinese Orchestra
周氏于2002年加入中乐团,积极协助不同类型的演奏会并担任指挥及编曲配器等工作。他曾在美国学习,拥有音乐与电脑双学位学士以及官玄乐团指挥硕士。周氏的作曲曾获多个国际大奖,在大型户外音乐会"香江华采"中,指挥四首由香港作曲家的世界级优秀作品演出。在今天的采访中,DB探寻周氏过去丰富的经历是如何鼓励他的创作,以及一些关于在世界级中乐团中做指挥的体验。
Chew joined Hong Kong Chinese Orchestra in 2002 and plays an active role that includes conducting, instrumentation and arrangement for numerous concerts. He studied in the United States and has a degree in Cello Performance and Computer Science as well as an MA in Music and Orchestral Conducting. Chew has received multiple international awards for his composition and conducted the world premiere of four works by Hong Kong composers at the outdoor mass concert, 'Cadenzas of Hong Kong' among other great achievements. In Today's interview, DB finds out how Chew's rich life experience inspires his music and a bit about what it is like conducting a leading Chinese Orchestra.
DB: 请问是什么让您决定加入香港中乐团的?更重要的是,是什么让您留在乐团这么长时间?Why did you decide to join the Hong Kong Chinese Orchestra and more importantly, what motivates you to stay?
从15年前开始,当我想进一步开拓我的事业时,香港似乎就在为中乐团的发展提供最好的专业的环境。这也是当时在我的家乡——马来西亚不可多得的难得的机会。香港中乐团是像我这样的音乐家终极期望。当时被他们选上是我的幸运。从那时候起,依我拙见,最有利于发展中国管弦民乐的就是在香港和中乐团一起。这是我为什么依然留在中乐团的理由。
Hong Kong seemed to provide the best professional environment for Chinese orchestral music fifteen years ago when I was looking to advance my career. Then, there was no way nor potential opportunity for me in my home country, Malaysia. Hong Kong Chinese Orchestra was the ultimate aspiration for musicians like me. I was lucky that they picked me then. Since then, the most conducive environment to develop and excel in Chinese orchestral music, in my humble opinion, is still here in Hong Kong with HKCO. That's why I stay put.
DB:做指挥家是您一直想要做的事情还是在您学习音乐过程中所激发了兴趣爱好? Is conducting something that you always wanted to do or is it something that you discovered later in life during your musical studies?
发展属于自己的音乐事业,应该是我从高中就有的梦想。我是在高中第一次课外活动中,被中国民乐表演所吸引。因此我加入了中乐团,开始了我的民乐生涯。我第一个接触的民乐器是笛子,后来根据乐团需要接触了不同的乐器。当时没有聘请专门的导师,都是靠前辈指导后辈的方式学习的。这就是当时我们高中民乐团的处境,因为当时校长有点不重视我们,把所有的钱都拿去支持行进乐队,购买他们闪闪发亮的铜管乐器。也许当时我站到指挥台上控制大家演奏乐器有点过了,但那种可以控制音量、音色的感觉,的确激发了我对指挥的兴趣。尽管当时条件并不好,谈不上什么"控制",但确实,把指挥的种子种在了我心里。
Making music my career has always been my aspiration since, perhaps, high school. I was attracted by the Chinese instrumental performances during my first high school extra-curriculum orientation. There I joined the Chinese Orchestra on spot and began the journey. My first instrument was dizi and later other instruments or whichever needed by the ensemble. There were no hired music instructor; all were taught-from-senior-to-junior. That was the condition of our high school Chinese orchestra as the Principal kind of left us alone and used all the money to support the marching band with shiny brass instruments. Perhaps it was out of necessity that I was put on the podium under this circumstance as the kid that could "do" all kind of instruments. The taste of being able to control the musical sound and colours truly kick started my passion for conducting, although, there was really not much to control given our "poor" condition then. Yet, the seed was planted.

DB: 请问您的文化背景是如何激发您创作音乐的灵感? How has your cultural heritage inspired the music that you compose?
至少对比起在世界其他地方的很多人来说,我在马来西亚长大的经历是非常独特的。马来西亚是个多元文化的社会,而且这种多元化之间的联系对比起其他地方要更加紧密。为了更好地理解我说的这句话,大家可以想象以下这个场景:在晚饭餐桌上,我和几位家人、朋友坐在一起。我会和我的父母用中国方言聊天(台山话和福建话),坐在我对面的马来朋友会用马来语和我交流,印度的朋友会和我说英语,还有两个同学会用普通话和我交流,我邻居会用粤语和我交流。
所有的对话都可以毫无犹豫地同时进行,这是我的文化背景对我创作影响的一种体现。我还记得几年前,我其中一个作品有幸进入一个国际性作曲大赛的最后一轮。当时不喜欢我作品的评委就评论道,我的作品在风格方面很不统一;而喜欢我作品的评委赞扬到,这种不一致的风格是一种独特的风格。
Growing up in Malaysia is a unique experience, at least if I compare it with people from many parts of the world. Our society is quite diversified, and the diversity is more "interlocking" than others. To explain that, just imagine the scenario: In a dinner table, I was seated with a few friends and family members. I would converse with my mom and dad in two Chinese dialects (Taishan and Fujian), across the table my Malay friend was speaking Malay with me, another Indian friend in English while my two classmates in Mandarin and my nextdoor neighbour in Cantonese (another Chinese dialect). Every conversation was going on concurrently without confusion. This kind of cultural heritage manifests in my compositions. I still remember years ago my work was selected to the final round in one of the international competitions. The judges who didn't like my composition commented that my work was inconsistent in styles, while those judges that liked my work complemented that the inconsistency of styles IS A unique style!
DB: 请问为什么您会觉向世界分享中国民乐和宣传中国民乐器是非常重要的一件事? Why is it important to you to share Chinese music and Chinese instruments around the world?
这不是一个问题!向世界分享我所热爱的东西是不需要理由的。但可以强调的是,让中国民乐有更多曝光的机会,向世界各地宣传民乐,无庸置疑是件重要的事情。一句话来说,如此又没的艺术形式不应该被世界所错过!
That's without a question! Sharing my passion around the world does not need a "why". But again, I think it is important that Chinese orchestral music can get more exposure and be promoted to the international level. After all, such a fine art form should not be missed by the world!
DB:对比起香港中乐团,您在指导香港少年中乐团的时候有遇到什么养的困难或者有意义的事情吗? What are some of the different challenges/rewards you encounter teaching the Hong Kong Junior Chinese Orchestra compared with the Hong Kong Chinese Orchestra?
当我指挥香港少年中乐团的时候,我是在教他们。但当我在指挥香港中乐团的时候更像是在分享我对音乐及艺术的想法、感受。香港中乐团的成员都是很好的艺术家,他们都是我的同事!
It is teaching if I conduct the Junior Orchestra. But when I conduct Hong Kong Chinese Orchestra, it's more like sharing my idea of musical sound and artistry. HKCO's musicians are fine artists and they are my colleagues!
DB: 您在美国和世界其他地方呆过的时间与经历,是如何影响您对音乐及作曲的态度的? How has the time you spent in the Unites States and other parts of the world affected your attitude towards music and composition?
在美国呆的6年时间是我学习生涯的启蒙时间。我学会了要从不同的方面去看待不同的事情。中国有句古话叫做"活动老,学到老",意识大概就是人的一辈子都在学习的过程。在不同的文化环境下生活,只会丰富我们自己的阅历。除了环游世界,还有什么比这更好的方法去学习、增长自己的见识呢?所以在其他国家呆过的时间,的确对我作曲及我对音乐的态度有很深的影响。
The 6 years spent in the US was an eye-opening period in my education years. There I learned to see different perspectives of many things. There's a Chinese saying: "活到老,學到老" which essentially means "one never quits learning." Exposing ourselves in other cultures will only enrich our life learning experience and what's the better way of doing it if not travelling around the world? Yes of course that will have great impact on my attitude towards music and composition.
DB:您觉得自己最伟大的音乐成就是什么? What is your greatest musical achievement?
这应该留给大家去评论! That I shall leave others to comment!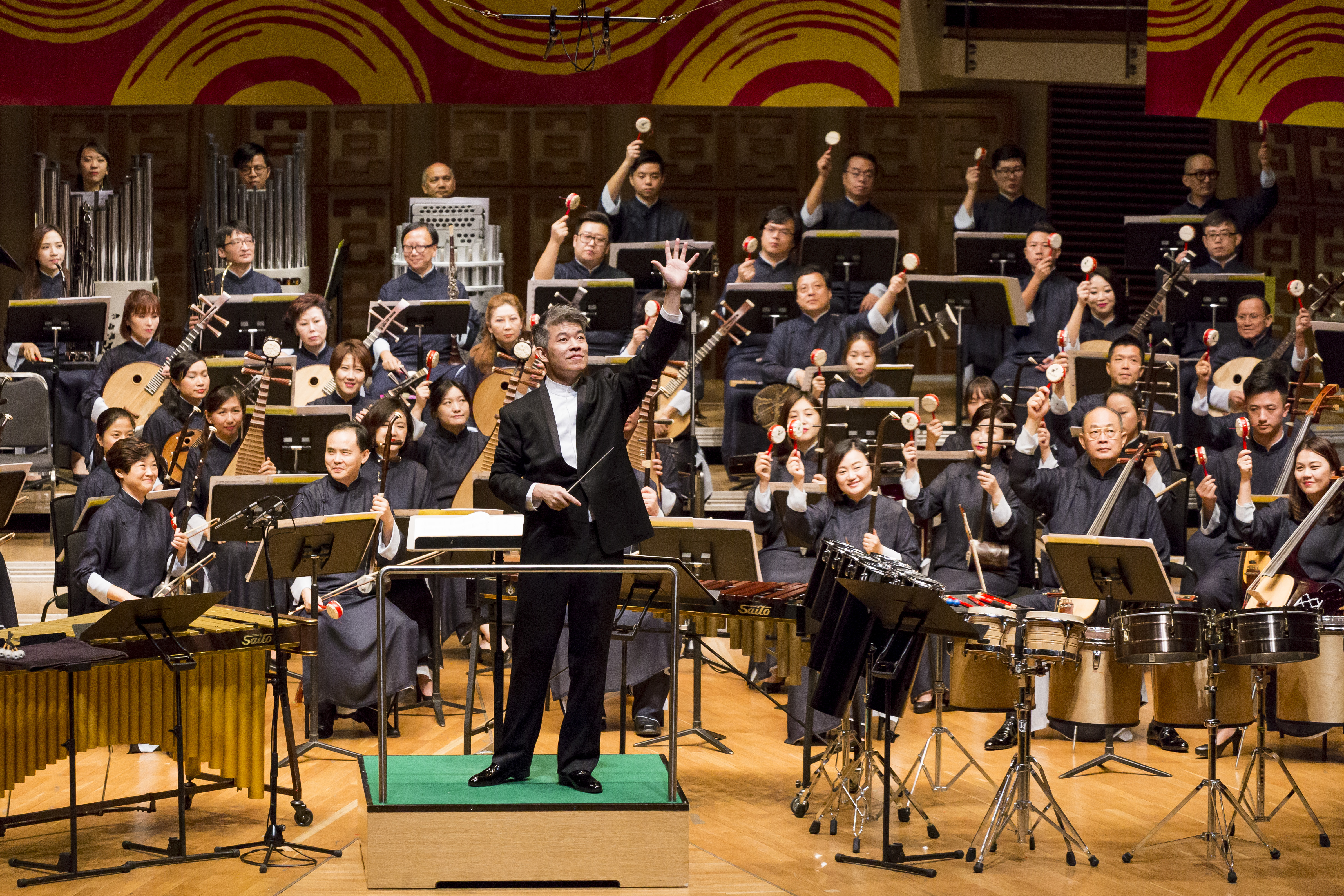 www.hkco.org